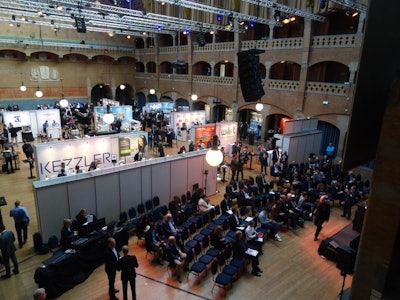 "In the packaging industry, there is no way around active and intelligent packaging anymore; in the past six years, it has become a real industry." That was how Eef de Ferrante, managing director for the Active & Intelligent Packaging Industry Association opened the 2017 Active & Intelligent Packaging World Congress and Hackathon in Amsterdam. Six years ago, de Ferrante recalled, he visited a supplier showroom with an industry colleague where intelligent packaging technology was being demonstrated. While de Ferrante was excited about the development, his colleague was not impressed. "This is nonsense," the colleague said. "Nobody is using it now, and nobody will."
Flash forward to 2017, where 300-plus packaging industry professionals—representing large multinational CPGs, technology suppliers, industry researchers, associations, and consultants, and others—gathered for the sixth annual event to learn about advancements in active and intelligent packaging and to hear news of real-world, commercial applications. And there were many. A roster of nearly 40 presentations, including two "idea hackathons," and an exhibit area with 30 tabletop displays covered active and intelligent packaging innovations for consumer engagement, food waste reduction, anti-counterfeiting, cold-chain applications, and IoT.
An unusual open-concept floorplan, with two of the three presentation stages and the exhibit floor all within one large hall, facilitated networking to encourage what AIPIA Chairman Dick de Koning said in his opening remarks is the key to growth for active and intelligent packaging: "Collaboration and partnerships."
"You cannot do it alone," de Koning says. "There are already businesses sitting together and working on new concepts together. That's what needs to happen to move the industry forward. The challenge is up to you to address the right issues, to find the right solutions, and to create business together."
Control + experience part of the new equation
So, what are the business drivers for active and intelligent packaging? de Koning listed them as follows:
· Consumer engagement, loyalty
· Personalized consumer experience (e.g., allergens)
· Product functionality (e.g., serving temperature)
· Shelf-life extension
· Anti-counterfeit, brand protection
· Trade promotions and loyalty programs
· Food waste reduction (e.g., dynamic best-before and use-by dates)
· E-commerce
· Supply chain efficiency, track & trace (e.g., anti-theft)
Regarding consumer engagement, Stephane Pique of global consulting firm Accenture told attendees that the consumer value equation is changing to include not only cost + choice + convenience, but also control + experience. "The consumer wants to control the whole experience, provide feedback, and shape the brand," he says.
Coupled with this, he says, is the rapid growth of e-commerce, with the largest increase coming from grocery, which he predicted will grow from 10 percent to 40 percent by 2026. These factors combined will give rise to the shared economy (think Zipcar), the personalized economy, with curated subscriptions, the on-demand economy, including auto-replenishment such as Amazon Dash, and the service economy—"Do it for me."
"Companies will have to change the functionality of their products based on the end user," Pique says. "Packaging has to become smart without consumer interference; it has to sense the environment. It has to be agile in the manufacturing environment."
The eight enabling technologies for this retail transformation, he explained, include digital traceability, 3D printing, virtual reality (VR) and Augmented Reality (AR), blockchain, IoT and connected devices, autonomous vehicles, artificial intelligence and robotics.
One company using intelligent technology to engage with consumers for the purpose of testing the feasibility of new products and packaging is Cambridge Design Partnership (CDP). At the congress, Tom Lawrie-Fussey, business development leader for CDP, shared details on a project the company worked on with Avon to test the viability of a new anti-aging product—ANEW Reversalist Infinite Effects Night Treatment Cream—before investing in a full-scale launch.
The package for the product was double-ended with a different formulation on each end and required users to switch between the products once a week. The prelaunch concern was that consumers would forget to rotate the package. Although consumer testing and trials had already been done, Lawrie-Fussey says while consumers try to tell the truth, "it's human nature to give the information you think the researchers want."
Over a four-month period, CDP created electronics that could be hidden in the package so as not to change consumer behavior by having it on the outside of the device. They then set up the electronics to gather the correct data and refined and optimized the backend data analytics engine. After user trials lasting a month, the company analyzed the data and reported to Avon.
"What we learned is that our gut feeling was largely unfounded," Lawrie-Fussey says. "Ladies remembered how to use the product by switching sides. We then gave Avon clear targets of where they should focus their innovation in the future. We solved what they initially wanted to know, and we found a lot of interesting things along the way."
In another presentation, "Insights in the Pernod-Ricard Connected Packaging Pilot," Markus Wulff, who was digital business innovation manager for The Absolut Company at the time, shared insights on the company's experiences using a Near-Field Communication (NFC)-enabled package for its Malibu Rum in 2016. The goal was to generate consumer and business value by creating a digital touchpoint for its packaging. After looking at seven different technologies, Pernod-Ricard chose NFC. "It's quite inexpensive, and the thresholds for interacting with it are very low," Wulff says.
NFC—referred to by one speaker as "an enabler of IoT"—is growing in popularity and was much in evidence at the show. The tags, part of the RFID family, enable contactless communication with devices like smartphones. The tags are programmed individually and can collect large amounts of data. Previously only accessible through Android phones, as of September 2017, NFC tags can also be read by iOS.
In fall 2016, Pernod-Ricard conducted the pilot at 1,600 U.K. Tesco stores, launching 40,000 Malibu Rum bottles with an NFC tag integrated into the shrink-sleeve label. By tapping the bottle with their smartphones or waving their phones near the bottle, consumers were able to access content such as an instant-win competition, a bar locator, drink recipes and music playlists. "Depending on the outdoor temperature, the tag would recommend a rooftop bar nearby or an indoor venue," says Wulff. "We had big prizes and immediate prizes. The immediate prizes were more effective."
The interactive bottle not only "had quite good conversion," according to Wulff, but it also yielded more data than would have been possible through consumer research. "We realized that it's a media channel as well as a channel for business. We got a lot of new insights for brand strategies."
AR provides emotional connection
AR is a technology that has been around for about 40 years, looking for a problem to solve. That's according to Martin Stahel, sales director for AR provider Zappar, who in his presentation, "Unlocking the Power of Your Packaging," says it's only been with advent of the smartphone, or the "evolutionary appendage," as he calls it, that AR has come to the attention of brand owners and packagers.
AR connects the physical world with digital experiences on mobile devices, Stahel explains. It is the third wave of mobile after texting (the first wave) and the mobile Internet, with streaming video (second wave). "Now the future of mobile is really heavily weighted toward AR," he says. "So, the smartphone isn't so much a phone anymore; it's more like a digital remote control that we can use to unlock the world around us.
"AR has really hit the headlines. Some people are stating that by 2020, 100 million people will be shopping in some form with AR."
Stahel suggested that CPGs look at AR as a strategic tool that can be used on packaging in a variety of ways—brand stories, m-commerce, collect data, competitions, social media, sales and loyalty, adding value, and inspire brand use—to engage consumers and drive sales.
"We believe if you create great content, it will connect with people emotionally and it will delight them," he says. "They will fall in love with the experience and then, and only then, will they go on to deliver the commercial objectives that you need them to in order to add value to your business."
Zappar is a free-to-download app. When Zappar launched six years ago, its intent was to democratize AR by making it quick and cost-effective for brands to generate and build good content and then put it into the hands of consumers given the technology they already had with their smartphones. The Zappar app recognizes a Zapcode, which is a lightning bolt symbol, reads all the "bits" around it—"kind of like a barcode on steroids," says Stahel—and delivers the AR content from the cloud. The Zapcode and app can be custom-designed to reflect the brand, and each product can be given a unique code. Data gathered from the scans is presented to the brand owner on a Zap-alytics dashboard.
To demonstrate the value of AR packaging for consumer engagement, Stahel shared the example of a project Zappar worked on with PEZ. "PEZ knew kids loved their dispensers—it gave them a toy and a sweet," he explains. "But PEZ learned through research that the refill packs were a little bit boring. They needed to inject some play value into the packaging to keep people coming back again and again in order to satisfy their long-term strategic goal of driving repeat sales."
The solution was the PEZ Play smartphone app coupled with custom PEZ Zapcodes hidden inside the refill packaging that allowed kids to download six mini-games. According to Stahel, the results were "phenomenal," with 150,000 scans and 1.5 million minutes of play within the first six months. "It resulted in a huge amount of engagement and sales increases," he says.
PEZ was so pleased with the results, they rolled the program out from their initial line to all of the licensed lines they have introduced after that.
"It's a clear illustration of how we were able to identify a business need and then translate that into a campaign that delivered conventional results," says Stahel.
Zappar is also licensing their AR technology to other companies. One is Shazam—the British company most well-known for its music app. Richard Sharp, CTO of Shazam, followed Stahel on the stage and shared that while the company has been tremendously successful with music—20 million times/day people interact with their app—they have aspirations to go beyond audio. After success linking Shazam to television advertising, the company asked itself, "Why not make everything 'Shazam-enabled?'"
At the beginning of 2017, Shazam partnered with Zappar to deliver the code-scanning technology as well as the platform's immersive and expressive short-form mobile experiences.
The codes use the Shazam branding and offer "a uniform call to action," Sharp explains. Shazam Connect now encompasses audio, visual, beacon and watermarking, and media and retargeting. "You can Shazam anything now," says Sharp.
In the area of packaging, Shazam worked with Zappar on an application for Beam Suntory's Bombay Sapphire gin. By using the Shazam app and focusing the camera on a Shazam code on a hangtag on the Bombay Sapphire bottle, consumers were able to activate an AR experience where lush foliage and flowers appeared to bloom from behind the label, with the label panel replaced with a selection of videos. The videos provided consumers with instructions on drink recipes incorporating the gin.
Concluding his presentation, Sharp says, "We are really on the cusp of a very exciting time in terms of being able to create digital activations of packaging. We're just seeing the tip of the iceberg of what's possible. A lot of innovation and exciting campaigns and ideas are going to come out to digitally activate packaging and print media, and we're just seeing the beginning of that now. So, the next couple of years are going to be a very exciting time."
NFC for pharma, food, and e-commerce
NFC was also the technology of choice for The Centre for Process Innovation Ltd. (CPI) when it worked with GSK and AstraZeneca on the REMEDIES (RE-configuring MEDIcines End-to-end Supply) project to develop smart packaging for drugs used in clinical trials. "These drugs are extremely expensive," says Steven Bagshaw, CPI business development manager. "The pharma companies need to know that the drugs are getting to the right person, at the right time, in the right quality."
The goal of the REMEDIES project was to evaluate concepts that demonstrated the potential for printed electronics in the pharmaceutical supply chain and develop a manufacturing process for making large numbers of low-cost smart labels to apply to medicine packaging. The smart technology needed to be able to monitor temperature, humidity, and shock of pharmaceutical products at the crate, shipper, or package level, during clinical trials.
CPI chose flexible/printable electronics in the form of NFC labels. The labels provide instant data and increased visibility of excursion throughout the supply chain journey, provide live connectivity data through an Android app or through an IoT database, measure temperature and humidity (shock to come later), and provide as robust a solution as the one currently being used but with much greater functionality and cost efficiency.
CPI has tested and assembled a number of labels and has implemented data transfer to IoT. It is now scaling up its InkJetFlex platform for printed flexible substrates or flexo/screen printing. The technology includes a roll-to-roll Flip-Chip RFID inlay tool that operates at 13,000/hr and an R2R integration and conversion tool that converts inlays into adhesive labels at speeds to 60 m/min.
One of the exhibitors at the congress showing NFC tags for pharma—as well as food—was blulog. Says Sales and Marketing Director Jérémy Laurens, compared with current temperature data loggers, which "are either low-cost and limited, or wireless but expensive," blulog NFC data loggers:
· Are fully calibrated with ±0.3°C precision and a real-time, wireless clock
· Are single-use or reusable, with prices starting at €10 ($11.24)
· Are fully waterproof
· Have a memory of up to 48,000 measurement capacity + logistics data
· Provide geolocation at each scan and automatic upload to the cloud
· Have alert diodes in case of temperature excursions
Another supplier exhibiting NFC technology was Bunzl, with its Smartix platform, developed in partnership with IdeAtics, for e-commerce applications. With Smartix, consumers can scan an NFC label on a package, after which the Smartix app will gain access to the customer's personal, secure order information. Through the app, the customer can find their order and product information, start a return process, post a review, and set up a chat with customer service. In mid-2018, customers will also be able to pay directly with the app.
For the retailer, the direct link with the customer through the NFC label allows for direct identification and matching of return products, which is a major step in automatically processing return orders and optimizing the logistics process.
Another kind of Pepsi challenge
With so many active and intelligent technology providers in one place, AIPIA held the PepsiCo A & IP Challenge at the congress, inviting suppliers to present ideas to PepsiCo's Manager, External Innovation, Sameer Talsania, on how one or more of the PepsiCo brands could be enhanced through the challengers' packaging solutions.
Says Talsania, "We see the disruption that active and intelligent packaging brings, and we want to partner with companies to be ahead of the curve."
Ten companies participated, each giving a five-minute presentation. While many of the challengers provided an overview of their technologies without specifically addressing their potential for PepsiCo's products, there were a couple that made the connection. One of them was Keep-it Technologies, which recommended its Keep-it® time and temperature indicator (TTI) for PepsiCo's Tropicana orange juice product.
Keep-it Technologies has developed a time and temperature indicator (TTI) comprising two small chambers with different ingredients that react and change color depending on time and temperature. A blue bar that moves gradually from left to right and then disappears travels slowly at low temperatures and faster as the temperature increases. The indicator is attached as a self-adhesive label to the packaging by the CPG. The TTI monitors the time and temperature the package is exposed to from production, during transport, at the retailer, and in the consumer's fridge.
According to Peder Andersen of Keep-it, the indicator could provide PepsiCo the ability to increase sales, reduce waste, and increase their price and margin.
Citing TNS Gallup research from 2016, Andersen says that 90 percent of consumers polled for the research said they do not think the traditional date stamp is exact enough; 43 percent said they are willing to pay 5 euro cent more for a product with an indicator; 43 percent said they are willing to switch brands if the package has an indicator on it; and 25 percent said they are willing to switch stores to get a product with an indicator on it.
Reducing food waste through packaging
The reduction of food waste through the use of smart and active packaging was also a big topic on the congress agenda. Among the speakers was Dr. Graham Skinner, product development manager at Insignia Technologies Ltd., who talked about the company's range of smart pigments and labeling solutions. Insignia's smart pigments change color when exposed to various gases, such as carbon dioxide. By extruding the pigments into polymer films, Insignia creates a range of intelligent plastics that can then be converted into labels for use as TTIs.
One customer of Insignia's technology is U.K. grocery chain Sainsbury's, which is using an "after opening" freshness timer on packaged ham. The timer is applied to the inside of the film lidding. It is activated by opening the pack and is set for a standard fridge temperature. The rate of color change is temperature sensitive—it accelerates outside of storage.
Explains Dr. Skinner, "It is based on CO2 diffusion and uses different barrier films. By changing various barriers in the labels, we can create different timing. It ensures that products are consumed at the optimal freshness. Sainsbury's shoppers are seeing that it is reducing food waste."
Other technologies from Insignia include the Fresh Tag shelf-life monitoring tag, a time- and temperature-sensitive label that can be used to link the entire supply chain from point of production to retail; the Pull & Time label for non-MAP applications, which is activated by removing a tab; and the FreshTag for ambient bakery products, which removes the need for the retailer to date code the package after the product is defrosted.
Dr. Skinner's key takeaways:
· Demand for food will increase by 50 percent by 2050.
· The reduction of food waste has become high profile and that momentum will continue.
· Major supermarkets, quick-service restaurants, and contract caterers worldwide are now far more aware of their responsibility for reducing food waste.
· It is vitally important that technologies continue to be developed and implemented to assist in food waste reduction.
Solveiga Pakstaite, founder and CEO of Mimica, offered up another solution—a tactile date-code label. "Date codes for food were established in 1973," she says. "It was used more as an indication of quality and not safety. Now people see it as an indicator of safety. The information we're using to throw away our food is inaccurate."
She added that because date codes are still legally required, Mimica has changed their purpose, supplementing them with tactile labels that include the expiry date and a gelatin technology that becomes bumpy when a food has spoiled. "If you want to create behavior change," she says, "don't try to replace the existing system, supplement it."
According to Pakstaite, a typical food retailer can increase its profit by 17 percent by cutting food waste from 2 percent of volume to 1.5 percent.
AIPIA coming to America
Announced at the congress, AIPIA will be holding the first Active & Intelligent Packaging Summit Americas June 4-5, 2018, in Jersey City, New Jersey. The 2018 Active & Intelligent Packaging World Congress, "Disruptive Technologies for the New Packaging Age," is scheduled for Nov. 19-20 in Amsterdam.