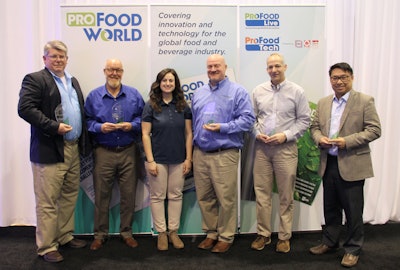 The winners of ProFood World's 2018 Sustainability Excellence in Manufacturing Award prove that eco-friendly activities and profitability go hand in hand. ProFood World honored the award winners in Chicago during ProFood Tech, where they shared how their operations go beyond environmental compliance and drive improved performance through sustainability.
First Place Program Category
In the Program Category, Smithfield Packaged Meats' facility in Kinston, North Carolina, earned first place for making some simple, cost-effective adjustments to its smoker to prevent excessive liquid smoke loss. Prior to initiating the project, the company lost about 1.62 gal per hour of liquid smoke when it applied the liquid smoke to its hotdogs. The liquid smoke dripped off the hotdogs and seeped into the floor drain, causing Smithfield to lose about 38.88 gallons of liquid smoke per day at a cost of about $22.57 per gal. In addition, it increased the company's surcharges for wastewater treatment. Smithfield decided to install a blower and air knives that it wasn't using on one of its dryers onto its smoker unit. The blower system with air knives blows the excess liquid smoke off the baskets holding the hotdogs into a smoker holding tank. By making this simple change to its smoker, Smithfield reduced its liquid smoke loss by 59 percent and saved more about $129,000 in a year by capturing the excess liquid smoke. Because the company already had the blower and air knives on hand and only needed to purchase about $300 of parts for the installation, the return on investment was immediate.
Second Place Program Category
Land O'Lakes' facility in Kent, Ohio, received the second place award in the Program Category for converting butter into energy. In 2016, the Kent facility spent $41,000 in environmental cleanup for its 10-ton trash compactor, which leaked butter, and removing it three times a week. The company decided to find a better way to discard its packaged butter products that it couldn't sell for various reasons, including line casualties, lab samples and out-of-spec products. Instead of putting the products in its trash compactor, Land O'Lakes now works with a company that has an industrial shredder with a high-pressure, high-temperature press on the back side of it. As the shredder heats up, it presses the melted butter, which goes through a screening device and to an anaerobic digester. Micro-organisms in the anaerobic digester consume the butter, producing electricity, heat and methane gas. The plastic from the products are recycled. Land O'Lakes no longer has environmental cleanup fees, saving $41,000 a year. It only removes the compactor waste once a week, compared to three times a week in 2016—reducing pickup charges by two-thirds. The company diverts 282 tons of butter from the landfill to the anaerobic digesters, generating 149,000 kWh of electricity in 2018, which is equivalent to 1.5 percent of the total kWh that the Kent facility uses every year.
First Place Project Category
Keystone Foods won the first-place award in the Project Category by reconsidering its wastewater vendor options. The company's North Carolina facility began evaluating wastewater chemical vendors in 2016, eventually signing a contract with Polytec, a vendor used at its other locations. By hiring a new wastewater chemical vendor, Keystone not only yielded wastewater treatment chemical cost savings, but also improved wastewater treatment system and monitoring and performance, enabled online storage of wastewater data, reduced dissolved air flotation solids weight, improved operator safety, and reduced labor costs.
Second Place Project Category (tie)
ProFood World awarded second place to Campbell Soup Company in the Project Category for partnering with BNB Renewable and SunPower to install a 4.5MW solar system at the company's world headquarters in Camden, New Jersey. The project features a combination of SunPower's rooftop, car port and ground-mount solar solutions as well as electric car charging stations. As the largest solar array in Camden, the system will supply the equivalent of 20 percent of the annual energy demand of Campbell's headquarters. Campbell signed a 20-year purchase power agreement with BNB, which allows Campbell to purchase all the electricity generated by the solar project at a predetermined rate lower than its current electrical rate from the local utility company. In addition, because the project was structured as a purchase power agreement means, there was zero capital investment for Campbell.
Second Place Project Category (tie)
Smithfield Packaged Meats' facility in Sioux City, Iowa also garnered a second place award in the Project Category in a tie with Campbell for replacing its four water-intensive chip smokers with waterless smokers for its smoked meats. The new units reduce water usage by 98 percent, saving more than 1 million gal of water a year.
Third Place Project Category
McCormick & Company's Dallas plant earned third place in the Project Category for replacing its obsolete compressed air system with an energy-efficient compressed air system with waste heat recovery. The new system is comprised of one fixed speed and one variable speed compressor so that air output modulates to match demand. The heat exchanger and storage tank capture waste heat from the compressor cooling loop to provide free hot water. The company expects the new compressor system will consume about 30 percent less electricity than the old compressor system because of the variable speed drive compressor and a dryer system that uses the waste heat from the compressors as the source of energy for drying. The free hot water and installation of on-demand water heaters reduce natural gas consumption by 50 percent and eliminate hot water outages, thereby increasing production cycles.
For information about the Sustainability Excellence in Manufacturing Awards, please visit https://www.profoodworld.com/awards/sema.