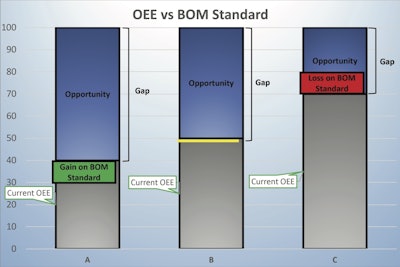 Craig Langhals is director of continuous improvement at SugarCreek, a diversified food manufacturer based in Ohio with six plants in the United States. The company is currently building a continuous improvement (CI) platform from scratch and utilizes Inductive Automation's Ignition software as a tool to identify gaps and opportunities.
"We're developing a standard performance system for the entire company to get consistency throughout the plants. Ignition development is the first principle of our performance system. The second principle is repeat daily review and response," says Langhals.
The food processor trends most of its lines on throughput attainment using Ignition daily trends with a five-week rolling average. It has office reviews with the plants once a week to ensure daily meetings are happening and that it is maintaining a certain level of attainment and throughput. "Once a five-week trend becomes stagnant, it gets harder to make improvements," Langhals explains. "Then we start coaching people on other tools for improvement."
Before SugarCreek started its CI journey, it had a weekly ops review where plants reported their metrics. "With production, it was based on bill of material (BOM) and on Excel spreadsheets," says Dan Stauft, director of operational technology (OT) at SugarCreek. "Everybody did math different ways, so we didn't really have good measurements or data on how plants were implementing improvements."
Today, SugarCreek can better track its success. The company looks at a four-week average, and, if it shows improvement, then it hit its goal, states Stauft. This is now SugarCreek's corporate tool, and plants must report on it.
SugarCreek started working with Ignition testing five years ago. Stauft says it helped the company in many ways. "We don't just use it for production and continuous improvement," he says. "We use it for refrigeration systems, controls, alarming, etc. From a performance perspective, it has given us huge gains."
Digging deeper
At plant staff meetings, improvement areas are identified, then OT develops tools to dig deeper into and resolve problem areas. Later, dashboards are developed, plants are firmly established, and staff can start driving results themselves.
"We've got a plant in Dayton and a plant in Kansas that each have six identical lines. This is actually creating a little competition between those two plants," Stauft says. "It's created an environment of competition, but also an environment of sharing ideas."
Empowered teams from quality maintenance, production and supply chain meet daily and determine follow-up points.
SugarCreek is trying to get away from using BOM standards to measure productivity and is making the switch to overall equipment effectiveness (OEE) because it believes BOM standards don't create an atmosphere of improvement.
"We use zero-based analysis, and we identify and study every piece of equipment on the line," says Langhals.
According to Stauft, SugarCreek can bring relevant, actionable data from the floor to the people who can make decisions: "If it's not relevant or actionable, we're not collecting it."
At SugarCreek, top management's manifesto is to change the culture or change the manager.
"At SugarCreek University, we have talented people working to drive improvement and change culture — in who we hire, how we retain staff, what our safety philosophies are, training on a higher level, and then trickling that down into the plant and changing the way people think and changing the way that managers manage and supervisors supervise," Stauft says.
To read more about how to implement continuous improvement, click here.
Companies in this article