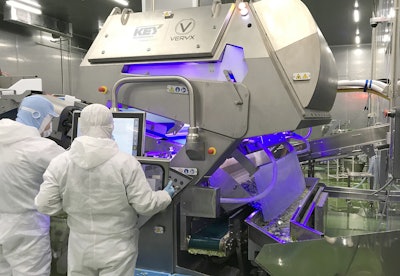 The Key Technology VERYX belt-fed digital sorter for fresh-cut leafy greens uses top and bottom sensors to inspect products entirely in the air. Detecting the color, size, shape and structural properties of every object, including the presence or absence of chlorophyll, the sorter removes insects and animal parts, paperboard, wood, rocks, plastics and glass, as well as defects and blemishes, including leaf discoloration, tipburn, and decayed, wilted or broken leaves. It can be configured to handle a range of products, including iceberg, romaine, leafy spinach, cabbage, arugula, frisée, escarole, radicchio, Belgian endive, watercress and various salad mixes. The sorter is available in multiple sizes.
Companies in this article
Videos from Key Technology, Inc.