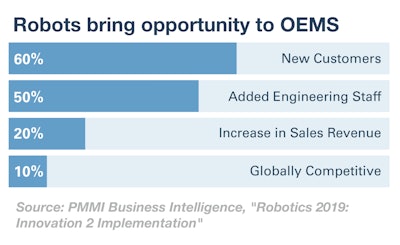 Sixty percent of OEMs in a new study, "Robotics 2019: Innovation 2 Implementation," report robotic offerings have helped land new customers as well as cemented relationships with existing customers. Half of OEMS polled have added engineering staff and one-fifth have seen an increase in sales revenue due to machines offering integrated robots.
But moving deeper into robotic offerings takes higher skilled workers. "The growth in robotics requires a certain skill set in our organization– both engineers and technicians –which is very hard to find," Says one VP of sales for an OEM.
Once installed, servicing robots falls largely on the OEM, with 72% of end users relying on OEMs, versus 48% saying systems integrators, 28% the robot manufacturer and only 12% of end users using their own internal service team to support robots.
End users are looking to OEMs to be a partner who can walk them through the process of designing, commissioning, and installing a robotic work station. Eighty-seven percent of end users want more training on robotics, while 65% of end users are calling for extended service/warranty contracts. Half of end users in the study called for remote diagnostics.
"We initially and repeatedly train our customers, until they gain the experience and learn how to make programming changes internally and become more comfortable with their robots," says one OEM General Manager.
Seventy percent of OEMs interviewed for the study report having dedicated service technicians to handle robotics.
PMMI members can access the full 62-page report, and all readers can download the free detailed Executive Summary here.
Visit PACK EXPO Las Vegas September 23-25 to see dozens of robots in action, both stand-alone and integrated into packaging machinery.