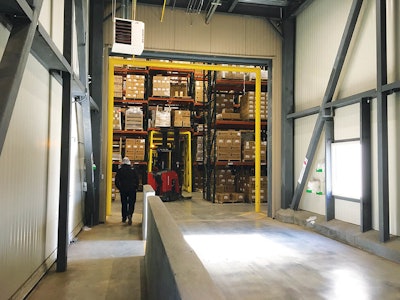 Royal Cup Coffee and Tea's business evolved from store delivery to route trucks and eventually national delivery, says Kevin Boughner, senior vice president of operations. The Birmingham, Alabama, site where the plant is located was purchased in 1976. "There's a creek about 200 yards from where we're sitting," Boughner says, but the company never thought its property would expand that far. In fact, it did make it to the creek.
In 2011, Royal Cup's facility was nearing production, and by 2013, there was little capacity left. "[CEO] Bill [Smith III] and I began to research who builds these types of facilities," recalls Boughner. "We interviewed a number of companies and landed on Stellar." Due to Stellar's expertise in building coffee plants and its past work with Starbucks and Nestlé, the engineering and construction firm was awarded the design-build bid.
At the project's start, Boughner says cross-functional teams of about 20 staff members participated in workshops facilitated by Stellar. Royal Cup used these workshops to determine what it wanted to achieve.
"Originally, we wanted to spend about $30 million. If we decided to go greenfield, it would have been about $105 million," Boughner says. "What we ultimately landed on was a $49.1 million project.
Royal Cup chose design-build because the Smith family wanted to keep its operations in Birmingham on the existing site. Fortunately, there was an available property across the street and another 17 acres adjacent to the back of the warehouse.
"Design-build allowed us the flexibility to operate the plant and design the new sections while we were working," states Boughner.
Read about how Royal Cup Coffee and Tea's complex, multiphase project created a new linear flow that streamlines the product's journey from raw material to final package at https://www.profoodworld.com/articles/royal-cup-coffee-and-tea-creates-bridge-its-future.
Learn more about design-build and other plant renovation topics at PACK EXPO Las Vegas from Sept. 23-25 at the Las Vegas Convention Center. Register by Aug. 30 to save 70 percent off the registration fee.
Companies in this article