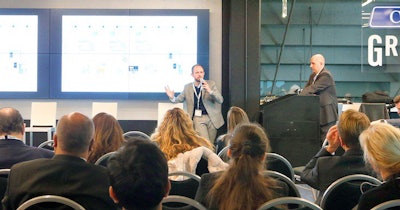 So, you've read a number of articles about blockchain (like those linked to at the bottom of this article) and you're intrigued by its potential for your business. But since there is no well-known, widely used blockchain software package available, you're not sure where to start.
If this sounds like you, I've got good news and bad news.
The bad news is that, as of today, there is no "easy" or direct way to ramp up with blockchain.
The good news is that some products are beginning to hit the market—and more are on the way. Among the first of these is Microsoft's Azure Blockchain Workbench, which can be used to set up quick proofs of concept to determine what works best for you, according to Caglayan Arkan, global lead of Microsoft's Manufacturing & Resources Industry. Some Azure blockchain samples are also available in Github.
At the Manufacturing in American event, sponsored by Siemens and Electro-Matic, a panel discussion featuring John Greaves of Sonaria (a supplier of software for tracking and management), Davide Picciotto of Siemens Industry, Aaron Ault of Purdue University, and Kevin Otto of GS1 US (a member-driven standards organization) addressed the issue of how food and beverage companies can start implementing blockchain. As noted in many of the articles linked below, blockchain is poised to impact the food and beverage and consumer packaged goods (CPG) first because of its unique and secure supply chain traceability capabilities.
Otto noted that, as of today, the core issue of making blockchain viable for industry revolves around accurate data capture and openness to sharing that data for everyone's benefit. "Blockchain is not going to solve the problem of manufacturers not sharing data if manufacturers are not capturing it for use," he said.
To address this, GS1 has launched a cross-industry blockchain discussion group in connection with its Foodservice GS1 standards initiative to share publicly available information about products as well as what is shared between trading partners. The group's aim is to understand the links between GS1 Standards and blockchain to help better determine what needs to be truly transparent.
Based on the findings of this discussion group, Otto said GS1 is in the process of developing guidance on the core set of data that companies will need to get started with blockchain. He expects this guidance to be released by the end of this year.
Though official guidance from GS1 is not yet available, Otto said it's important for companies to begin preparing now by evaluating the state of their organization's data. This means having discussions about your data internally before approaching other trading partners about blockchain. "Organizations need to be very clear about what they are willing to share and what they will never share," he said.
Another key step you can take now is making sure your data is standardized and uniquely identifiable, said Otto. "This is a great place to begin the process. In the food, beverage, and CGP industries, leveraging GS1 standards makes sense. More than five billion barcodes that are GS1 compliant are scanning every day, and using standardized information only enhances the benefit of data-sharing technologies like blockchain."
A blockchain process audit is a good first step for companies to prepare data for standardization and potential sharing via blockchain, according to Greaves. "A number of vendors can assist you with an audit," he said, "But it's important to remember that you must know your organization, your data, your processes intimately. A vendor can provide the 'how' but you know the more important details about your company to make the decision on whether blockchain can help you solve your problem."
When it comes to using blockchain to solve specific business problems, Greaves says it's important to realize upfront that the process of problem resolution can get complicated. "Over half of the original project owners are displaced within the first few months because their identification of a problem led to corporate-wide discovery of other problems," he said.
To mitigate this issue, Greaves recommends having a blockchain project team that represents a variety of departments. "Blockchain cannot operate in silos. People need to work together across an organization to make blockchain effective," he said
Ault added that focusing on an initial problem with a pilot project is the best way to get started once your data has been standardized and prepped for sharing. "This is a journey," he said. "You don't just flip a switch with blockchain. Starting with a pilot then building to stage two and three is a smart way to introduce the technology to your organization."
In these early days, it is critical to recognize that the implementation and use of blockchain will be a journey—much as it is with Industry 4.0 or the Industrial Internet of Things. For some perspective on that, consider that many experts who are familiar with blockchain's potential uses in the food, beverage and CPG supply chain believe that blockchain will eventually extend beyond supply chain partners, reaching all the way to the consumer. They project that blockchain data will be used by consumers to help them make purchase decisions.
Otto explained a proof-of-concept project now being conducted by one retailer that will allow consumers to scan a barcode on a package of oranges to access information about the oranges' levels of sweetness and acidity. "If consumers begin to receive this type of information from one retailer, they're going to expect it from other retailers," he said. "The idea of data driving purchasing decisions is not going to go away. And it will start to snowball; as you're able to start giving consumers this level of information about a product, it will drive preference at point of consumption."
A few additional articles about blockchain from Automation World
Companies in this article