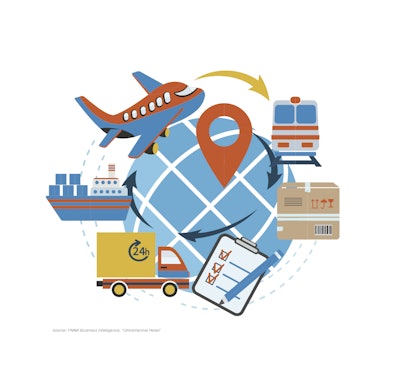 Yes, omnichannel companies must pay close attention to creating packaging suitable for each distribution channel while maintaining brand identity, but there is much more complexity in the equation.
According to the new study, "Omnichannel Retail: Operating harmoniously in an Integrated Digitally Enhanced Supply Chain," omnichannel players have to operate more efficiently by:
Managing incoming orders from a variety of platforms and channels.
Achieving a high level of operational integration across departments and partner organizations.
Creating new points of data collection to leverage information for operational improvements.
Monitoring inventory levels in as close to real time as possible across all channels and locations.
Utilizing predictive models to better understand which products will be needed in which channels.
Investing in automation to improve production and fulfillment processes.
Locating products as close to the customer as possible through new distribution facilities or partners.
Ensuring a consistent customer experience regardless of channel.
"The goal is to ship smaller and smaller quantities cost efficiently which means we have to make changes as quickly as possible to retailer requests," says one packaging engineer for a supplement manufacturer.
Primary and secondary packaging remains a major concern, especially to reduce returns from damage during shipping.
A senior packaging specialist for an OTC drug maker says, "We are working with our e-commerce engineer to develop new shapes and sizes to the primary package for added protection during shipment."
But developing an omnichannel strategy is more than just redesigning packaging, different pack configurations are needed to satisfy consumers and retailers.
A vice president of operations feels the burden of change with increasing SKUs as retailers request packs of two, three, and six count configurations, and states: "It affects our overall approach and changes our entire production system."
To meet these new challenges, omnichannel companies are turning to automation and integration solutions specifically adapted for the warehouse. Improvements such as automated conveying systems, wearables, and voice activated picking can keep orders flowing efficiently through an omnichannel warehouse.
As a leading personal care company implementing more robotics explains, "We have only one or two people on a line now where we are using robotics, and in the past we had up to 20 workers."
Download your FREE 20-page white paper here. To see our coverage of E-commerce in Packaging and to download a FREE executive summary of a larger report, "E-commerce 2018: Think Inside The Box," click here. PMMI members can get the entire 57-page report for free here.
Make plans to visit PACK EXPO Las Vegas, September 23-25, for machinery and materials to tackle your e-commerce and omnichannel challenges.