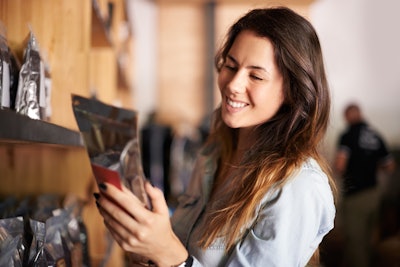 As flexible packaging continues to grow — making up 39 percent of the global packaging market — innovations in the sector are following suit, according to the 2019 Flexible Packaging Assessment report, produced by PMMI, The Association for Packaging and Processing Technologies. Flexible packaging manufacturers are developing packaging that helps consumer packaged goods (CPG) companies stand out from their competitors with creative designs, specialty closures that enhance the user experience, and intelligent indicators that communicate freshness and quality.
Some CPGs use eye-catching packaging that features unique or customizable shapes to draw consumer attention. For example, some cake decorating products are packaged in pouches shaped like pumpkins for Halloween, bunnies at Easter or Christmas trees during the holidays. This flexible packaging trend has long been popular in Europe and Asia, but it is just beginning to gain traction in the United States. According to the report, 4 in 5 manufacturers have been pressured by customers to add new shapes to their flexible packaging formulations. One-third of manufacturers say that using customized shapes for packaging to complement a flavor or product use is a great way to leave a positive lasting impression with consumers. However, it requires flexible packaging machinery that can adapt to unique sizes and configurations.
Flexible packaging manufacturers are also updating their packaging with specialty reclosable closures, including spouts, zippers, and snap-to-seal tops and fitments, to enhance the overall user experience and impart a premium quality to their packaging. These types of closures ensure dispensing and pouring is neater and more controlled, while also extending the shelf lives of products. For example, several respondents in the study noted that large dairy products, such as sour cream and yogurt, have moved into pouches with snap-close fitments, which help the products realize longer shelf lives and less product separation.
The report also noted that more flexible packaging manufacturers are using intelligent indicators on their packaging to reassure consumers about product freshness and quality. Technologies like gas sensors, oxygen sensors and time-temperature indicators have been around for some time, but CPGs are using them in flexible packaging much more frequently now, as compared to three years ago, especially for perishable items like meat and fish. For example, the study mentioned that a food company has integrated a color indicator within its flexible packaging that lets consumers, distributors and packers know the ideal consumption period for its poultry products.
To learn more about the growth of flexible packaging, download the 2019 Flexible Packaging Assessment report at www.pmmi.org/report/2019-flexible-packaging-market-assessment.
Learn more about flexible packaging innovations at PACK EXPO Las Vegas from Sept. 23-25 at the Las Vegas Convention Center. Register by Aug. 30 to save 70 percent off the registration fee.
Companies in this article