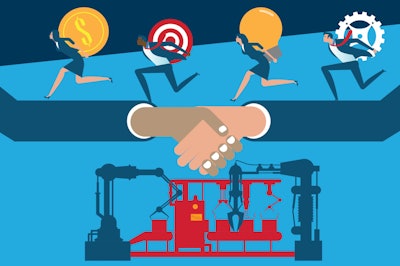 PMMI conducted its 14th annual Top to Top Summit this past spring at the Sawgrass Marriott Golf Resort & Spa in Ponte Vedra, Florida. The impetus for PMMI's Top to Top Summit is its Vision 2025 sessions. Together with the OpX Leadership Network, the trio comprises PMMI's suite of continuous improvements forums in which consumer packaged goods (CPG) companies, original equipment manufacturers (OEM) and contract packagers gather to discuss some of the most significant operations challenges they face and opportunities to collaborate on solution development. (Discovery at Vision 2025, Discussion at Top to Top and Solutions from the OpX Leadership Network.)
The findings from the 2019 Top to Top Summit focused on three critical areas:
1. Collaboration and innovation for improved obsolescence management.
2. Leveraging robotics on the road to automation.
3. Utilizing augmented reality (AR) and virtual reality (VR) for remote equipment access and beyond.
So what do obsolescence management, robotics, and augmented and virtual reality have in common? From the perspective of this year's Top to Top participants, it is more than meets the eye. In fact, there was a common, unified theme that coursed its way through all the panel conversations and roundtable discussions: balancing the ever-accelerating pace of technological change with people's ever-diminishing ability to keep up with it.
In 1922, William F. Ogburn, a sociologist, was one of the earliest thought leaders to show that innovation, especially technological innovation, advances at a faster pace, whereas societal norms tend to resist change and move slower. He referred to the gap between the two as cultural lag. This cultural lag was an underlying current for much of the discussion among the participants at Top to Top and is the focus of both the challenges they face and the solutions they're putting into play to address them. The following are just a few dominant examples.
When it comes to obsolescence management, they cite their greatest challenges as keeping up with many technology platforms and anticipating what's coming down the pike. But to narrow the gap, they cite proactive communications between CPGs and OEMs and the ability to conduct risk assessments so they can better understand the effects of obsolescence as the greatest opportunities for solutions.
Manufacturers and machine builders work closely together to get production lines up and running, but they don't always communicate effectively about equipment issues or consumer trends that are impacting operations. That has to change as the pressure to deal with more SKUs and to deliver products through e-commerce channels requires faster turnaround times from everyone involved.
Regarding robotics implementation, they cite the maturity of the entire supply chain to handle automation as the greatest obstacle. And while the technology is already available, they cite finding and training a skilled workforce as their greatest and most formidable challenge in utilizing the technology that when overcome, could help narrow the gap.
While there are many application areas identified where collaborative robots and autonomous mobile robots make sense, there are also obstacles to adoption, the group said. Specifically, the maturity of the supply chain to handle automation, return on investment (ROI), breaking down internal organizational silos and sanitation-related issues. There are also less obvious problems, such as space — production lines are built for humans, not robots.
Also, introducing robots into the environment requires bringing the safety department up to speed on codes around ANSI and ISO and getting them to buy off on what manufacturing is trying to do with robots on the plant floor. It's a new way of thinking, which requires working closely with safety, engineering, maintenance and training departments.
While the executives at Top to Top understand the sensitivity around robots replacing people, they emphasized that it's not what's happening. The panelists — all of whom are using robots in production — say it's not about swapping in a machine in place of a person, but, rather, leveraging technology to make a better working environment.
The gap, as mentioned earlier in robotics implementation, is perhaps illustrated most ironically when it comes to utilizing AR/VR technologies. Here, Top to Top participants cite remote diagnostics and service as the most significant area where they are implementing or would like to implement these technologies. Where is the irony? They cite blocked remote access (people-imposed) as the greatest challenge they face even though the technology is available.
The value of Ogburn's observations regarding cultural lag reflects the value of PMMI's suite of continuous improvement forums in developing solutions to this lag — that the industry's most challenging problems, especially the technological ones addressed in this report, can only be improved through discovery, discussion and solution.
PMMI's continuous improvements forums: working together to get ahead
Now a staple of the PACK EXPO porfolio of trade shows, a Vision 2025 session at ProFood Tech 2019 brought together food and beverage processing professionals to address consumer and customer demands and the effect this mass customization has on production operations. While the full report is due for release soon, preliminary findings focused on a need for deeper — and earlier, if not immediate — communication between cross-functional groups, including OEMs and CPGs. In addition to opening the lines of dialogue for better partnerships, better and quicker changeover times for machinery ranked as a consistent theme.
For the complete Vision 2025 report from ProFood Tech, visit www.pmmi.org. Vision 2025 returns to PACK EXPO Las Vegas and the co-located Healthcare Packaging EXPO (Sept. 23-25, 2019; Las Vegas Convention Center, Las Vegas, Nevada). For more information, visit www.packexpolasvegas.com.
Stephanie Neil, OEM's editor-in-chief, and Matt Reynolds, Packaging World's editor-in-chief, contributed to this report.
Learn more about the latest breakthrough technologies that can significantly enhance your manufacturing operations at PACK EXPO Las Vegas from Sept. 23-25 at the Las Vegas Convention Center. Register by Aug. 30 to save 70 percent off the registration fee.
Companies in this article