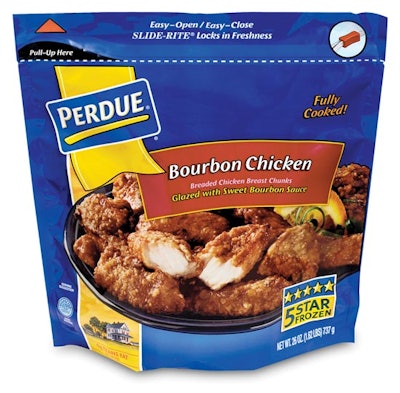 Printed using digital flexo technology, the bag graphics satisfied the FPA judges' appetite for high-quality reproduction, earning Alcan a Gold Award for Printing Achievement.
Since 2006, explains Alcan market manager Joyce Musgrave, Alcan has been transitioning the retail stand-up pouch packaging for Perdue's frozen breaded chicken chunk products—there are 20 SKUs currently—from a former supplier to Alcan's digital flexo-printing facilities in Boscobel, WI.
The Perdue Bourbon Chicken pouch is a multilayer film made from 48-ga PET/ink/adhesive/3-mil proprietary coextrusion sealant that "lends balanced stiffness and achieves maximum efficiencies and throughput on both pouching and filling equipment, reducing waste, and consequently costs, throughout the system," Musgrave says.
Bag graphics, reverse-printed on the outer PET film layer in 10 colors, include a photo of prepared chicken chunks in bourbon sauce against a Perdue-blue background and a yellow "ribbon" illustration running down the left hand side of the front panel. A drawing of the Perdue family farmhouse—a fixture on all of the company's packages—appears on the bottom of the ribbon, while the Perdue logo is at the top.
"We added visual punch to the package's design by utilizing 10-color digital technology," says Musgrave, who chose not to identify the technology vendor. "Our Boscobel facility uses this digital print technology to achieve very fine and uniform printing, through outstanding dot shapes.
The result is an improved plate-to-plate image fit, consistent imaging across the plate, and enhanced print quality with sharper images overall. The quality of the digital printing is particularly evident in the consistency of the Perdue farm vignette, which helps to uniformly reinforce Perdue's brand image. The high-contrast benefits of digital also increase the product's shelf appeal and showcase its serving suggestion."
At the top of the pouch, Alcan's proprietary LaserTear™ technology is used to ensure "a consistent separation of materials and a cleaner, easy-open package," Musgrave says. Pouch resealability is enabled with a Hefty Slide-Rite zipper from Pactiv.


Companies in this article