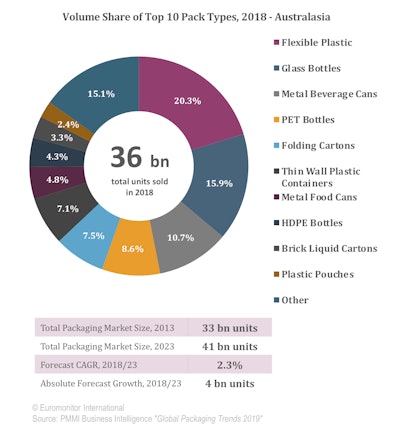 According to "Global Packaging Trends," a new report compiled by Euromonitor International for PMMI Business Intelligence, Australia represents 84% of the total Australasia population and largely shapes the growth in the region. Between 2018 and 2023, it is expected to have a 3.7-billion-unit absolute volume growth.
Flexible plastic was the 2018 leading primary packaging type in Australasia. Food - especially small-sized and single-serve products and staples and snacks that do not require a cold chain network - tea, powders and other detergents were common end applications. Flexible packaging is expected to have a 0.9-billion-unit absolute volume growth by 2023.
As beer's popularity grows in the region, beer packaging is also expected to grow, with glass being the most popular packaging type. Heritage, returnability, and premiumization will be key drivers of glass's growth in beer in the coming years, though metal can usage is growing, particularly the 330 ml pack sizes. Beer packaging is expected to have a 0.4-billion-unit absolute volume growth by 2023.
Spotlight:
Premiumization is a growing trend, and the use of glass is becoming popular to suggest quality in categories such as confectionery, baby food, spreads and sauces, dressings, and alcoholic drinks.
Sustainability and rising environmental concerns influence product packaging as consumers demand packing that is recyclable, biodegradable or comprises compostable packaging material. Refill packs such as plastic pouches, glass bottles, and collapsible thin PET bottles are expected to become more popular.
Small food and beverage pack sizes are becoming popular with Australian consumers, who are increasingly health-conscious and opt for smaller portions when indulging. Larger pack sizes continue to be popular choices in beauty and personal care.
Aluminum cans for wine packaging is becoming more appealing due to its convenience and portability.
Rigid plastic packaging demand will grow in the form of HDPE bottles, PET jars, squeezable plastic tubes, and specialty cosmetic containers for sun care and cosmetics.
Source: "Global Packaging Trends," Compiled by Euromonitor International for the Packaging Machinery Manufacturers Institute (PMMI). PMMI Members can download the full report for FREE, here.
Australian Packaging & Processing Machinery Association (APPMA)
PMMI, The Association for Packaging and Processing Technologies
UCIMA, Italian Packaging Machinery Manufacturers Association
Symop, French Association for Manufacturing Technologies
Make plans to visit PACK EXPO Las Vegas, September 23-25, to see on-trend packaging machinery and materials.