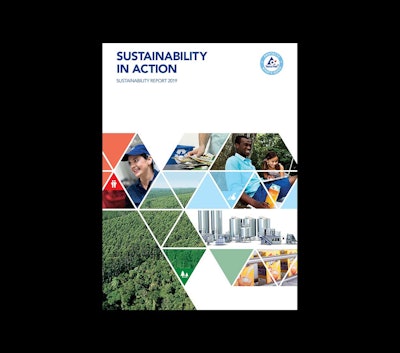 Tetra Pak is on a quest to build a low-carbon, circular economy as an integral part of its business strategy, according to the sustainability report that the packaging and processing company recently released. To reduce its environmental footprint, Tetra Pak has invested in eco-friendly packaging and low-carbon operations across its value chain and beyond that have moved the needle significantly in meeting its ambitious sustainability goals.
According to the report, Tetra Pak has reduced its carbon emissions by about 10 million tons across its value chain between 2010 and 2017, while also bringing 500 million units of renewable packaging to market in 2018. Those impressive results represent the company's move toward a circular economy, a regenerative model that reduces waste and keeps materials in use longer. Tetra Pak says it seeks to minimize waste and optimize use of resources and reduce the lifecycle impact of its packaging, processing and other services.
"We believe that the economy of the future must be circular and low carbon with a minimum climate impact across the entire food value chain," says Adolfo Orive, president and CEO of Tetra Pak. "We are working to achieve this by delivering solutions with the lowest carbon footprint and highest efficiency, minimizing the environmental impact on our own operations and working with partners to address the end of life of our products. And we are proud to be on track with our 2020 carbon emissions reduction ambitions."
A big part of Tetra Pak's sustainability strategy is to create packaging made from renewable or recyclable materials. About 71 percent of the raw materials used in Tetra Pak's carton packages consists of paperboard from forests certified to Forest Stewardship Council (FSC) standards. FSC certification helps prevent deforestation and promotes sustainable forest management. Since 2007, Tetra Pak has produced 460 billion FSC-certified packages.
To make its carton packages and other primary and secondary packaging even more sustainable, Tetra Pak plans to replace fossil fuel-based polymers in its packaging with renewable or recycled polymers. However, the global supply of renewable and recycled polymers is low. Having signed onto the Ellen MacArthur Foundation New Plastics Economy Global Commitment to eliminate plastic waste at the source, Tetra Pak is aiming to use at least 10 percent recycled or renewable plastics in its packaging in Europe by 2025.
"There is little to no available recycled low-density polyethylene [on the market], and that's the type of material we use for the lamination of packages, both inside and outside the package," says Mario Abreu, vice president of sustainability at Tetra Pak. "We expect that to change as we collaborate with some of our suppliers and partners in the industry to make it more available."
To further prevent plastics from becoming marine litter, Tetra Pak is investing €50 million in the next five years to add more tethered caps to its portfolio — an important move given that the European Union recently passed a law requiring attached bottle caps to single-use plastic products.
The company will also spend €30 million in the next three years to develop paper straws and other solutions to replace plastic straws. In July, Tetra Pak began field testing paper straws for beverage products in Europe as an alternative to single-use plastic straws for beverage cartons. Made from FSC-certified paper and recyclable with the rest of the package, the new paper straw will be available initially for two small-size carton packages commonly used for dairy and beverage products for children: Tetra Brik Aseptic 200 Base and Tetra Brik Aseptic Base Crystal. The company has not pursued a patent for the paper straw and intends to share its innovations to support industry collaboration.
"We have decided not to apply for patent protection on the numerous technical improvements we have made on the equipment and the materials, and instead put our innovations into the public domain," Orive says. "For the industry to achieve its common goal of driving toward a low-carbon circular economy, the entire supply base for paper straws must expand and grow quickly. We invite all suppliers and customers to use our knowledge and join forces with us to ramp up production as quickly as possible."
Beyond packaging materials, Tetra Pak is also working toward making customers' operations much more energy efficient. It has developed packaging and processing equipment designed to minimize waste and spoilage while reducing energy and water consumption — keeping efficiencies up and costs down. For example, in 2018, it launched its Encapt technology for its high-capacity separators for the dairy industry. This technology reduces the air pressure around the spinning bowl, which lowers the air friction and thereby the energy consumption.
In supporting its shift to a circular economy, Tetra Pak began working with the Certified Renovated Equipment organization to collect and restore previously used equipment before selling it. In 2018, Tetra Pak renovated 106 filling machines and downstream equipment. The company sold 15,000 maintenance units, which offer alternatives to single spare part maintenance and reduce downtime. These reconditioned units save about 5 tons of titanium yearly.
Another way Tetra Pak is working to improve its environmental impact is by investing in renewable electricity for its factories. The company has pledged to source 100 percent renewable electricity by 2030. In 2018, it passed the 50 percent milestone toward this goal and is on track to have 80 percent of its operations using renewable electricity by 2020. Eight of its factories produce green electricity from solar photovoltaics. In addition, 33 of its 56 production sites have 100 percent renewable electricity contracts in place. That means for the first time in 20 years, Tetra Pak factories have generated less than 4 percent in waste.
"Never before has sustainability been in sharper focus," Orive says, "and with emerging technologies and innovative thinking, it is within our power to do something about it."
To read Tetra Pak's 2019 sustainability report, please click here.
Learn more about the latest innovations in sustainable packaging and processing at PACK EXPO Las Vegas from Sept. 23-25 at the Las Vegas Convention Center. Register by Aug. 30 to save 70 percent off the registration fee.
Companies in this article