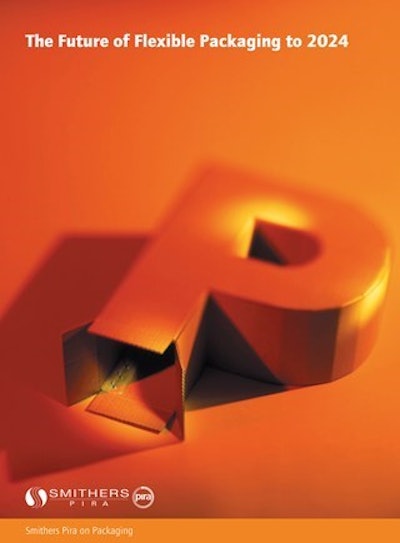 This content was written and submitted by the supplier. It has only been modified to comply with this publication's space and style.
A new report from Smithers Pira, The Future of Flexible Packaging to 2024, outlines how global urbanization, sustainability and e-commerce have increased the demand for flexible packaging.
Urbanization
As the global population moves into urban areas for living and working, the resulting active lifestyle has led to consumers to demand more convenient food in flexible packaging that is light weight and accommodates single servings. Flexible packaging is replacing more traditional packaging such as glass jars and metal cans more and more each year as its benefits are acknowledged. These benefits include extended shelf life, improved cost economics, lower pack weights and lower transport costs.
Sustainability
Flexible packaging itself is a more sustainability friendly packaging type than all other types, including glass and metal tins. It has a reduced carbon footprint, thanks to less energy used during manufacturing and transportation. Flexible packaging is lighter and thinner when compared to glass and metal packaging, which is driving consumer demand, on top of its benefits for industry, Smithers' research shows.
E-commerce
As with sustainability, e-commerce is driving the demand for flexible packaging up. Over the last five years, the amount of money spent online has increased tenfold, which in turn has increased the number of products being delivered globally. Due to the benefit that flexible packaging provides for the transporting of goods (mainly its light weight and ability to be delivered through the mail), demand is increasing for flexible packaging in this area. As e-commerce continues to grow, with more retailers entering the market, the demand for flexible packaging for this purpose is expected to increase.
For more information on The Future of Flexible Packaging to 2024 and other packaging market reports from Smithers Pira, visit https://www.smitherspira.com/industry-market-reports/packaging.
Make plans to visit PACK EXPO Las Vegas, September 23-25, to see on-trend flexible packaging machinery and materials.
To see Packaging World's coverage of the PMMI Business Intelligence report "2019 Flexible Packaging Market Assessment," click here.