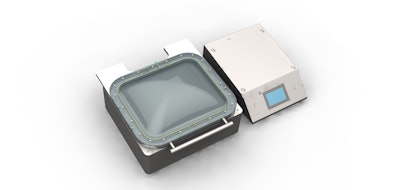 INFICON has just developed new nondestructive leak detection technology specifically for food sold in large packaging formats. The company debuted its Contura S600 at PACK EXPO Las Vegas, showcasing how the system will reliably and cost-effectively test products sold for bulk retail and foodservice applications as well as large-format modified atmosphere packaging and flexible packaging.
The Contura S600 relies on a proprietary differential pressure method to detect both gross and fine leaks, offering a faster, easier and quantifiable alternative to methodologies like water baths and gas-based testing. It features an oversized test chamber, which will help food manufacturers increase efficiencies by testing multiple products at the same time. The Contura® S600 is ideal for a variety of food applications including pet food, meat and poultry, baked goods, snack foods, confectionery/candy, cheese, grains and cereals, prepared food, and produce.
INFICON says the Contura S600 is designed to help manufacturers extend shelf life of their products, prevent costly recalls and returns, and reduce waste.
"Identifying package leaks, however big or small, is a necessity for food manufacturers looking to catch faulty packages before they make it to store shelves," said Bill Burnard, package integrity sales & business development manager, North America, at INFICON. "As bulk and oversized packages continue to proliferate the market, the Contura® S600 gives manufacturers additional flexibility to test their large size products and protect food quality, enhance safety and maximize consumer satisfaction. The addition of the S600 to the Contura® family also ensures that INFICON is well-equipped to meet the varying needs of today's food manufacturers."
To see the Contura S600 in action at PACK EXPO Las Vegas, visit the INFICON booth in the Upper South Hall at booth 7777.
Companies in this article