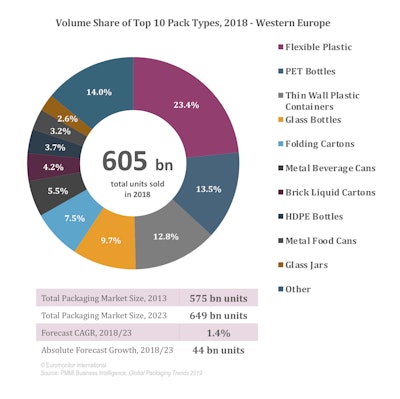 According to "Global Packaging Trends," a new report compiled by Euromonitor International for PMMI Business Intelligence, private labels in Western Europe led across all industries except Beauty and Personal Care in 2018. Consumers in the region prefer lower priced private labels that are comparable with branded products.
Germany, which is expected to see a 3.2 billion unit absolute volume growth by 2023, is following the global trends of sustainability and convenience. Lighter packaging, improved handling, safer grip, ease of opening, and resealability are major factors influencing consumers' decisions, with a preference for smart packaging solutions.
Flexible plastics are the dominant packaging type in the region, with the development of new and sustainable plastic pack types that are made using plant-based plastic that are both renewable and sustainable. Flexible packaging is expected to see an 11.1 billion unit absolute volume growth by 2023.
PET bottles are the most preferred pack type, and with the development of recycled (rPET) bottles, this category is expected to have a 10.1 billion unit absolute volume growth by 2023. Recent investments in the home waste sorting and recycling process is resulting in the growth of PET bottles in non-alcoholic drinks and juices, as is the ongoing health and wellness trend, which promotes transparency in packaging. PET bottles are also being used in the region for home care products such as detergent.
Spotlight:
Metal beverage cans is expected to grow the fastest in Germany over 2018/23, as manufacturers have started using them for other alcoholic and non-alcoholic beverages, in addition to beer.
Rapid urbanization, busier lifestyles, and smaller households have driven the demand for mini formats and single-serve pack types in food and beverage. In 2018, food packaging accounted for the highest share (55%) in Western Europe, followed by beverage packaging (37%).
Stand-up pouches in flexible plastic have gained popularity for fruit purees as well as other organic fruit snacks categories, improving flexibility and providing protection against UV light and pollutants.
Plastic pouches are widely used in confectionery products such as gum, sugar, and chocolate confectionery in Western Europe.
Within beverage, there has been a launch of mini formats such as Rauch Fruchtsäfte GmbH & Co in a glass bottle. Single-serve packs have also gained popularity, such as Cool Cold Brew's RTD coffee in a 250 ml shaped liquid carton with a peel-off foil closure.
Source: "Global Packaging Trends," Compiled by Euromonitor International for the Packaging Machinery Manufacturers Institute (PMMI). PMMI Members can download the full report for FREE, here.
Australian Packaging & Processing Machinery Association (APPMA)
PMMI, The Association for Packaging and Processing Technologies
UCIMA, Italian Packaging Machinery Manufacturers Association
Symop, French Association for Manufacturing Technologies
Make plans to visit PACK EXPO East in Philadelphia, March 3-5, to see on-trend packaging machinery and materials.