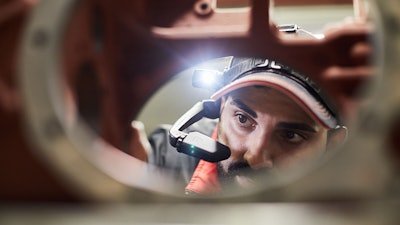 In an era where interest in remote equipment access and diagnostics is a hot topic, Carlos Rojas, global industry lead for manufacturing solutions at Cisco Systems Inc., says food and beverage manufacturers can achieve reliability and security by using proven system integrators. "They can build in security-based solutions for that access. I even see legacy systems being connected in some older manufacturing operations."
Cisco Meraki MV smart camera solution puts eyes on the ground in your physical environment, so that assets can be securely monitored and maintained remotely. Rojas says it's a simpler solution than reviewing data directly from the machine because secure monitoring and management can be done via Meraki's single-pane-of-glass dashboard from anywhere in the world. "Where you used to have support staff walking plant aisles checking equipment on a daily basis, today those eyes aren't there necessarily because people are working from home. Video solutions are a simpler and quicker way to improve asset utilization and gain valuable business insights at scale."
Certified system integrators can also connect machines securely using Cisco Secure Remote Access.
---
See it Live at PACK EXPO Connects Nov. 9-13: Clean Air System - Industrial HVLS, by Big Ass Fans. Preview the Showroom Here.
---
Meraki MV is a surface-mounted camera that can be placed on a ceiling or wall. It can be plugged into and powered over Ethernet, or connected wirelessly and powered via an AC adapter. "In a manufacturing operation," Rojas says, "you want to put it on some of the most critical operations."
Johnsonville Sausage uses Cisco SD-Access so that its management and information technology (IT) executives can provide secure remote access over a Cisco infrastructure to only the parties that need it. Network settings can be set up in minutes for any user device. "As long as we put that user device on the network and it's connected to a Cisco switch, we can provide secure access," Rojas explains.
Traditionally, a lot of things are not connected, Rojas continues. "Fundamentally, to get visibility into assets requires a level of secure connectivity on a network infrastructure." For example, a laptop is connected to a Cisco network through a secure VPN connection using Cisco's comprehensive remote access technologies to access information. With this type of infrastructure and connectivity, a user can capture key data from that machine, such as temperature, speed, cycle time, and pressure.
After secure connectivity comes the visibility tool. Cisco's Edge Intelligence allows data to be viewed by users, and Cisco's Secure Remote Access and Identity Services, called ISE, allows secure access to that data. Rojas says processors can utilize these simple technologies to manage the entire environment. Cisco's Edge Intelligence technology also provides management of the data as only critical information goes into the analytical data environment.
Cisco's partner, a company called RealWear, hosts Cisco Webex Teams on a visual, hands-free headset that an operator can wear. "We use this a lot for troubleshooting, but also it can be used in providing the visual eyes on new product packaging introduction when remote locations are trying to test a new package on a production line," explains Rojas. The hands-free solution has HD-camera-level capability and provides noise- protected voice communications helping to eliminate communications issues in loud production environments.
Cisco's Zero Touch Deployment, particularly the Meraki solution, is cloud-based. Once you plug it in, it can be configured just by communicating to the cloud. Cisco's other industrial switching technology has embedded sensors so that configuration can begin immediately. "We preconfigure that switch for three things: security, data management, and access before the sensor even hits the shop floor," Rojas states.
To get started in asset utilization, Rojas says a food manufacturer must have a value proposition for a particular outcome—improve quality, safety, or productivity. "A manufacturer also needs alignment across its stakeholders—quality, analytics, IT, manufacturing, etc. From there, it's a matter of vetting the technology."

Other articles you may like:
Get More From Your Existing Assets
How To Broaden Use of Remote Access
Companies in this article