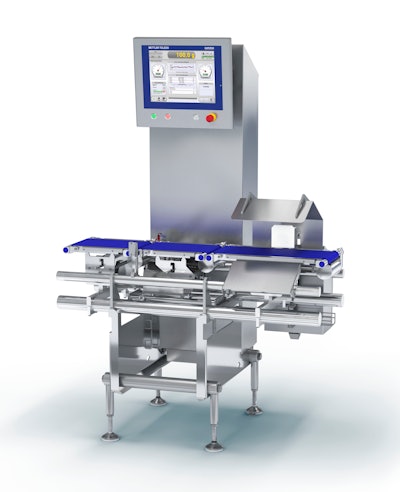 Built for harsh environments, the Mettler Toledo C35 checkweigher shown during PACK EXPO Connects delivers precise weighing results on a stable weighing platform that is resistant to high-pressure washdown and most caustic detergents. The system frame is designed according to hygienic principles, with access for cleaning and sloped surfaces to discourage liquid collection. The system supports speeds of up to 250 packs per min and a weighing range from 25 g to 7 kg.
The C35 checkweigher fits a wide range of production situations that require reliable weight control, including food processing. Optional conveyors and handling features, including guiderails to ensure smooth product handling, can transport open products, such as jars, trays, and cans. It also enables companies to inspect 100% of their products, segregate non-conforming packages, and collect production data using one of two optional weight data interfaces.
According to Keri Klein, product line manager for checkweighing, the C35 checkweigher can be equipped with infeed and discharge side grip transports to move open containers safely and efficiently down the conveyor line to eliminate spillage at transfer points. "These side grips are adjustable to accommodate product specifications and securely guide the product from the customer's conveyor onto the infeed of the checkweigher. On our infeed conveyor, we offer small-diameter rollers to facilitate smooth internal transfers across the weigh conveyor and to the outfeed conveyor for seamless, accurate weighing," she states.
The weighing of open containers as close to the filler as possible allows the checkweigher to provide filler feedback, as well as optimize fill weights by making adjustments to the filler, therefore minimizing overfilled product and reducing product giveaway. "Processors can also reject under-filled product to be reworked, ensuring compliance with label weights, says Klein. "If the process does not offer the opportunity to provide feedback, weighing product prior to capping and labeling can also save costs by reducing packaging materials that are scrapped when rejecting off-weight products."
Mettler Toledo's communication solutions include Ethernet/IP PROFINET and PROFIBUS DP OPC DA/UA, along with TCP/IP, and various serial communications solutions. Fieldbus and OPC solutions have Pack ML (ISA TR88.00.02) as a fundamental part of their base architecture. C-Series checkweighers provide real-time monitoring of critical control points (CCPs) to support end-to-end compliance with Hazard Analysis and Critical Control Point (HACCP) and Hazard Analysis and Risk-Based Preventive Controls (HARPC) principles.
Visit Mettler Toledo's virtual showroom on PACK EXPO Connects and watch demos here.
Companies in this article