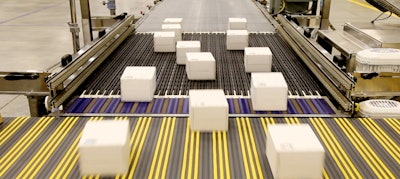 During a live demo at PACK EXPO Connects, Intralox discussed the flexibility and efficiency of its Activated Roller Belt (ARB). According to Paul Neuschwander, global advisor for the Intralox packer to palletizer team for beverages, the team combines the best ideas and layouts from around the world and uses this information to reduce project risk and timelines, and create better plant floor layout designs.
This knowledge, along with ARB technology, allows Intralox to combine multiple pieces of equipment into one piece of machinery, providing space saving on the plant floor, while often reducing capital expenditure.
Intralox Packer to Palletizer ARB technology lets end users reduce the number of conveyors needed and shortens installation time and labor. In fact, Neuschwander says one end user was able to double its filling capacity after installing an ARB solution.
To learn more about this technology and to view the demo, visit the Intralox virtual showroom on PACK EXPO Connects here.
Companies in this article