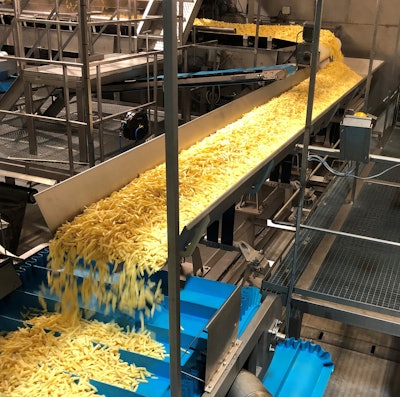 Key Technology, a member of the Duravant family of operating companies, introduced Zephyr, a next-generation horizontal-motion conveyor. Featuring a patented direct drive with a counterbalance system, Zephyr's motion profile gently moves product with no segregation or stratification. Zephyr minimizes bounce, which reduces product damage, noise, and loss of seasoning and other coatings to maintain product quality.
According to Jim Ruff, vice president of process systems and integrated solutions at Key Technology, food processors asked Key to create a horizontal-motion shaker that has all the attributes of existing horizontal-motion shakers (such as gentle flow, no product bounce, scrubbing action, and low noise), but with more reliability, higher capacity, customizable beds, and reversing capabilities.
Applications for the Zephyr horizontal-motion conveyor include frozen bulk foods like potato products, fruits, vegetables, meat, and poultry, as well as dry products like nuts and cereals. This high-capacity conveyor uses horizontal movement to gently slide and convey product without bouncing. Zephyr reduces product breakage and the loss of coatings, such as seasonings, batter, and certain types of oil, while limiting system noise to 75 decibels or less. A self-cleaning horizontal motion reduces the chance of product buildup, and the counterweight drive minimizes floor vibration.
Offering up to twice the throughput of other horizontal motion conveyors, Zephyr moves product at rates of up to 12.2 meters (40 ft) per min. It also features a stainless-steel conveying bed and drive housing, sanitary grounding arms, long-life bearings, and scalloped flat bars, which together ease cleaning and reduce maintenance.
Zephyr's bed can be up to 1 meter (3.3 ft) wide and, depending on width, up to 7 meters (23 ft) long with a product depth of up to 254 mm (10 in.). The drive can be located in any position below the bed to support seamless integration with other equipment in the line.
"This is a modular conveyor, and size is limited by bed weight," says Ruff. "For example, systems can be up to 1,000 mm wide and approximately 4,300 mm long, or they can be 600 mm wide and 7,300 mm long."
Go here to see the Zephyr Next-Generation Horizontal-Motion Conveyor in action.
Companies in this article
Videos from Key Technology, Inc.