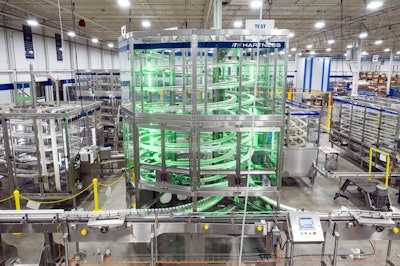 The 6930 helical dynamic accumulator (DYNAC) from ITW Hartness provides pressure-less product handling and micro-stop elimination. It maintains the integrity of helical DYNACs, while providing less downtime and lower total cost of ownership. This single-file DYNAC with FIFO (first in, first out) accumulation has line balancing characteristics for a variety of rigid and flexible container types, making it adaptable to many packaging line conditions. Its spiral configuration uses a space-saving design that can be expanded for extra capacity.
To learn more about this technology, visit ITW Hartness' virtual showroom on PACK EXPO Connects here.
PACK EXPO Connects Reports Record Numbers
At a time when a global pandemic constrains the world, PACK EXPO Connects is bringing the industry together in record numbers this week with over 17,000 attendees as of Wednesday and more registering every day. Over 700 committed exhibitors are driving the event, taking advantage of every aspect of a completely new interactive platform.
Companies in this article