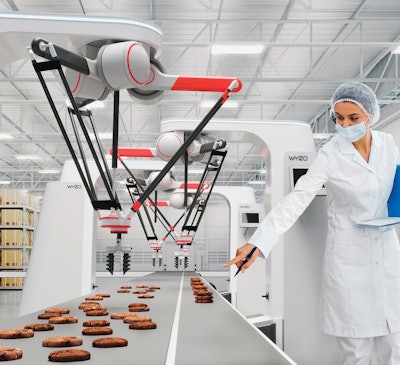 What do you get when you mash up the words "sidekick" and "robot?" The answer was clear enough at Wyzo's PACK EXPO Las Vegas booth, where the world's first "sidebot" was on full display.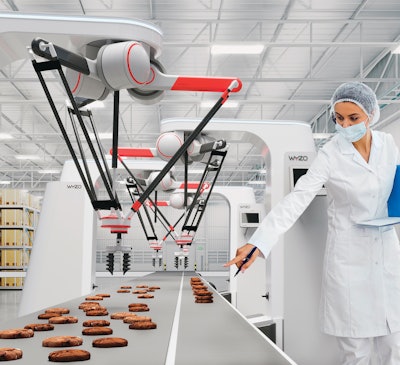 Wyzo (1) is a high-speed delta-style pick-and-place robot capable of 90 picks/min that is designed to work safely beside people—i.e., a robot that is a sidekick, otherwise known as a sidebot. It relies on two laser scanners from SICK that constantly screen the environment around the machine and notify the controller which of three zones an operator is in. If the operator is in the farthest zone, the speed of the delta robot is reduced. If the operator is in the middle zone, speed is reduced further. And if the operator is in the zone closest to the robot, speed is reduced yet again. Should the operator be so close as to come in contact with the robot, all motion comes to a halt.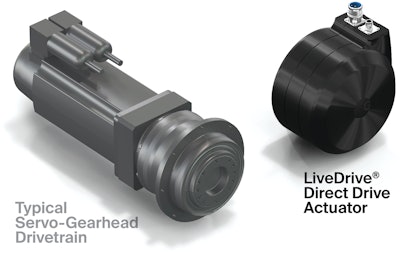 Also making the Wyzo stand out is its use of the Genesis LiveDrive® LDD 1800 Series of actuators, a high-torque direct drive solution designed for robotics and automation in food, packaging, pharma, and the electronics industries. These actuators provide high enough torque that robots can now be created without the need for a gear box. That brings a number of benefits. First, it means no lubrication, and because a typical delta style robot has its gearbox mounted directly above the product being packaged, these new Genesis actuators mean no more leaking of oil onto product. It also means a maintenance-free drive train. And finally, it greatly reduces the amount of space a finished machine occupies (1a).
"The actuator is a complete package," says David Lokhorst, Vice President of Technology at Genesis. "In it is a brushless DC electric motor, but the topology of the geometry is unique and it uses our live drive technology, which is a patented arrangement of the magnets within the motor to deliver that high torque density that we can achieve. It also includes two encoders for position sensing and safety, and a brake so that when the power's off it holds in position. All of that is completely enclosed in a sealed enclosure that is rated IP67 for washdown purposes."
Governing the Wyzo are two PC-based controllers from Keba. According to Frank Souyris, Wyzo CEO, this deliberate redundancy means that "while one is doing, the other is checking."
---
---
Another robotic format that is increasingly popular as manufacturers facing labor shortages need more flexible material-handling equipment to accelerate workflows is autonomous mobile robots (AMRs). At PACK EXPO Las Vegas, Vecna Robotics, a provider of pallet-handling AMRs, announced the release of its new Mark 3 software, which improves the speed and throughput of its robots' pick-and-drop times while adhering to safety standards.
"The last 18 months had driven huge demand for AMRs like autonomous forklifts, but adoption has been held up by both safety concerns and performance-driven ROI," says Daniel Theobald, founder and chief innovation officer, Vecna Robotics. "This software release mitigates these concerns."
The Mark 3 release can be installed on-premises or in the cloud and provides critical updates, including:
• Speed: Achieves a top speed of 3 m/s, 50% quicker interactions with pallet pickups, and better acceleration and deceleration times to improve average overall speed.
• Free Space Reasoning: Introduces proprietary updates to path planning and obstacle avoidance to improve performance and handling in tight spaces.
• Safety: Maintains the same rigorous safety standards as previous generations and complies with the American National Standards Institute B56.5 and Robotics Industries Association R15.08 safety standards.
The new software results from Vecna Robotics' ongoing work to improve vehicle performance using data collected over time through its proprietary orchestration engine, called Pivotal. Pivotal assigns work to robot fleets based on real-time demand, resource availability, and proximity, and it collects performance metrics from the production floor. By using fleet data collected from performance sites over time, Vecna Robotics' AMRs get smarter and faster over time, according to the company.
"Now, in addition to Vecna Robotics' AMRs being the only self-driving forklifts equipped with path planning and obstacle avoidance, they are also the only pallet-handling AMRs that can deploy cloud-driven updates for immediate in-field performance improvements," Theobald says.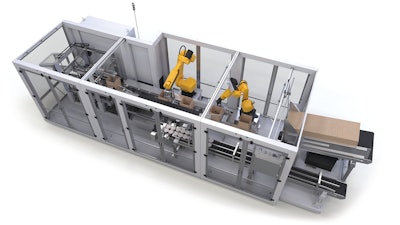 Elsewhere in the robotics application space is the always popular category of case packing, and PACK EXPO Las Vegas exhibitors showed a number of examples. Among them was Brenton Engineering, a ProMach brand, which debuted a new model of the modularly designed RT1000 top-load robotic case packer system (2). Sam Weller, Business Segment Manger of Robotics and Systems, says the RT1000 brings a higher level of efficiency to established CPGs with growing demand who are looking for automation promising higher throughput with same or reduced labor. Specific target markets and applications for the RT1000 include consumer/commercial packaged foods, household chemicals, and personal care products, among others. Brands that intend to add products or add pack patterns within a defined range without change parts should benefit from this system.
Weller says the system provides the flexibility needed to accommodate a wide range of products, and the ability to quickly program them into the system on the fly, without outside assistance. This is accomplished through a simple-to-use HMI that can be operated by staff with varied skill levels.
The model demonstrated on the show floor used a Fanuc robot in the case setup area that picks corrugated blanks, opens them, folds the minor flaps, and introduces the erected cases to a flight system. Once the cases are moved into the load station, another Fanuc robot loads product from the infeed.
"The RT1000 includes standardized main design, but the infeed side is what we'll customize to your applications," Weller says. "It could be tubs, cartons, jugs, whatever you need."
Once cases are loaded and need to be closed, the floor model used top and bottom Dekka tape heads, but the machine offers a hot melt glue-seal option as well.
More generally, the system features a clean design with all cables and wires embedded into frame, and a modular component design that allows customers to use an existing case erector and sealer. Mechanical changeovers are automated and simple, and remote connectivity is available as well, with optional on-board cameras for remote support.
Brenton summarizes the RT1000 as a flexible solution in a compact footprint that will be available in a rapid lead time at a competitive price. The single-skid design enables the machine to fit into a truck for easy transport and set-up.
---
---
Cobots aplenty
With unpredictable demand and mass customization pushing manufacturers to engage in less make-to-stock and more just-in-time manufacturing,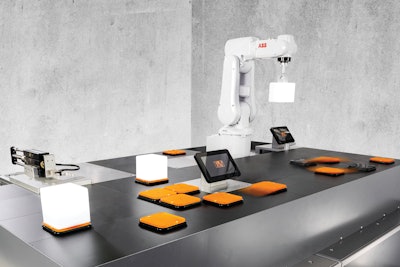 flexible conveyance systems that allow for rapid changeover and batch sizes of one have grown in popularity. At PACK EXPO Las Vegas 2021, B&R Automation showcased its Mini-Geo conveyance system as well as its ACOPOS 6D planar conveyance system, both of which seek to address these trends.
The Mini-Geo is a modification of B&R's ACOPOStrak shuttle transport system that is synchronized with an IRB 1200 robotic arm from ABB and several vision sensors. Check out an ACOPOStrak application on page 104. The ACOPOStrak uses independently controlled shuttles to transport products between processing stations as batches-of-one. Its design is particularly well-suited to the increasing demand for mass customization currently sweeping over many markets. By employing a series of looped tracks, ACOPOStrak is able to diverge and merge individual products into small, customized batches. Moreover, its set of looped tracks allows for parallel processing, meaning that multiple stations can perform the same process concurrently. If a piece of equipment—such as a bottle filler head—breaks down, remaining products can be redirected through a different route without ceasing production. The addition of the IRB 1200 allows the Mini-Geo to engage in automated changeover, and the vision sensors enable track and trace procedures.
Like the ACOPOStrak, the ACOPOS 6D (3) consists of separate movers that allow individual products to be transported as batches of one. However, rather than using motor modules to move along a track, the system employs planar movers that magnetically levitate above a tiled surface. By allowing for entirely free-form movement unimpeded by the limitations of a set track, the ACOPOS 6D can facilitate more precise and flexible positioning of products, while also reducing wear and tear on the system itself. The planar movers can also perform several special functions such as swirling liquids in small canisters, thus allowing solutions to be mixed in pharmaceutical applications. All objects being shuttled can also be weighed, easing the process of both measurement and quality control.
According to Patrick McDermott, President of B&R Automation, both products seek to help end-users navigate as trends from the consumer market such as mass customization and increasing small batch orders trickle down to the industrial world. In addition, McDermott says that with smaller, more varied product runs becoming the norm, software changeover that allows for digital rather than physical line reconfiguration may become increasingly vital for companies struggling to keep up.
---
---
Also featuring cobot solutions at its booth was Mitsubishi Electric Automation, Inc., which debuted its ASSISTA collaborative robot during PACK EXPO Las Vegas. ASSISTA is designed to share its workplace with humans in a safe and efficient manner, and its unique internal wiring and piping reduces the risk of cables being caught or snagged, increasing uptime and decreasing the risk of needing repair, according to Jeff Brown, Senior Manager of New Business Development at Mitsubishi Electric Automation.
"This is a solution for replacing labor," Brown says. "For example, if you have labor that is picking fruit while also detecting anomalies and then placing the fruit in a certain orientation, to replace this labor, you need a specific robot, end-of-arm tooling, as well as a vision system that can detect different anomalies and determine what to do."
The ASSISTA also includes an H1 food-grade grease option for implementation in food processing facilities. For those customers with a focus on throughput and production, ASSISTA features accuracy that has been measured to be +/- 0.03 millimeters per cycle. Safety considerations include the elimination of hand and pinch points to protect hands and fingers of operators, and the robot reacts to its environment by going into a collaborative mode when operators approach it.
Finally, ASSISTA can be programmed without a teach pendant to be more easily operated by those without prior industrial robot experience. While ASSISTA is still compatible with a teach pendant, it can also be operated by buttons on the robot body or by "hand guiding" it to various positions.
---
---
In line with the trend of smaller cobots expanding into higher speed, greater capacity, and heavier payload territory, Columbia/Okura LLC recently upgraded its miniPAL® with the enhanced UR10e cobot arm by Universal Robots. Displayed at PACK EXPO Las Vegas, the upgraded system (4) increased its payload to 12.5 kg (27.55 lb), accommodating 2.5-kg heavier cases than its 10-kg predecessor and affording new application possibilities with heavier payloads.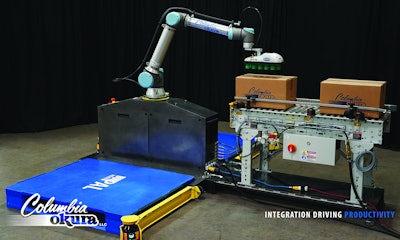 The new model also replaces pressure-sensitive safety mats with area safety scanners on all sides of the equipment footprint. Three area safety scanners detect human presence in the palletizing work envelope. This ensures safe operation in collaborative mode when in the presence of human workers, while allowing the miniPAL to operate at maximum rates while people are not within the palletizing work zone.
The compact design also includes an automated lifting column for tall loads, dual stacking locations for continuous load building, built-in fork pockets for easy mobility, and intuitive pattern-building software for ease of use. The flexible miniPAL, with a total workspace footprint of 11 ft x 13 ft, can palletize at two pallet locations at once for optimized productivity. The robotic arm's lift height accommodates 84-in. load heights from the ground.
"This piece of equipment is totally movable," says Jordan Huffman, Resident Service Tech, Columbia Okura. "Two inserts [on each side] of the footprint means you only need a pallet jack or a forklift to take the machine wherever it's needed."
The system plugs into 110V AC wall power and can be set up in hours. A typical installation delivers an average payback in 8-10 months, depending on application and industry.
---
---
"The latest upgrades to miniPAL® make an excellent mobile, collaborative palletizer even better," says Brian Hutton, president of Columbia/Okura LLC. "In this environment of critical labor shortages in every industry, miniPAL® allows clients to quickly and cost effectively automate routine palletizing operations, and to redeploy existing resources to higher value activities."
Picking, packing, fulfillment
A wide range of automation solutions for picking, packing, fulfillment, and palletizing were demonstrated at the Fanuc booth during PACK EXPO. Here we look at some of these solutions.
Fanuc's CRX cobot is an easy-to-use and flexible solution for a variety of applications, including palletizing, packing, inspection, and more. Built-in sensors on each axis can allow the CRX cobot to work safely alongside people without the need for expensive guarding. In addition, the CRX can operate for eight years maintenance-free, says Fanuc.
At the show, a Fanuc CRX-10iA/L equipped with an iRVision 3DV/200 vision sensor demonstrated case palletizing. The CRX used the 3DV sensor to find a case, pick it up from one pallet, and place it on another pallet.
The CRX collaborative robot offers the same level of performance. It supports several of Fanuc's features including iRVision and is a perfect fit for any application where collaborative robots can help customers achieve higher efficiencies. Also, interactive programming enables users to teach the cobot what to do using hand guidance or a new tablet interface with drag-and-drop icons.
Also a highlight at the PACK EXPO booth was Fanuc's DR-3iB/8L food-grade delta robot, which used 3DV iRVision and iRPickTool line tracking software to pick randomly oriented pieces of chicken from a continuous infeed conveyor. Equipped with a Soft Robotics gripper, the robot picked chicken breasts and reoriented them onto an outfeed conveyor. The cell features high-speed picking with product re-orientation. The DR-3iB sets a new standard for robotic food handling in terms of payload, speed, reach, and sanitation.
The DR-3iB delta robot is Fanuc's latest solution for picking and packing primary and secondary food products. Rated IP69K, the robot meets the strictest food-handling regulations. Its design features corrosion-resistant materials, an unpainted finish, and a fully enclosed body allowing it to tolerate high pressure/temperature and sanitizer wash down environments.
---
A powerful four-axis design and higher wrist inertia allows the DR-3iB/8L to handle 8-kg payloads at very high speeds. Improved repeatability maximizes accuracy, and a hollow wrist design keeps all gripper wires and piping tucked inside. In addition, a large work envelope featuring a 1600-mm reach (500-mm height) is ideal for applications that require more range such as reaching into tall boxes or handling product on wide conveyors.
The DR-3iB operates with Fanuc's latest R-30iB Plus controller with integrated intelligent functions such as iRVision, Force Sensing, Robot Link, Collision Guard, and Zero Down Time (ZDT).
Finally, an M-10iD/12 robot created random orders by picking from four homogenous totes, each with a 3DV/400 vision sensor mounted overhead. Each of the four sensors provided "best pick" locations from the homogenous totes, and then the robot picks parts to fill a customer order. Once the order is complete, the order tote will move to an LR Mate 200iD robot station also equipped with a fixed 3DV/400 to remove the parts from the bin for further order processing. The demonstration highlighted how the use of fully integrated robotic 3D Vision is an ideal solution for applications in the warehousing, logistics, and e-commerce markets.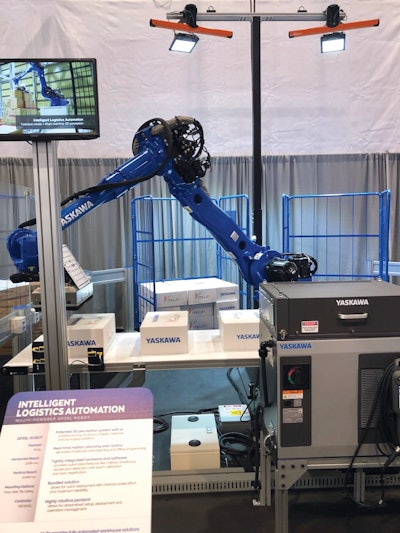 The 3DV/400 Vision Sensor is lightweight and can be used as a fixed or robot-mounted 3D Vision camera. The 3DV/400 offers single snap 3D image acquisition enabling faster bin picking and the ability to perform applications such as line tracking. Compared to conventional 3D vision sensors it provides better acquisition of shiny parts and offers a solution for glare caused by reflective parts. The 3DV/400 is part of Fanuc's iRVision suite of fully integrated and complete machine vision products for robot guidance and inspection. Fanuc designs all of the hardware and software specifically for Fanuc robots.
Palletizing/depalletizing
E-commerce boxes come in all shapes and sizes, which is impossible for a palletizing robot—programmed to pick and place specific items—to respond to. To deal with such challenging complex applications, Yaskawa Motoman partnered with Mujin Corp., a provider of intelligent robot control systems, allowing the Yaskawa robot (5) to sense different shapes and sizes of packages on the fly.
During PACK EXPO Las Vegas, Yaskawa showed a palletizing and depalletizing robot integrated with Mujin's 3D imaging that automatically creates a path for the robot. The Mujin controller utilizes real-time perception, motion planning, and universal control. The controller is completely teachless, which means no coding or teaching of waypoints and makes any robot intelligent, allowing for use in applications that were previously too difficult or impractical.
Mujin controllers can automate any robot picking task from palletizing/depalletizing and piece/each picking in logistics to bin and container picking in manufacturing. Yaskawa Motoman's robotic automation and Mujin's patented 3D perception system with motion planning AI technology combine to highlight fast and precise picking of various shapes, materials, and packaging patterns.
"This is a truly autonomous palletizing and de-palletizing application with [Mujin's] 3D imaging creating a path for our robot," says Chris Caldwell, a product manager at Yaskawa Motoman. "And you can eliminate the traditional robotic programming and just have their controller pick up your cases on the fly."
Quest Industrial, a ProMach brand, used PACK EXPO Las Vegas to expand its robotic palletizing to more customers and markets. There it launched its new standardized Box Bot, the QB300 series (6).
The Box Box, a space-saving robotic palletizer with a small footprint starting at just 8 ft x 10 ft, allows an operator to design and produce exact pallet patterns quickly and easily from bags to boxes and other product types. The new standardized version comes with the same features and benefits of the original Box Bot but is built for those customers who don't require a lot of added customization in their machine.
"There are many customer applications that are relatively straightforward and ultimately don't need something that's extremely complex," says Ryan Womble, Director of Sales at Quest. "We've standardized and pre-defined key configurations of the Box Bot, while not sacrificing capability or functionality. Our standardized version enables us to offer a more cost-effective palletizing solution to customers with shorter lead times."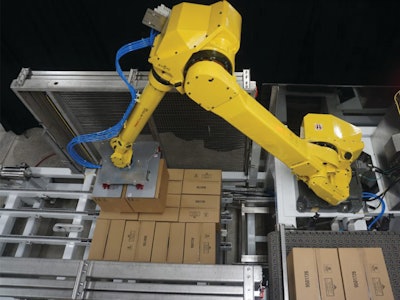 Ideal applications for this new standardized version of the Box Bot include companies who rely on manual palletizing in industries such as food, beverage, consumer goods, and others. Implementing a robotic solution cuts down on labor costs, reduces risk of employee injury associated with manual palletizing, and increases predictability of a company's production output.
All models of the Box Bot QB300 series feature a Fanuc robot that provides higher stack patterns, which better maximize tractor-trailer loading for more efficient shipping. Creating patterns is accomplished though the QBox custom pallet-building HMI-based software, the most technologically intuitive operator interface available on the market. The ability to build your own patterns saves time and money by eliminating the need to have a service programmer onsite to perform the task.
Allied Technology released a new performance series line of PicPac Palletizers, which doesn't require any coding from the end user. The new line of palletizers is a welcome addition to their current Cobot Series PicPac Palletizer (featuring a UR10e) released in 2019, and continues to meet the end-of-line packaging industry's need for a compact, mobile, and turnkey palletizing unit.
The Performance Series PicPac Palletizers are designed to accommodate higher payloads and faster cycle times with little-to-no compromise to the machine's footprint or mobility. The PicPac Palletizer requires no coding from the end user and makes pallet pattern building even easier with simple-to-use drag-and-drop software. This new line of palletizers is offered in two different models—the RS020n and RS050n—each equipped with an industrial robot arm from Kawasaki Robotics.
The PicPac Palletizer will drastically increase pallet changeover rate, improve palletizing reliability, and consolidate valuable floor space. This also enables plant managers to reduce unnecessary risks involved with heavy lifting and reassign those employees to more valuable positions, thus strengthening the existing workforce.
---
---
Depalletizing is a common manufacturing operation that has attracted a lot of attention over the past few years due to a variety of industrial labor issues, ranging from a shortage of available workers to efforts to reduce risk of worker injuries. To help address these issues around depalletizing operations, Honeywell has introduced its Smart Flexible Depalletizer, (7) which uses artificial intelligence to ease the implementation of robotic depalletizing technologies and minimize the need for manual labor to break down pallet loads.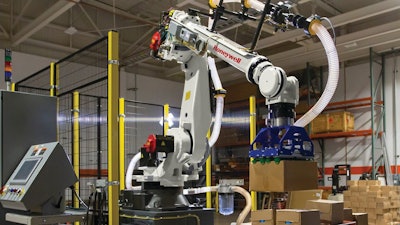 Honeywell's vision and perception technologies are used to guide the depalletizer's robotic arm, allowing cases to be picked from a single- or mixed-SKU pallet in fixed or mobile locations. The company's computer vision technology identifies the location of every case on the pallet, while its artificial intelligence-driven perception software automatically recognizes a variety of packaging formats. The machine learning and motion planning used in the Smart Flexible Depalletizer optimize the movements of the robotic arm to ensure maximum picking speed. The system's control logic senses the weight of each item as the robot lifts it and automatically updates its gripping response to transfer each product securely. Because the system uses machine learning to operate, the more picks the robot performs, the more it learns and continues to improve in unloading pallets.
According to Honeywell, the Smart Flexible Depalletizer robot can work in conjunction with pallet conveyance autonomous mobile robots. This combination of technologies enables continuous operation of the system while providing the flexibility to stage pallets and empty stacks virtually anywhere the mobile robot is capable of traveling.
Dr. Thomas Evans, Chief Technology Officer of Honeywell Robotics, says, "Reliable depalletizing rates are of growing importance as consumer preferences continue to accelerate the rate of packing and the increasing product mix warehouses and distribution centers handle every day. With the labor constraints warehouses and distribution centers are seeing in filling these manual roles, this solution can be an ideal fit to help keep up with daily order volumes."
---
---
Companies in this article