Retort manufacturer Allpax, A ProMach brand, saw PACK EXPO Las Vegas as an opportunity to debut a solid-state digital chart recorder (1) that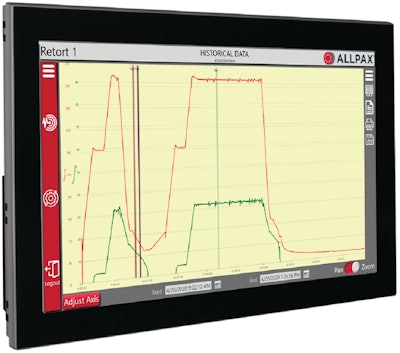 offers data recording and data integrity benefits and eliminates deviations common to paper charts.
"In a typical retort installation, the operators have lots of things to do. Even though standard control systems prompt them to do certain things, so many people are still printing out manual records—and each record for each process can be two or three pages—then they have to review it and sign, then it has to go to a quality assurance person to review and sign, and so this is one of the steps we're taking to eliminate the paper trail and make everything all electronic, and still validated by the FDA, USDA, etc.," a representative from Allpax told Packaging World at the booth in Las Vegas.
This digital device offers safe and secure data storage, fully compliant with the regulatory requirements of 21 CFR Part 11 for electronic record keeping. When connected to a printer, the device can be setup to automatically print the process record trends to a paper report at the end of each batch period, thus allowing it to serve as the official Temperature Recording Device (TRD) in both electronic record keeping systems as well as legacy record printing systems. The presentation of the electronic data and the printed data is specifically designed to improve the record review process and thus reduce risk and increase efficiency in the review process.
Additionally, the digital chart recorder eliminates the typical process deviations caused by print skipping, improper paper installation, and the other issues associated with mechanical chart recorders. Installation is easy—simply move the wires from the mechanical device to the new Allpax digital device.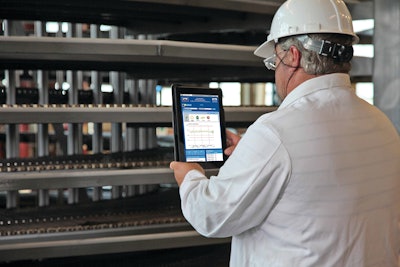 For those migrating toward electronic record keeping, the Allpax digital recorder can be installed alongside an existing pen-and-paper recorder and function as an electronic backup. This Allpax solution eliminates paper-chart deviation issues caused by paper jams, skips, dry ink, pen adjustments, paper replacement, and incorrect paper installation. The Allpax digital chart recorder is compatible with both batch and continuous retorts. This device records real-time data and graphically displays it in a user configurable format. Each input parameter can be displayed clearly and understandably. Custom definable ranges, scales, and chart graduations optimize legibility and adhere to the best practices described under 21 CFR Parts 113 and 114. The Allpax digital chart recorder stores electronic records in a secure Microsoft SQL server database. Password security with fingerprint traceability of all device interactions ensure data integrity. The device also offers customizable on-screen notifications and alarms with the ability to send these messages via e-mail.
Predictive maintenance
Featuring the industry's first, patented bottom-bearing wear sensor, the Ashworth SmartSpiral monitoring system (2) takes the guesswork out of when an Ashworth spiral conveyor system will fail. It allows access to multiple spiral systems at multiple plant locations from a phone or tablet to continuously monitor temperature, belt tension, and cage power. Live data is collected and transferred via a proprietary application to a cell phone, tablet, laptop, or desktop computer—without having to use an intranet system. The monitoring system helps prioritize maintenance costs, identify performance issues, prevent failures, and reduce repair costs to improve performance and efficiencies.
According to Ashworth Bros. Senior Product Engineer Chris Trinch, "We designed our SmartSpiral monitoring system to help users run their spiral systems correctly. We monitor data from five different locations in a spiral. We take that data, analyze the alarms, and store that information, which is then sent to our customer, giving them knowledge that makes a real impact."
---
---
Exhibiting for the first time at PACK EXPO, Llumin, an established participant in the Computerized Maintenance Management System (CMMS) space, introduced a new software called Llumin for OEMs. Previously, offerings from Llumin like its Llumin CMMS Suite were aimed more at Consumer Packaged Goods companies and other manufacturers. Such cloud-based software, interfaced with a machine's control system through OPC, MQTT, or Modbus, captures machine usage data, for example, to create periodic Preventive Maintenance schedules, which then automatically generate work orders in a streamlined process.
"Llumin for OEMs is built on the same core architecture," says Llumin CEO Ed Garibian. "But we've taken our years of experience in maintenance and predictive remediation and have built a product for the machine builder so they can monitor in a super effective way the machinery operating in their customers' plants. They can also set rules for automatic spare parts replenishment or automatic service calls, and they can do a better job of analyzing how their machine is performing throughout their customer ecosystem."
Garibian adds that this new platform is a good fit for any packaging machinery OEMs who want to add a Machine as a Service (MaaS) option to their offerings. This use-based finance model, similar to SaaS (Software as a Service), is a flexible way to install automation on the factory floor without having to invest capital upfront. Instead, the machine user pays for a successful outcome based on a predetermined agreement around productivity.
---
---
Among the early adopters of Llumin for OEMs is Sleeve Seal, a maker of equipment that applies shrink sleeve labels.
Servo-pneumatics
Among the various automation and control trends apparent at PACK EXPO Las Vegas, the growing combination of pneumatic and electric automation, such as servo motion control, could be seen at the booths of both Emerson and Festo.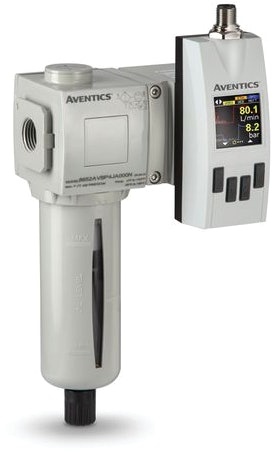 Emerson showcased its smart pneumatics and servo motion systems that feature advanced analytics and edge computing to help users increase productivity and profitability as well as meet sustainability targets. Emerson refers to this combination of pneumatics and servo motion as servo-pneumatics, a technology mix used widely in packaging applications. Pneumatic positioning is preferred by many OEMs and consumer packaged goods manufacturers because of its budget friendliness and ability to reduce machine development time.
A key aspect of Emerson's servo-pneumatic approach begins with a filter regulator assembly, which is used for conditioning the air quality before it enters the servo-pneumatic system. The air pressure from the filter regulator unit then leads into proportional valves that enable the force, speed, and position of the actuator to be controlled. As pressure on both sides of the valve's piston is regulated, digital pressure sensors in the system allow real time data from the proportional valves to be viewed. A hygienic, IP69K-compliant actuator with a built-in measurement sensor tracks the piston position, completing the closed-loop system back to the controller. Emerson's Advanced Electronics System control unit allows for direct communication to a PLC via multiple fieldbus protocols. It also contains a PID module to control the proportional valves based on position or force commands from the PLC.
The servo motion aspects of the system highlighted by Emerson showcase the combination of PLC and motion controller in one backplane, allowing for the motion controller to communicate with the PLC directly through the backplane. Because the backplane also powers the unit and handles communication, this creates an integrated system for servo-pneumatic applications. Each motion controller/PLC system can communicate with up to four axes and will automatically synchronize and communicate with additional systems as they are added to a line to control more axes as needed.
From a motion control perspective, this system can handle a 1-millisecond path planning loop, a 500-microsecond position loop, and a 250-microsecond communication loop over EtherCAT regardless of how many axes are being controlled in the machine. The servo motion controller also allows for motion profiles to be changed on-the-fly as machine applications change.
Emerson's Aventics AF2 smart flow sensor (3) is used to identify when equipment is wasting energy and to prevent downtime. It measures air flow and pressure, as well as energy being used with readings displayed on the AF2's built-in OLED screen. Statistical data gathered by the sensor calculates the cost of air being used by the equipment. Alerts can also be sent when acceptable operating parameters are not met to avoid unplanned downtime.
The sensor can be connected with an industrial or Power over Ethernet (PoE) M12 interface. The industrial version offers analog, frequency, switched, and IO-Link outputs, allowing users to capture data on a PLC or other industrial controller. The Ethernet PoE version supports many of the open protocols being used in IIoT systems, such as MQTT and OPC UA, enabling connections to existing OEE (overall equipment efficiency) monitoring software or larger cloud systems. Data from the Ethernet PoE sensor can be viewed in real time on the device's internal web server or via any computer or monitoring system connected to the same network.
Warren Pruitt, vice president of Global Engineering Services at Colgate-Palmolive Company, says Emerson's AF2 smart flow sensor technology is helping Colgate-Palmolive "achieve our energy goals by reducing wasted compressed air, which ultimately reduces our carbon footprint. The AF2 Smart flow sensor identifies wasted energy from our compressed air delivery system and its connectivity through OPC UA allows for seamless data streaming."

Meanwhile, Festo showcased its new Simplified Motion Series (SMS) all-in-one integrated-drive axes (4). The company says SMS represents an "engineering breakthrough" in that it combines pneumatics with electric automation. This breakthrough is based on how Festo's SMS integrates ball screw axes, toothed belt axes, mini slides, electric cylinders, piston rod, and rotary actuators with an onboard servo drive.
SMS actuators are designed for use in positioning, indexing, clamping, feeding, and cut-to-length tasks. Because all SMS components are integrated into a single unit with a unique part number, this simplifies the ordering, inventory, and replacement of SMS units, which is especially important for OEMs. Units in the series include: ELGS-BS ball screw, ELGS-TB toothed belt axis, EGSS mini slide, EPCS electric cylinder, EPCE compact electric cylinder, ERMS rotary drive, and ELGE toothed belt axis.
Electrical connection is accomplished via an M12 plug design with 4-pin power and 8-pin logic.
Festo points out that no additional software is required to operate SMS, as commissioning is accomplished via onboard push buttons for two-position functionality. Key commissioning parameters include:
• Speed for the extend ("out") and retract ("in") movement;
• Force of the axis in the "out" position;
• Setting the reference end position;
• Teaching the position for the start of force-controlled movement; and
• Demo mode, which can be used to test the movements from the keypad
Digital I/O (DIO) and IO-Link control come standard with each SMS unit. With DIO control, two positions are available—home and a configurable end point. Festo says that when controlling SMS with IO-Link, positioning along the axis length is infinitely variable, which enables SMS axes to be used as a cost-effective alternative to traditionally higher-cost servo motion. Using IO-Link, technicians can remotely adjust movement parameters as well as copy and backup functions for parameter transfer and read functions of essential process parameters. This level of capability opens up more applications to electric motion, including conveyor material handling and mobile applications, according to Festo.
---
---
Bringing The Smartphone Principle to Industrial IT
The ctrlX Store (5), an online application marketplace for Bosch Rexroth's ctrlX CORE automation control platform, was showcased at PACK EXPO Las Vegas 2021.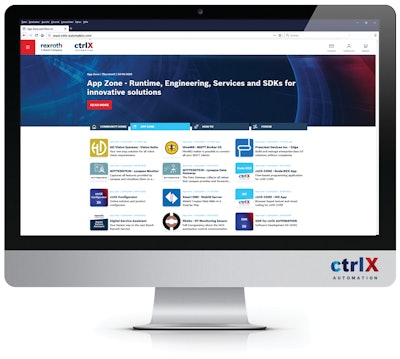 The ctrlX Store features applications developed by Bosch Rexroth as well as by a growing number of third-party providers. According to the company, the primary goal of the marketplace is to help machine builders, packagers, and other manufacturers speed time-to-market while maintaining the ability to customize their offerings and differentiate themselves from their competitors. By making an ecosystem of turnkey applications available, the challenges that come with configuration, programming, and design when setting up a line or engaging in product changeover can be greatly reduced. Moreover, to enable as much flexibility as possible, end users writing their own applications can do so via a variety of programming languages or utilize low-code methodologies such as Google's Blockly visual programming environment.
The shift toward low-code approaches has become increasingly common as software applications have increased in complexity. Whereas it once took thousands of labor hours to write the code for a software product line-by-line, doing so today is considered excessively costly and time consuming. Luckily, large, online libraries of pre-existing code have become commonly available as the software industry has matured, lowering the barrier to entry for developers.
According to Dave Cameron, director of sales at Bosch Rexroth, as innovation increasingly occurs at the software level, platforms like the ctrlX Store will also enable companies to quickly install updates remotely, allowing them to keep their businesses competitive more easily than if physical upgrades to hardware assets were needed.
"I've seen examples where making a dashboard in a cloud environment that can be looked at anywhere in the world, whether you're at home or talking to the controller directly, has been done in as little as 15 minutes," Cameron says. "It's just one more method to drive ease-of-use and speed-to-market."
The open availability of schematic and configuration data the ctrlX Store offers also enables end users to begin programming applications for new equipment via a computer-aided design (CAD) simulation before machinery has even been put in place, further accelerating the production pipeline.
---
---
The ultimate aim of the ctrlX Store is to bring a "smartphone principle" to the sharing of industrial software and applications.
"Everybody understands the idea of a smartphone. It's easy to use, doesn't require an instruction manual, and is very updatable. In the industrial space, controllers increasingly also need to become more like that," Cameron says. "To make all of these machines in the packaging space work together, you really need things to be done more efficiently than they have been in the past. That's where the app-based approach comes in. Instead of writing code the traditional way, you can simply pull down an application and load it directly into the controller."
Mobile dimensioning software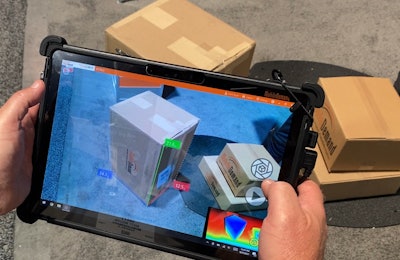 Without accurate data on parcel dimensions, efficiency in warehousing and shipping is impossible. After all, if an enterprise doesn't have a constantly updated understanding of the dimensions of the corrugated cases moving through its systems, how can management hope to efficiently rack pallets full of those cases in its warehouses or efficiently cube out the trucks that take those cases through the distribution system?
Because such data is so essential, various dimensioning technologies have been developed, some of them quite sophisticated. But one drawback to much of what is out there today is that the dimensioning devices tend to be stationary. In other words, operators must bring a case or parcel to the device in order to measure it and enter that data into the system, an approach that is inherently inefficient and unnecessarily time-consuming. xDIMTM Mobile Dimensioning Software (6) addresses that shortcoming, and its developer, MobileDemand, used PACK EXPO Las Vegas to introduce it.
Founded in 2003, MobileDemand is a supplier of rugged tablets and mobile computing solutions specializing in the design of integrated productivity tools for bar code scanning, point-of-sale magnetic stripe reading, PIN pad entry, dimension measurement, and mounting hardware for a wide variety of on-the-go applications. xDIM is powered by mobile visioning software from MobileDemand companion company 4DMobile, so it quickly and accurately captures measurements with a simple point-and-click—wherever the case is located. The innovative cloud-based application provides rich data via a user-friendly dashboard that integrates with a myriad of enterprise resource management systems for deeper business analytics. And having successfully completed the National Type Evaluation Program evaluation, xDIM is qualified as Legal for Trade, meaning it is legally approved for establishing cost for services or hire based on measurement.
xDIM software uses Intel® RealSense™ depth camera technology attached to MobileDemand rugged tablets for intuitive point-and-capture dimensioning, producing measurements in seconds. The software generates a 3D image of the parcel by performing eight billion scans per second. Data transfers directly to its intelligent cloud-based analytics dashboard, xDIM Insight. Reliable data is then put to work, significantly improving warehouse slotting, truck cubing, and pallet configuration processes, all of which preventing wasted space.
The patented technology seamlessly integrates with existing product information management systems (PIMS), warehouse management systems (WMS), enterprise resource planning software (ERP), and other resource management platforms to efficiently store and manage product or SKU information.
"xDIM combines an easy-to-use mobile device with modern 3D scanning and analytics, replacing costly and cumbersome stationary measurement equipment," says Matt Miller, president and Chief Technology Officer of MobileDemand. "It gives the user freedom to go wherever the parcel resides and finish the scan in seconds."
---
---
"Intel® RealSense™ technology is used to develop products that enrich people's lives by enabling machines and devices to perceive the world in 3D," says Joel Hagberg, Head of Intel RealSense Product Management and Marketing. "We are excited to collaborate with MobileDemand to enhance business operations by quickly and accurately measuring parcel dimensions. The Intel RealSense LiDAR Camera L515 enables mobile tablets to capture parcel dimensions using our 3D depth sensing technology."
All about drives
Lenze, a specialist in motion centric automation, showcased its Smart Servo Axis set up (7), a scalable drive that uses Lenze's latest technology achievement—an auto-tuning capability that will reduce the time it takes to do high-precision tuning of the control loop in a drive.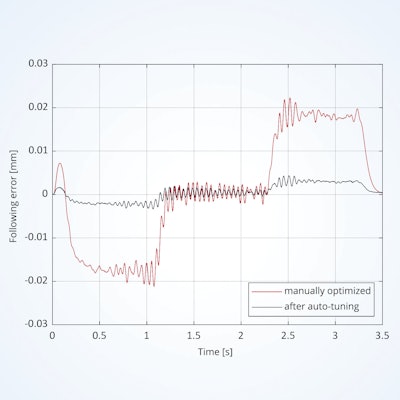 On display at the Lenze booth at PACK EXPO Las Vegas, the Smart Servo Axis consists of the company's i950 servo inverter, the m850 synchronous motor, and the g700 planetary gearbox with One Cable Technology.
"The most important part is that the i950 drive itself comes with technology applications ready to go as part of the firmware of the drive," says Daniel Repp, Lenze's Business Development Manager, Automation Solutions. "That means that you only set parameters, you don't have to program the drive."
The ready-to-go technology applications for speed control, positioning, winding, electronic gearing, etc., is part of the firmware of the drive. Lenze has engineering software, which can be downloaded for free, to connect to the drive and that's where parameters are set. "You don't have to be a super experienced engineer anymore because you just set parameters," Repp says.
In addition, the company just released an auto-tuning functionality for use when setting up a machine. Usually, application engineers tune the machine themselves, and the result depends on how experienced an engineer is. Often the engineer has to listen to how the motor behaves and adjust settings depending on what they hear. It can take hours to tune a machine, so Lenze came out with the auto-tuning functionality, which is embedded in the software. Just press a button and the software sets the setpoints to end up with an optimally tuned machine.
"It takes a few minutes versus spending hours to have the same optimal results," Repp says, noting the company developed algorithms that are based on what an engineer would do. "This is nothing really new, but we came up with an easy, simple-to-use functionality that delivers really outstanding results."
This procedure not only saves commissioning time, but also delivers reproducible ways to optimize machine performance. Errors that previously occurred due to model deviations, or during manual adjustment, are avoided.
The Lenze auto-tuning function can be executed with the Lenze tools Easy Starter and PLC Designer. Auto-tuning can be performed with all i950 and i700 servo inverters sold after April 2021. Devices sold before then can be extended with the auto-tuning function via firmware update.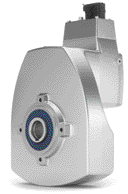 Elsewhere in the drives sector, Nord Gear previewed its new DuoDrive and Nordac On and On+ variable frequency drive (VFD) systems. The firm says the DuoDrive integrated geared motor concept (8) features the latest generation permanent magnet synchronous motor integrated into a single-stage helical gear unit housing, with a power range from 0.5-2 hp and an output speed of up to 1,000 rpm. The DuoDrive has a maximum output torque of 700 lb.-in. and a speed ratio of 3.24-16.2.
The company highlights the DuoDrive's high efficiency (up to 92%) variant reduction through constant motor torque over a wide speed range, a compact wash-down design, industry-standard mounting dimensions, and quiet operation. By reducing the system's variants, Nord Gear claims this minimizes administrative expenses for set up of lean manufacturing, logistics, storage, and service processes. Also, the motor can be operated worldwide and tailored to individual load ranges.
In addition to the DuoDrive's optional nsd TupH sealed surface conversion system—which features acid-, alkali-, and corrosion-resistance and an IP69K protection class—it offers a variety of motor connectivity options, such as HANQ8 and HAN10E plug connectors, round connectors, and direct wiring.
As for the decentralized On and On+ drives (9) from Nord Gear, they're built on one platform that features IIoT (Industrial Internet of Things) connectivity, firmware that is updateable via Ethernet, and an integrated PLC (programmable logic controller). Nord Gear notes that these standardized VFDs feature plug-and-play capability for ease of internet-based networking and feature integrated industrial Ethernet interfaces that are switchable for use with Profinet, EtherCAT, and EtherNet/IP.
Both VFDs can be wall- or motor-mounted and offer a compact footprint

with integrated brake control and motor temperature sensor, as well as optional functional safety with safe torque off (STO) and optional internal braking resistors. The Nordac Access BT (Bluetooth) provides a diagnostic interface for parameterization of the VFDs.
Key differences between the two VFDs are that the On+ is optimized for Nord IE5+ motors (permanent magnet synchronous motors) and features IP66 rated protection. The Nordac On VFD has IP55-rated protection.
Both the On+ and DuoDrive products feature permanent magnet motors. The big advantage of the permanent magnet motors is that they maintain their energy efficiency across a broad speed range and load range, says Torsten Schultz, president of Nord Drive Systems.
---
---
In applications where there is a lot of picking of product and seasonal fluctuations in demand, ranging from slow speeds with light loads to high-volume, high-speed operations, the motors' efficiency stay constant. "That's where permanent magnet motors, like these IE5+ motors, come into their own and save a lot of energy," he says.
SaaS and cybersecurity
Recently named a winner in the FDA's Low- or No-Cost Food Traceability Challenge, Wiliot's Sensing as a Service (SaaS) platform (10) consists of stamp-sized computers called IoT Pixels that can be affixed to any package to detect and understand various conditions including package location, temperature, tamper-detection, humidity, motion, fill rate, as well as product identification.
In real time, the IoT Pixels are built to securely communicate the information to the Wiliot Cloud via Bluetooth from phones and nearly all WiFi access points, thus becoming the IoT Pixels' infrastructure. From the Wiliot Cloud, information can be accessed and analyzed by brands, manufacturers, distributors, and retailers to make more informed decisions along the supply chain.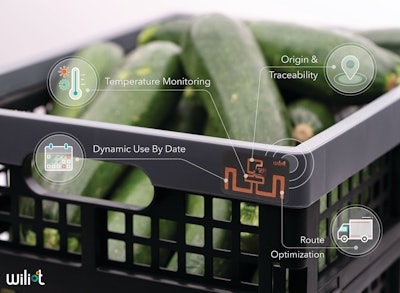 At PACK EXPO Las Vegas 2021, Wiliot showcased its IoT Pixels applied to reusable plastic containers (RPCs) such as product and parcel crates, pallets, and vaccine vials. From the show floor, data from these containers was fed to the Wiliot Cloud so attendees could view live updates, detailing the travels of the "smart" RPCs.
"We enable the internet of things to scale from being the internet of expensive things to the internet of everyday things," says Stephen Statler, SVP of Marketing, Wiliot. "We do that based on a tag we call Wiliot IoT Pixels that powers itself by harvesting radiofrequency energy. We're in the Reusable Packaging Pavilion here at the show, and that's doubly appropriate because we reuse the radio waves that surround us to power these tiny computers."
When companies can closely monitor the status of goods in Wiliot-enabled RPCs, they can more accurately match supply and demand so they're not over-producing but increase revenue; they can more efficiently deliver goods where they need to go, using fewer vehicles or shorter delivery routes to reduce emissions; and they can gain greater visibility into inventory to improve business performance and offer superior service to their customers. Wiliot's platform works across many different packaging options for various industries, from auto parts and pharmaceuticals to food and beverages.
We conclude this section of our Innovations Report with a look at a cybersecurity platform (11) from Siemens. As industrial companies connect plant-level software and devices to internet-connected enterprise systems, cybersecurity has become a critical operations issue for manufacturers of all sizes. While the Industrial Internet of Things (IIoT) greatly expands the efficiency of plant floor operations, it also introduces countless new vectors for potential cyberattacks. With more data flowing in and out of plants, the concern is that once localized networks will become more vulnerable.
To address this growing concern, Siemens' SiberProtect cybersecurity platform was on display at PACK EXPO Las Vegas 2021. In addition, the company was also exhibiting its real-time locating system (RTLS).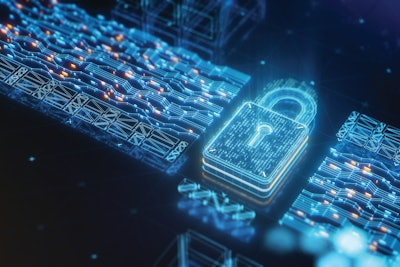 SiberProtect is an operations technology (OT) threat-detection system that can isolate or quarantine plant and field assets upon credible identification of a cyber attack. According to Siemens, the system operates in real time—independent of the site network—and is capable of responding to a potential threat in mere milliseconds. Upon receiving a cybersecurity notification, SiberProtect initiates a pre-determined series of equipment management actions designed to protect high-value or mission-critical assets and initiate other desired responses. To achieve this latter goal, notifications are communicated to operators and other stakeholders via lights, sirens, emails, and text messages.
The SiberProtect system is in line with a common cybersecurity trend. Whereas companies once relied on perimeter strategies that used firewalls and other network-based strategies to inspect and validate users entering and leaving the network, this approach has become increasingly untenable as digital transformation has mandated that plants connect more and more devices outside of the IT team's control. As a result, defense-in-depth strategies that seek to use intentional redundancies at every layer of a system—down to the device level—help ensure that proper security measures are becoming more common. These technologies require individual machines on the plant-floor to possess security certificates and only send data via encrypted communications.
As for Siemens' RTLS technology, it's used to track the position of assets, containers, vehicles, and other materials in indoor and outdoor environments. To enable tracking, infrastructure devices are placed throughout a facility that function similarly to the satellites that are used to triangulate a GPS network. After the infrastructure devices are in place, transponders are attached to any assets or materials end-users would like to track. The tracking data can then be fed into an MES or other system. One potential application is to use the tracking data in conjunction with geofencing—a virtual perimeter around a real-world geographic area. Through the use of a geofence, alerts can be triggered when a tracked asset or material enters or exits a certain area. From there, an appropriate response can be initiated by a PLC or other controller.
---
---
Companies in this article