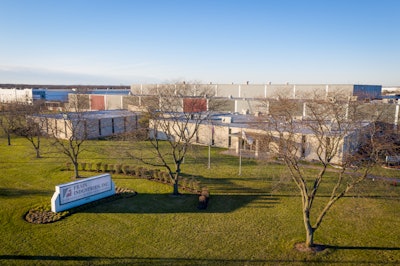 Photo courtesy of Frain Industries
When it comes to sourcing controllers, components, and other parts for packaging and processing equipment, the problems for OEMs just keep piling up.
"The supply chain as we know it is stretched beyond belief," says Edward Young, CEO of PFM USA. "It has been a challenge for the last year, and it's not showing signs of improvement. Anything we thought was an obstacle two months ago may now be under control, but there are always other obstacles that surface."
As a result, PFM, like just about every OEM out there is quoting equipment with longer than normal delivery times. These long lead times are not good news for CPGs needing to deliver new products to consumers quickly. And awful news for OEMs that could lose a sale.
PFM makes a range of horizontal flow wrappers, vertical form/fill/seal (f/f/s) machines, multihead weighers, and state-of-the art standup pouch equipment. Regardless of the type of machine, if PFM can't meet the customer timeframe Young knows he'll lose the deal. "If they're not buying a machine from us, they'll go to another OEM and buy from them."
In that situation, Young recommends the end user get a machine from Frain Industries, a packaging line integration company that offers a wide range of packaging and processing equipment from cappers and conveyors to fillers, wrappers, weighers, and more. According to Frain, the company specializes in integrated solutions, not just single machines, so Frain will get any equipment a customer needs for the project.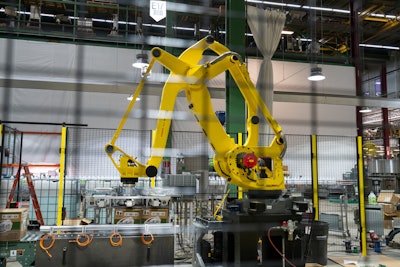 While it may sound strange to point a potential customer to what seems to be a competitor, in this case, it's a brilliant move. That's because Frain Industries buys PFM equipment and rents it out to CPGs.
"Frain has historically been viewed as a competitor, but now they're a partner," Young says, noting a recent change in the Frain business model that turns the OEMs from foes to friends.
Machine rentals
In the past, Frain would buy used equipment to resell into the market. This would make it hard for an OEM selling their new equipment to compete from a cost standpoint. It made for a contentious situation; Young admits. But about six years ago, Frain started buying new equipment from other OEMs, like PFM, and renting—not selling—to customers.
This creates a tremendously unique new business model that completely changes the industry dynamic.
First, Frain is now a customer, not a competitor, to the OEMs they buy new equipment from. What started with buying new Loma checkweighers and metal detectors now spans to over 40 partnerships, giving Frain an enormous inventory of integrated equipment solutions on site and ready to go.
That means when a customer urgently needs a f/f/s machine from PFM, like, yesterday, for example, rather than the customer waiting for the OEM to build the equipment, PFM can send them to Frain which already has a standard spec version of the machine on their floor that Frain can customize and have ready for the customer in a few weeks (not months).
"It's a gap solution," says Matt Wheatley, Frain Industries' purchasing manager. "We are not selling this equipment, we are renting it, so we are not competing with the OEM."
In fact, this business model sometimes provides the OEMs with a new sales channel.
"If I can't deliver equipment to a customer with an urgent need, it is to my advantage to suggest to them that they get one of our machines from Frain," Young explains. The customer can rent it for a few months while waiting for another PFM machine to be built, or they can continue renting it indefinitely—and even buy it outright from Frain. "But even if the customer doesn't buy the PFM machine directly from us, Frain will turn around and re-order a machine because once they send a machine out, they need to restock. So it's a win-win from my perspective."
nVenia, a manufacturer of primary, secondary, and end-of-line packaging equipment, has also benefitted from the Frain relationship. "What they do affects us in a positive way," says Paul Ferrandino, nVenia's senior vice president of sales. "They are the only customer we have that buys our entire product line across industry segments including CPGs, food and beverage, and agriculture. And when they rent something out, they immediately replace it by buying something from us."
Mind the gap
While Frain has been renting new equipment from other OEMs to manufacturers for the past six years, the pandemic and problems with the supply chain has made the model even more appealing to OEMs and end users alike.
"Deploying equipment rapidly is the biggest edge we have to help get projects started and moving cases out the door quicker," Wheatley says, explaining that large CPGs with millions of SKUs may come out with a new product that only lasts a year and every month they are late getting products on the retail shelves, they lose 10% market share. "That spoke volumes to us. If we helped them get cases out the door and on the shelf in three months, that's a game changer."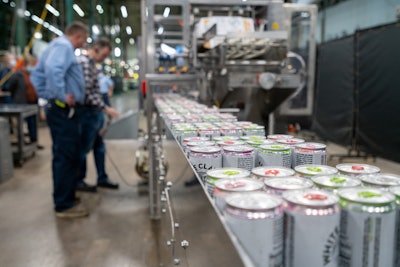 And the fact that Frain integrates entire packaging lines, the company is a one-stop-shop for building a turnkey line, including training and maintenance. "They provide a really unique service that many equipment OEMs don't want to get caught up managing the logistics of," says nVenia's Ferrandino. As a result, what nVenia and Frain have is "a true partnership that will continue to grow."
Startup solution
In addition, the rental model appeals to emerging brands that may not have the ability to buy a six-figure machine. "A lot of startups don't have the capital. This offers them the opportunity to get up and running and utilize the equipment as an operational expense vs. a capital expense," says Wheatley.
Renting also gives manufacturers the ability to keep production in-house vs. outsourcing to co-manufacturers and co-packers. So, when retailer Kroger tells the manufacturer they are putting products in 20 more stores next month, they must find a way to ramp up production. Renting from Frain gives the CPG the ability to ramp up quickly and keep the equipment in-house. "We help bridge the gap of growth," Wheatley says.
Companies in this article