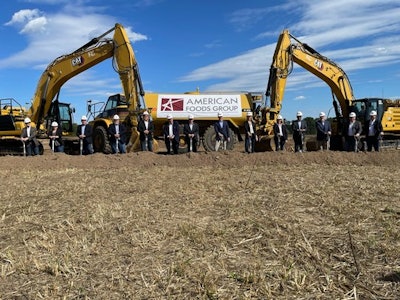 American Foods Group has broken ground on an $800 million, 775,000-sq-ft, state-of-the-art beef harvest facility in Warren County, Mo. The plant will employ 1,300 workers and process 2,400 head of cattle per day. It is expected to be fully operational by the end of 2024.
The project will include a harvest floor, carcass chillers, fabrication area, rendering, further processing area, storage coolers, freezers, and loading docks. It is expected to generate $1 billion in annual economic impact in Missouri.
AFG has chosen industrial contractor Gray Construction to help design and build the project.
---
---
"We chose Gray because they are a family-owned relationship-driven company that shares similar values to American Foods Group," says Jim Rathke, executive vice president of American Foods Group. "They brought the expertise we needed to engineer, design, and now build our state-of-the-art beef harvest facility. In addition, they are partners that understand our environmental targets and sustainable focus."
At the groundbreaking, Missouri Governor Mike Parson said, "As a third-generation farmer and cattleman myself, I am proud to welcome AFG to Missouri. This is a major development that will benefit Missouri's agricultural producers and consumers for years to come. With $94 billion contributed to our economy annually, we appreciate that agriculture is our number one industry. AFG's investment in Missouri further signals to the nation and world what we've known all along, that Missouri is the best place for companies to grow and expand. We couldn't be more excited for AFG's expansion in Missouri."
American Foods Group is a family-owned, U.S. beef processing company based in Green Bay, Wisc., with locations throughout the Midwest.
Companies in this article