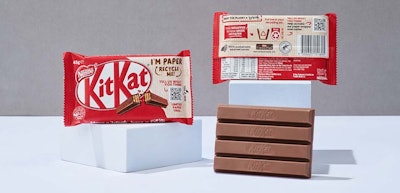 In a curiously specific regional instance of a global trend, Australia is the epicenter of a spate of recent confectionery brand switches from traditional plastic flow wrapped packs, to recyclable, paper-based ones.
Shortly on the heels of Mars Wrigley's launch of paper-based flow packs for Snickers, Milky Way, and Mars candy bars, Nestlé Oceania today announced its first ever trial of what it says is innovative new paper packaging on four-finger, 45-g KitKat bars. The food grade recycled flexible wrapper for Nestle's KitKat was supplied by Amcor.
In an exclusive trial with Coles Supermarkets across Western Australia, South Australia, and the Northern Territory, consumers can now buy KitKat bars featuring the paper wrapper for a limited time. More than a quarter of a million units will be wrapped in the new paper packaging across select stores for the trial.
---
---
The new paper packaging trial is a bid to innovate and explore every avenue to meet Nestlé's goal of reducing its use of virgin plastics by a third by 2025, which includes using less plastic, recycled plastic, and alternatives to plastic packaging.
"We're proud to be the first country globally to trial KitKat in paper packaging, as an important step towards reducing our use of virgin plastic. With all packaging innovations, our priority is to ensure we deliver the same delicious KitKat with creamy chocolate and crisp wafer," says Nestlé Oceania General Manager of Confectionery and Snacks Chris O'Donnell. "Our partnership with Coles has made this packaging trial a possibility, where Aussie chocolate lovers can have their say on our innovative KitKat packaging. The feedback we receive on this trial will help shape the next step of giving Aussies their favorite break."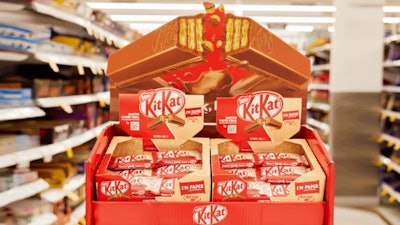 According to a company release, each bar will feature a QR code which consumers in Western Australia, South Australia, and Northern Territory can scan to have their say by answering a series of questions about the new paper packaging. The 45-g KitKat Milk [chocolate] wrapped in paper packaging will be available to purchase only from select Coles Supermarkets in those regions beginning in January, 2023 while stocks last, and can be recycled through curbside recycling bins that collect and process paper. The trial wrapper has a thin metal barrier film to keep the KitKat fresh and has a recyclable Australian Recycling Label.
Adds Leanne White, General Manager of Grocery at the partner retailer, "Coles is thrilled to partner with Nestlé on this important trial which will provide customers the opportunity to have a say on new packaging options and help the company lead the charge in innovative solutions. As part of Coles' Together to Zero waste ambition, we are committed to reducing plastic packaging wherever possible in Coles supermarkets so we're really proud to work with fantastic suppliers like Nestlé to trial a new packaging solution for one of Aussies' favorite chocolate bar." PW
Companies in this article