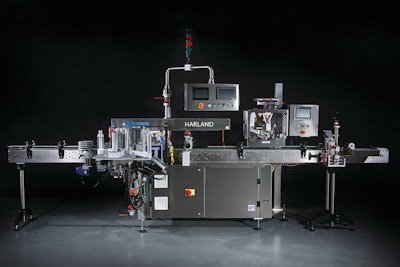 NOTE: Machinery wasn't the only area of interest at PACK EXPO. Click the links that follow to read more about innovations in: Food Processing & Packaging | Sustainable Packaging | Robotics | Pharma | Controls
Accraply, a BW Packaging company, and the Intelligent Systems team at Barry-Wehmiller have collaborated on a new human machine interface (HMI) for Accraply's labeling systems that is developed to provide greater insight into labeling operations for increased overall plant productivity.
Designed with ease of operation and training in mind, the SmartLink HMI features video tutorials and on-demand training guides to simplify set up and operation. On-board manuals, drawings, and consumable parts ordering enable the operator to find information and submit parts orders. Additionally, self-diagnosing software helps educate operators on faults and assists them in troubleshooting.
To improve labeling machine efficiency, the SmartLink HMI creates preventive maintenance schedules for the operator and maintenance team that display daily, weekly, and monthly tasks. The HMI's improved analytics dashboards provide information regarding the machine's availability, performance, and condition to increase operation uptime. The HMI technology has also been designed to accommodate rapid changeovers by storing recipes and providing video changeover guides to assist operators and reduce downtime.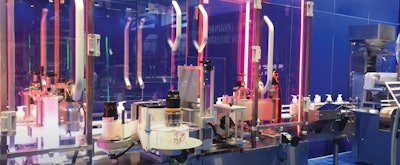 Allowing for greater interface capabilities, the system's SmartLink interface allows plant management to leverage HMI technology in front of the machine or remotely; remote machine access can be reached through a smart tablet or phone. Accraply also offers machine configuration and a setup audit trail to ensure the product is working correctly as well as remote video assistance from a trained local support team through the customer's smart device.
Among the Accraply machines currently using the new SmartLink HMI are the Sirius 100 pressure-sensitive labeling system and the Sirius MK6 (1) advanced pharmaceutical-grade labeler.
Elsewhere at PACK EXPO International, BellatRx introduced a new Notaris Plus labeling machine (2) that includes a component that takes the measurements of a bottle. When these are entered into the HMI, a recipe is created automatically that contains all of the conveyors, label dispensing, wrap, and metering wheel speeds necessary. So all of these are automatically set and synchronized without further operator intervention. This gets the operator to 90% of where the setup needs to be just by measuring the bottle. "They don't need to understand dispense speed or any of that because we understand it, and we write in the code and algorithms to calculate the speeds," explains BellatRx President and CEO Alan Shuhaibar. "All they need to do is measure the bottle and enter the dimensions."
A short animation or video also serves as a step-by-step guide in the HMI on how to get the BellatRx labeler up and running. The video is coupled with an LED light strip installed along the length of the machine. When setup is required on a certain assembly, the section of the LED strip in front of that assembly will light up to draw the operator's attention to that point. The mechanical adjustments include electronic feedback that turns the LED light green when it is in the correct setpoint or red when it is not. On the HMI, the operator cannot progress to the next screen unless all setpoints for that assembly are green.
In the past, the OEM's expectation was that the operator knew how to set up the machines. But that's no longer true in many cases. In addition, people expect the same user-friendly interface as an iPhone. "We are trying to take that mindset and put it into the machines. You shouldn't need a PhD to run a labeler," Shuhaibar says.
Watch a video of the new Notaris labeler in action at the BellatRx PACK EXPO booth.
Also featuring automated changeover on a labeling machine, thanks to the power of servo technology, was Nita Labeling Systems. VP Sales and Marketing Ken Hubscher showed how quickly and automatically the Nita labeler (3) goes from applying front and back labels on an F-style container to applying a full-wrap label on round containers.
Watch a PACK EXPO video demonstration.
Suitable for e-commerce
Weber Packaging Solutions used PACK EXPO International to unveil its latest label printer/applicator, Model 4050, designed with distribution centers and e-commerce operations in mind. Based on a version of a Weber machine created by its engineers in Germany, Model 4050 (4) is engineered to be a modular, variable-height labeling system that is easy to service while using 80% less air than comparable systems.
Weber's machine combines modulated vacuum technology with integrated sensors that constantly measure the labeling pressure required and adjust as needed during the labeling operation. Chris Erbach, integrated marketing manager at Weber Packaging Solutions, says this technology should make the 4050 appealing to distribution centers and e-commerce businesses who need variable-height labeling solutions to accurately handle the packages and envelopes coming in sequence down the line.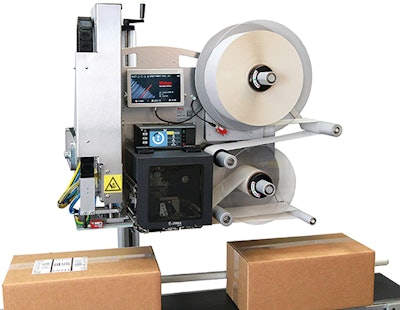 "For anyone doing shipping address labeling for different sized packages, this model will sense the height of the box, and bring it down to a quarter of an inch and blow the label on from there," says Erbach. "It's a sort of a hybrid—not completely air-free label application, but it uses significantly less air than what is typical in the industry."
Two compressed air circuits allow the label to stay on the tamp pad and the thruster to stay in position when an emergency stop occurs on the production line. This eliminates the need to reset the applicator when the emergency is cleared and the line restarts. Because it is a no-contact labeling system, Model 4050 can also handle fragile items and even do product labeling, Erbach says.
In addition to its sensor-based variable-height labeling technology, Model 4050 features variable-stroke operation and increased precision with powered unwind and rewind modules that minimize wear on the printing modules while ensuring precise printing. The 13.75-in. unwind matches the label length and ribbon length for one-to-one media consumption, thereby reducing downtime and eliminating partial changeovers.
Erbach explained to Packaging World at the show how modularity and simplicity are built into the design of the 4050. "We wanted something that was more modular with parts that we could source here in the U.S. to be cost-effective," says Erbach. Featuring a labeling module designed without service parts, Model 4050 is easy to adapt to applications and service, he adds. The only maintenance item—the print engine—can be maintained per the manufacturer's requirements. Print engines from all leading manufacturers can be used in the Model 4050.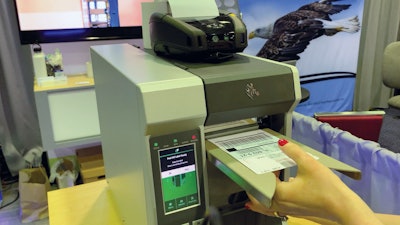 Another advantage for busy distribution centers: the labeler's clear cover over the pneumatic system makes it easy to see and access for operation, servicing, and cleaning. There are two separate compressed air cycles: one for safety-relevant processes such as moving the tamp, and one for general functions such as label management. Color-coded tubing and LED indicators make it easy to follow the action in busy facilities.
Available in right- or left-hand application models, Model 4050 can be configured to handle thermal-transfer or direct thermal label applications, Erbach says. Other standard features on the Model 4050 include a 7-in. LCD color touchscreen for easy operation and diagnostics.
E-commerce was also a focus at the PACK EXPO booth of Chicago Tag & Label, where two new labeling solutions for packaging and e-commerce were unveiled (5). Both are part of the Multiplex line of machines, which print and create packing slips and other crucial shipping documents at the same time a shipping label is created, saving valuable time and labor in the process.
The Multiplex comes in two variations: one is an auto-application system that applies all shipping documents directly to packages as they pass on a conveyor. The second version prints all documents for manual application to individual packages as needed.
"Once applied to the carton, you can peel the tear strips to reveal the packing list that's covered by the outbound shipping labels," says Ann Peterson, sales account executive at Chicago Tag & Label. "It could also have a return label that's already applied to the carton ready for the end user to put back in the mail to be returned to the customer."
Watch a video of Peterson demonstrating both machines at PACK EXPO International.
Case erecting and packing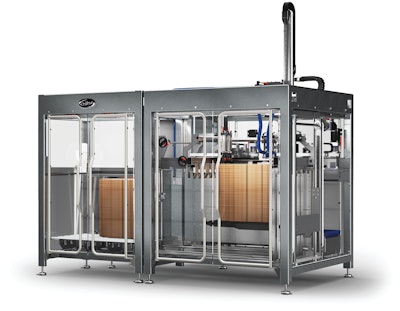 The new Trayfecta X Series case erector (6) was the star of Delkor's PACK EXPO International booth. Unique is a dual-magazine case blank setup that lets the machine hold up to 500 case blanks at a time. It accepts Delkor's Cabrio tray/hood Retail Ready Package, stackable club-store style display trays, and standard brown box shippers—all at speeds to 50 cases/min. Included is Delkor's patented case-forming technology as well as smart-machine technology to automatically correct for nonconforming corrugated blanks. Finally, the machine can be joined up monobloc-style with Delkor's robotic loaders or Delkor's Performance Series case packers.
Watch a video of the machine in action.
SOMIC Packaging showed off the advantages of retail-ready automation with its 424 W3 wraparound case packer (7) in Lakeside Center. But the company's message about flexibility wasn't only about using standard functional groups to make it easier to reconfigure operations; it also came in the form of a new strategy for servicing U.S. customers.
In the past year, SOMIC Packaging has begun commissioning all its North American machines from its headquarters in Eagan, Minn. Engineering and design of the packaging machines will continue at the SOMIC parent company in Germany, explains Peter Fox, CEO of SOMIC Packaging. Seven German colleagues are staying in the U.S. right now to cross-train employees to make sure that the commissioning is done from Eagan exactly how it was previously done from Germany, Fox adds.
Besides the convenience of commissioning machines for the North American market out of the Minnesota location—saving time and money with a local staff—it takes a lot of the pressure away from the current climate of uncertainty in the shipping world, Fox notes. It also helps with the workload in Germany.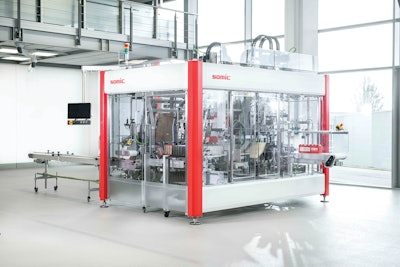 "The volume coming out of North America has been putting additional pressure on our manufacturing in Germany," Fox says. SOMIC Packaging absorbing commissioning responsibilities should go a long way as local sales continue to grow. "We anticipate that SOMIC Packaging will account for 50% of the volume within the next four years."
With the wraparound case packer it had on display at PACK EXPO International, SOMIC showed how it has mastered the art of flexibility. The 424 series produces up to 25 cases/min in a small footprint. SOMIC is able to configure its standard machine to meet customer needs, using standard functional groups to quickly achieve packaging needs. "This gives our customers and us the flexibility to change for future needs," Fox says.
This is particularly important in the labor situation that so many companies face these days, Fox notes. "Nobody has any labor anymore," he says, noting that automation investments are based on the need to get jobs done. "ROI doesn't even come up in our discussions."
The 424 W3 wraparound case packer is suited to companies that need automation but don't have the space.
A new case packer (8) featuring horizontal loading was being demonstrated at the PACK EXPO International booth of Nuspark.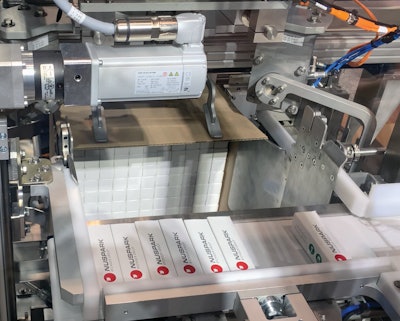 Cartons exit a Nuspark cartoner at speeds to 60 cartons/min and are lined up 12 at a time on a staging plate, so that when the case is full it will hold 120 cartons. All 120 cartons are pushed into the case, which the machine erects from a flat blank. Once cartons are inside, flaps are closed and the case is transferred laterally so that top and bottom taping can be done. The finished case is then upended onto a discharge roller conveyor for easy transfer to palletizing.
Watch a video of the case packer that was demonstrated at PACK EXPO.
New at PACK EXPO from Hamrick Packaging Systems was the Model 600D-TS, a tandem servo drop packer (9) that can run two cases per cycle on reshipper cases. "Our 600D-S topped out at about 30 reshippers/min because it could only do a single case per cycle," says President Jordan Hamrick. "This new tandem servo machine lets us run reshippers at close to 50 per minute."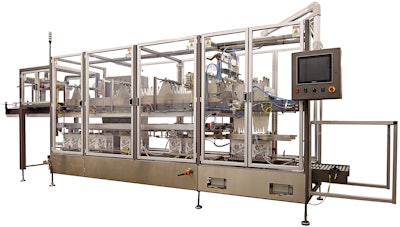 Like plenty of other exhibitors at the show, Hamrick has faced supply chain challenges over the last year or two when it comes to controls components like servo motors and drives and HMI screens. So the 600D-TS at the booth has servos from Mitsubishi and an HMI from Weintek. The 600D-TS features all-servo motion and the ability to align the tandem lug-driven indexing system to run larger formats in single-case-per-cycle operation.
Hamrick says that the machine on the show floor is headed for Luxco in St. Louis, a contract manufacturer specializing in spirits.
In an effort to provide a complete solution for end-of-line packaging operations, adhesive tape provider Shurtape unveiled at PACK EXPO International its own line of automated case erectors and case sealers (10).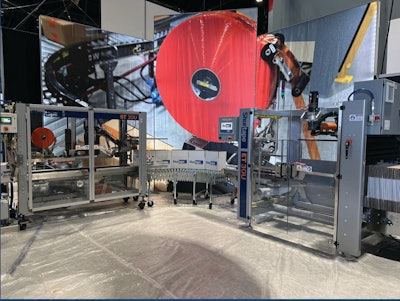 The Shurtape case erector models ET20U and ET30U are designed to handle 20 and 30 cases/min respectively, and are available in both a tape or a glue version.
The machine includes intuitive Fluid Form Controls and a SCARA robot performing pick and place tasks. A recipe-generating HMI tells the operator the adjustments that need to be made simply by putting in case dimensions. According to the company, the case erectors deliver quick and trouble-free changeovers, consistently square cases, and about 40-50% fewer wear parts than competing machines with less maintenance for maximum operational efficiencies in end-of-line packaging operations.
Working hand-in-hand with the case erector, the ST20U automated case sealer is able to handle a large variety of case sizes and configurations with the flexibility to dynamically move from large case input to small case input. It also includes the company's quick-change ShurSeal solution.
"Our claim to fame over the last few years has been our ShurSeal technology, which is going to retrofit right into these pieces of equipment," says Rob DeVries, Shurtape's senior vice president of sales.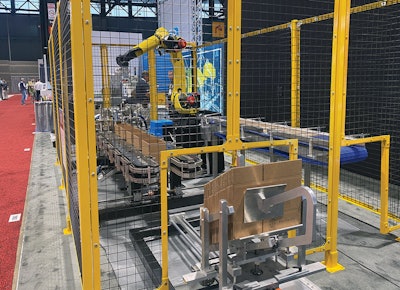 Watch a video of the machine in action at the Shurtape PACK EXPO booth.
Also focused on case packing at PACK EXPO International was Yeaman Machine Technologies. The Yeaman Top Load Case Packer (11), a newly designed product offering released in August 2022, can run up to 50 cases/min and works with a variety of regular slotted containers and other standard packages, says Chris Bradley, Yeaman director of sales.
The machine features case or carton erecting, a robotic infeed application, and high-speed intermittent or continuous motion. It utilizes Yeaman's carousel style conveyor configured to hold cases square through all operations of the machine.
"So we're able to take products in continuous flow, erect the case, hold the case, pick and place the customer's product and drop it in, either through robotics or mechanics," Bradley says. The system can also be fitted with a glue or tape sealer, and is capable of primary, secondary, and e-commerce packaging, including sift-proof seals.
The top-load setup is ideal for products that "might be a little bit more gentle, open top, and to be able to stack twos, fours, sixes, and eights and keep up with speed," Bradley says. The model at the show demonstrated a baking application as an example.
Elsewhere at the Yeaman booth, the RIV Manufacturing-owned OEM showcased a semi-automatic pouch filler (12). It can be operated by a single laborer and maintain a filling rate of about 26 pouches/min, according to Bradley.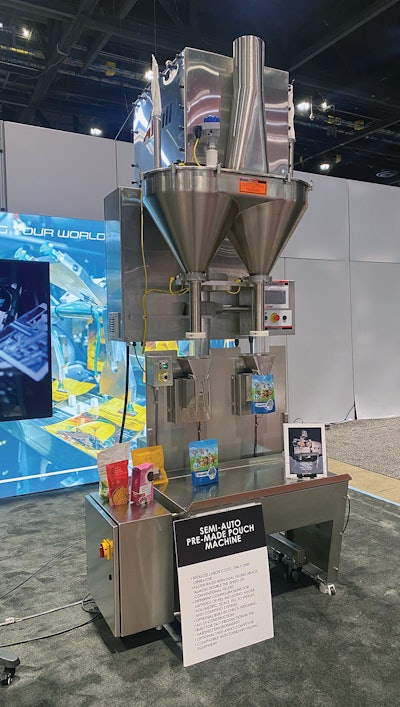 The filler can be integrated with any kind of feed system, including conveyor infeed, load cells, auger, and scale systems. Because the machine has dual filling heads, customer brands can fill a variety of different pouches on the same system.
"The side-by-side semi-automatic pouch loader system is a great solution for customers that might be at the second or third tier of their product growth," Bradley says. "They have a variety of pouches that they need to get out the door every day."
High-speed tray erecting
A recurring theme at PACK EXPO International was the substitution of paper for plastic, and Mpac was among the exhibitors featuring something along these lines. In this case it was lightweight corrugated cookie trays formed from flat blanks being proposed as an alternative to polystyrene or polypropylene trays.
Well established as a maker of tray and carton erecting machines, Mpac showed a carton erector (13) notable for at least two reasons. First, though its footprint is just 1.2 x 1 m (3.94 x 3.28 ft), it's capable of erecting corrugated trays 50- to 55-mm (1.97- to 2.16-in.) deep from flat blanks at 200/min. And second, the F-flute corrugated trays have a grease-resistant property that makes them suitable for such things as cookies, for example, without making them unsuitable for recycling in the regular paper recycle stream.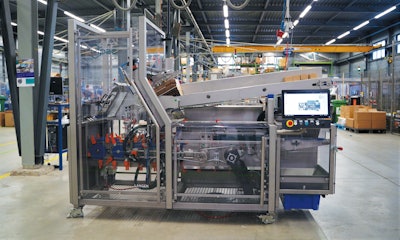 Partnering with Mpac on the packaging material side of this development was PilloPak, a producer of corrugated board specializing in lightweight corrugated. Also a distinguishing characteristic of PilloPak is that about 85% of its applications are in the direct food-contact category.
The grease-resistant properties of the trays is not a function of a coating. PilloPak purchases grease-resistant paper from several outside suppliers to make the paper used on the Mpac machine. While the inner and outter liner materials are virgin fiber, some of the corrugated fluting can be recycled content. So in the end up to 50% of the structure is in fact recycled content, says PilloPak managing director Jan Tuininga. He also confirms that 100% of the tray is compatible with the conventional paper recycling stream.
When asked if the corrugator on which the board is made is customized or special in any way, Tuininga says not really, though he does add this. "The equipment becomes, in effect, highly specialized by way of our internal expertise. Is it rocket science? No. But when it comes to converting lightweight papers like these, that's a real specialty. Most corrugators are dealing with paper no lighter than 70 grams per square meter. We operate routinely in the range of 30 grams per square meter."
Tuininga says that his firm has been providing lightweight corrugated cookie trays for more than a decade. But he believes that the development of Mpac's machine, with its compact footprint and 200 cartons/min speed, opens the market for a lot of high-volume producers who previously might have wanted an alternative to plastic but needed higher output than what was previously available.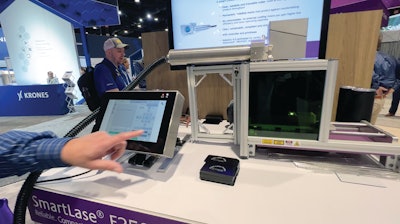 As for cost, Tuininga acknowledges that the lightweight corrugated tray will likely come with an upcharge. But as brand owners look for ways to comply with social and governmental forces increasingly unhappy about the amount of one-way plastic in use, he believes a solid business argument can be made in favor of the corrugated trays.
Watch a video of the Mpac machine operating at PACK EXPO.
Marking and coding
A drawback to traditional CO2 laser printers has been that generally it isn't practical to print on metal, or on applications with highly reflective surfaces. That renders most foils, foil backing in blister packs, and aluminum cans out of traditional laser printing's range. But that's where fiber laser printers shine. Markem-Imaje debuted at PACK EXPO International a new compact and high-performance 20-W fiber laser that delivers high-quality permanent coding on high-density and reflective substrates. The SmartLase F250 (14) is the first new product launched after Markem-Imaje's acquisition of laser coding and marking solutions specialist Solaris Laser.
"The SmartLase F250 is a unique fiber laser serving the beverage, pharmaceutical, and confectionery industry," Mark Boska, director of sales, North America, at Markem-Imaje told PW. "It prints on aluminum products, metal foil products, blister packs, and other films."
Regarding the foil-backed blister packs in particular that are common to pharma and confectionery, Boska mentioned one particularly interesting tidbit. The system can print through the thermoformed plastic portion of a blister, onto the foil backing underneath. That means the mark can be placed on the inside portion of the lidding, visible through transparent plastic, after the lidding has been affixed.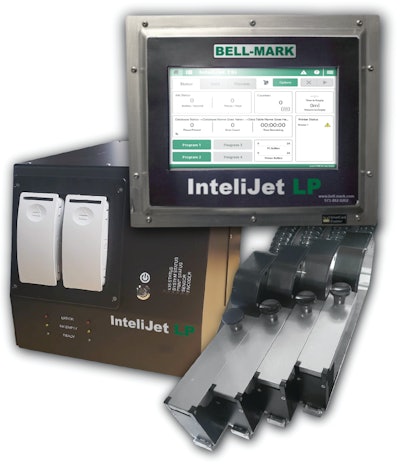 According to Markem-Imaje, the reliable SmartLase F250 reduces operational expenses by reducing line stoppages, and by eliminating the requirement for ink. The system delivers environmentally friendly chemical-free production that the company says helps businesses meet sustainability compliance goals.
The compact and intelligent SmartLase F250 is suitable for businesses seeking best-in-class code quality at high speeds where space is at a premium. Built for even the most challenging environments, the SmartLase F250's controller, printhead, and touchscreen user interface come with at least IP55 ingress protection level to provide long and reliable operation in harsh, dusty, and humid conditions.
The SmartLase F250 comes Industry 4.0-ready with an array of industrial interfaces that enable its safe and seamless integration to complex plant automation and manufacturing execution systems. Once integrated, an intuitive user interface delivers an increase of up to 20% in operating efficiency.
"The SmartLase F250 combines speed and efficiency with simplicity, safety, and sustainability," says Alex Koudriashov, laser product marketing manager at Markem-Imaje. "The F250 is a printer designed with the future in mind. Fewer line stoppages and the fact it uses no ink can radically reduce OPEX, while the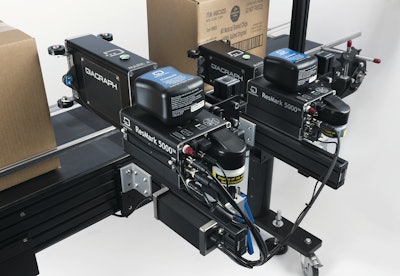 elimination of chemical components makes it ideal for companies who are looking to reduce their impact on the planet."
Watch the SmartLase F250 in action.
Higher resolutions at longer throw distances make up the dual-pronged push for many brands seeking to improve coding and marking operations. That's why Bell-Mark used PACK EXPO International to demonstrate its InteliJet LP printer (15), featuring thermal inkjet (TIJ) 4.0 printheads. To meet current demand, the system provides an increased print resolution up to 1,200 DPI and can reach speeds up to 2400 fpm. The throw distance of the TIJ 4.0 printheads has also been increased, reaching up to 7 mm. The print heads are 22 mm (7/8 in.) wide and can be stitched together for a total of four stitched printheads, all controlled by a single user interface.
The advanced user interface is displayed on a 7-in. color touch-screen HMI. The interface enables users to monitor a wide array of operating conditions and has a built-in label creation software for creating and managing labels. Users can also import labels via an ethernet connection or USB flash drive.
Bell-Mark's InteliJet LP printer also features a new, integrated, bulk ink delivery system, utilizing two hot swappable 775-mL ink supplies. As one ink supply empties, the ink is fed automatically from the other supply allowing continuous production and uptime. This eliminates the downtime caused by changing ink cartridges, such as the ones needed on TIJ 2.5 setups. The print controller, which houses the dual bulk ink supplies, connects to each printhead with a 3-m umbilical, supplying a constant flow of ink from the bulk in reservoirs. The print controller connects all other peripherals, such as an encoder, sensor, I/O, ethernet, and the touch-screen HMI.
Diagraph's ResMark 5000 has 2-in. Mark 2 and 4-in. Mark 4 print heads for high-resolution coding and printing on end-of-line packaging applications. The printer serves the food, beverage, building, pharmaceutical, personal care, cosmetics, automotive, and industrial industries.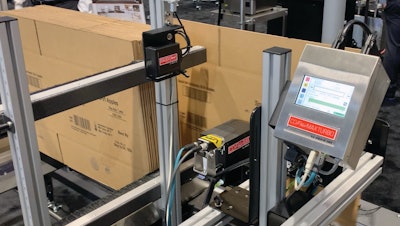 The ResMark 5000 (16) was designed for sharp high-resolution prints with forgiving throw distances on secondary packaging and cases. The piezo print engine technology in the machine enables manufacturers to operate the printer 24/7, including in harsh industrial environments. The ResMark 5000 is a simple, flexible, reliable and efficient inkjet coder at a lower cost of ownership over the life of the system, says the company.
Features of the ResMark 5000 include its patented quick-disconnect print head that can be brought online quicker to reduce production line disturbances and repairs while minimizing downtime. "The quick-disconnect coupler allows the head of the print system to come off and be quickly replaced within five minutes from a print engine already on the shelf. It also allows the system to print in a slanted fashion for incline conveyor systems. If you take the system and rotate to horizontal you can print on web printing," says Michael Poulson, strategic marketing director, Diagraph.
Because the system is independent of an HMI, it offers the ability to continue printing until a message change is required on a production line. Wireless connectivity of the ResMark 5000 is a standard feature of the print head. ResMark 5000 can be easily installed and allows a single production line to be daisy chained with up to eight Mark 2 and/or Mark 4 print heads. The streamlined design of the ResMark 5000 requires a minimal footprint on the production line.
"The other feature we are introducing on the new Resmark is a full operating PC system using beaglebone board in the back, making it simple to operate, to communicate, and to maintain," says Poulson. "Also, in a part of this system, we went with a septum-based interface for the ink system. Now the ink is plug-and-play. The ink system is also chipped so we can report ink levels and diagnostics of ink flow, and we can also read that information for preventative maintenance measures."
Diagraph ink plug-and-play is called ScanMark ink. The ScanMark ink cartridge for ResMark 5000 features a clean septum system that eliminates the dripping of ink when a bottle is removed from the print head and protects the print head from collecting debris when not in use. Smart chip technology built into the ScanMark ink bottles monitors ink status, usage, and compatibility.
"We've also introduced a new feature called recirculation that allows you to cap the front end of the print system, prime the system to remove all air, and be up in less than 15 minutes on new installs or replacement installs," Poulson says.
ResMark 5000 can be used with Diagraph's NEXT software platform, including NEXTCreate which enables manufacturers to create and design messages on demand and send messages to print remotely. The NEXTControl platform provides flexibility to select messages and even configure print heads on any production line.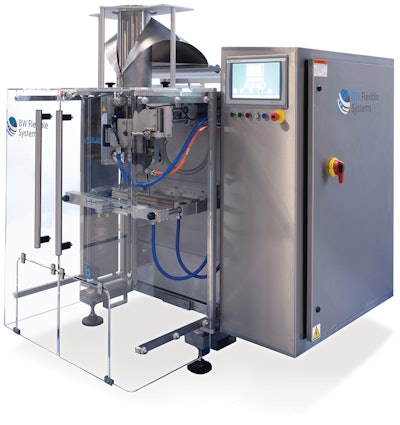 Watch a video of this advanced coding technology.
Introduced at the PACK EXPO International booth of Squid Ink was an innovative combination (17) of capabilities: the CoPilot Max Turbo high-resolution printing system integrated with the VCTS (Vertical Case Transport System) from Squid Ink sister company Eastey. Flat corrugated cases blanks are transported from a magazine through the CoPilot Max for printing and then collected in a collection hopper.
"This is a perfect system for printing the adjacent sides or all four sides of cases right in the customer plant," said Jay Sinclair, director of sales eastern region at Engage Technologies/Squid Ink Manufacturing. "The hopper holds up to 80 cases, and we can do up to 60 cases/min. This lets customers buy blank corrugated cases and, instead of applying labels to them, they can customize the printing and do on-demand case printing with production runs on the fly."
The CoPilot Max Turbo printing system is designed to print top quality characters on porous or nonporous surfaces. For applications that require immediate dry times on nonporous surfaces, the printer also is able to run UV LED curable inks. With up to 2.8 in. of print height per printhead and the ability to run up to two printheads from one controller, the CoPilot Max Turbo offers a versatile yet cost effective solution for coding and marking. And with Squid Ink's unique active ink system, users can tilt or rotate the printhead in any direction without making height adjustments to the ink supply. The system prints high-resolution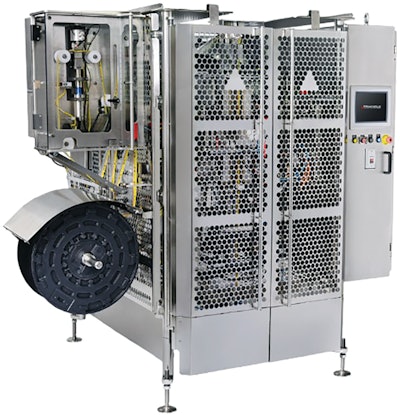 characters, razor-sharp text, scannable bar codes, or logos at up to 360 dpi.
Watch a PACK EXPO video of the printing and transport system in action.
Next-gen CIJ
When it comes to inputting variable data on thermal inkjet (TIJ) equipment, human error—or good old fat-finger syndrome—has always been a big problem. A next-generation, large-character TIJ system (18) from Domino Amjet, launched at PACK EXPO International, aims to eliminate that human error. It does so by using barcode scanning instead of manual input for message selection, and by adding post-print accuracy validation, which allows operators to adjust the printed content while limiting error.
At the show, Jack McMahon, large character ink jet business development manager at Domino Amjet, Inc., demonstrated the equipment.
"We're at one of our automation stations where we're barcode selecting the message, the message goes to the controller, which is printing the box, and then we have a scanner at the end with a vision system that validates the information is accurate," he said. "That makes this a turnkey solution to make sure you're printing the right information on the box or carton."
According to the company, this new Gx350i is great for fast-paced production and track-and-trace applications since it's easy to operate and easy to integrate for clean, clear codes. The innovative thermal inkjet printer is especially suitable for multi-print head operation, fast data transfer, and challenging controller (IP64 rated) environments. Whether used for healthcare, pharmaceutical, beverage, food, or another CPG vertical, the Gx350i is ideal for multi-print head applications, the company says.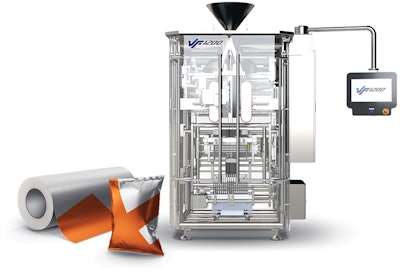 Domino Amjet says its product engineers built the 350i with customer needs in mind. Thanks to flexible mounting positions and small print heads, the Gx Series industrial coder will integrate into a line quickly and easily to limit downtime. Plus, with a large, intuitive 10-in. touchscreen interface, the printer will make it easy to have staff trained for error-free operation in no time, says the company. Still in use, too, is the tried-and-true inkjet technology that users have come to appreciate. In addition, the Gx350i is fully compatible with Industry 4.0 standards using the Domino Cloud centralized interface. The Domino Cloud allows for fast, error-free remote capability, providing the data and tools to ensure better packaging and processing systems management.
Watch the printing system in action.
Advances in f/f/s technology
The CM Verus (19), new from BW Flexible Systems, a BW Packaging company, is a continuous motion, servo-driven vf/f/s packaging machine designed specifically to meet the hygienic and sanitary requirements of wet environments. The easy-to-clean machine features a closed-module design and is IP65 rated for washdown.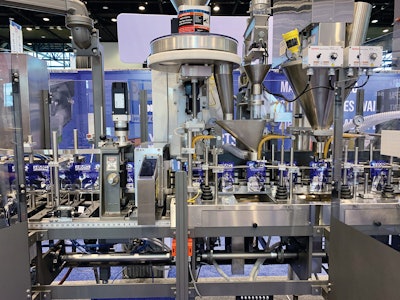 According to Brian Harrison, sales executive for BW Flexible Systems, the CM Verus is notable in that it offers a number of features not available on some other continuous-motion machines. "One is that the back-seal assembly is stored by position per recipe so that you don't have to make an adjustment, depending on what forming tube size you put in the machine," he explains. Another is that the machine can run resistance sealing jaws for laminated materials or impulse sealing jaws for polyethylene, he adds.
The servo-driven machine uses an Allen-Bradley CompactLogix PLC control system with an AB Kinetix 5500 servo control system, along with an AB 9-in. PanelView Plus color touchscreen HMI. "It's all Allen-Bradley," says Harrison. "A servo motor runs the back seal, and the open and close and vertical access of the XY format jaw are both done with servos. In addition, the CM Verus has one servo motor for each full belt. In the back of the machine, we're using an AC motor to drive the film through the machine. In the forming tube section, we're using vacuum pull belts that combine friction and vacuum to pull the film through the machine."
Quick changeover between different packaging formats, product SKUs, or materials is enabled through the user-friendly HMI touchscreen. The CM Verus can accommodate a variety of materials, including more sustainable options such as multilayer polyethylene and paper, with a maximum flat bag width of 400 mm and no bag-length limit. The machine can be integrated with a variety of printers, labelers, and other OEM devices, including any common feeding systems, such as augers, pumps, and scales.
Triangle Package Machinery, now celebrating its 100th anniversary by the way, introduced its next-generation Delta Series vf/f/s machine (20). The Delta, which delivers zipper packaging for protein, produce, or frozen food products, allows bulky foods to be easily packaged because the bags are held fully open as food is inserted. This fully open mouth of the package also makes for easy access by consumers to the contents inside. And that can include bulky items such as large chicken parts, fresh produce like baby carrots, or even products such as sugar. Consumers can conveniently pour products out of the bag or stick their hand in to access the product or use a scoop inside the bag.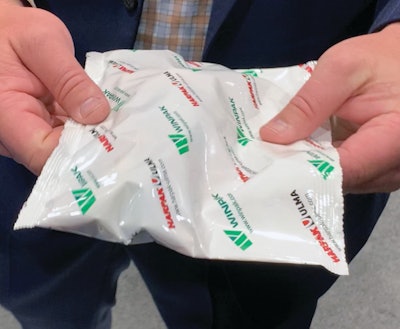 With a rated speed of about 70 packs/min, the machine has quick-change jaws that bring a great deal of versatility where product variety is concerned. Plus the latest enhancements to the platform include a rotatable jaw. This permits the production of three-side-seal packages as well as the ability to utilize zipper tape. For processors or contract packagers that need to change package styles frequently, the quick-change sealing jaws and rotatable jaw carriage allow conversion from a three-side sealed package to a pillow style in less than 10 minutes. And further improving quick and easy changeover is an optional centerlining system that allows for fast, color-coded adjustments.
As with all baggers from Triangle, the Delta was designed with the sanitary needs of food processors in mind. That means sanitary welds and washdown-rated electronics that make sanitation simple. Additional standard features include a pivoting control box for full machine access and a quick-change 16-sided forming tube.
WeighPack Systems launched its newest vf/f/s machine for high-speed applications, the VF 1200 continuous motion bagger (21). Debuted at PACK EXPO International, this bagging machine can produce up to 150 bags/min in varying sizes up to 16 ins. in length. "Our focus is to consistently deliver to our customers the products they want and need. What they have asked for is a high performance, high speed vertical bagger that delivers the best ROI. We feel strongly that we have delivered that," says Nicholas Taraborelli, Vice president at Paxiom Group, of which WeighPack Systems is a member.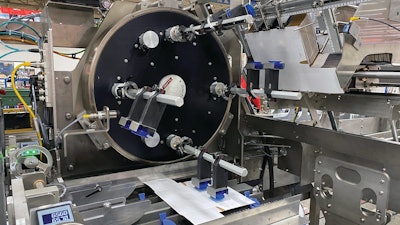 According to the company, the VF 1200 can handle multiple package formats and produces a wide range of package sizes providing flexibility for both retail and club size packaging for industries ranging from snack foods and confectionery to frozen foods and baked goods.
This continuous motion bagger features vertical sealing bars that are continuously in motion, so the film does not need to stop to receive its vertical seal. This provides an advantage over vf/f/s machines with intermittent motion seal bars which only open and close in full sequence, resulting in lower production rates.
Engineered with an open-frame design for easy operator access, the VF 1200 features stainless steel construction, vacuum pull belts, second film roll support, film splice table, Omron motion controller and servos, a 15-in. color touchscreen and toolless removable vertical seal bar, horizontal jaws and forming shoulder.
Options available include full sanitary washdown, bag gusset attachment, integrated printer, hole punch, and more.
HMC Products showcased its Pouchmaster horizontal f/f/s bagger (22) at PACK EXPO International. The Pouchmaster comes in four configurations depending on a processor's needs, and its high-speed capabilities can bag up to 100ppm. Dave Kreissler, president at HMC products, says the Pouchmaster is an efficient way for processors to utilize space in a facility with its comprehensive end-to-end line solution.
"There's three different types of fillers for three different types of products, and they have their own unique characteristics," says Kreissler. "This is perfect for soup mixes or other products that have multiple ingredients, like salad mixes or overnight breakfast oats. The middle filler is for dried fruits, and the third filler is an auger filler, so it's a full-line solution—you make the pouches, fill them, and seal them."
Kreissler adds that depending on customer needs, the Pouchmaster can handle bags from 2 in. x 2 in., up to 5.75 in. x 9.5 in. tall. An even larger version of the Pouchmaster currently used by a pretzel manufacturer can handle bigger bags.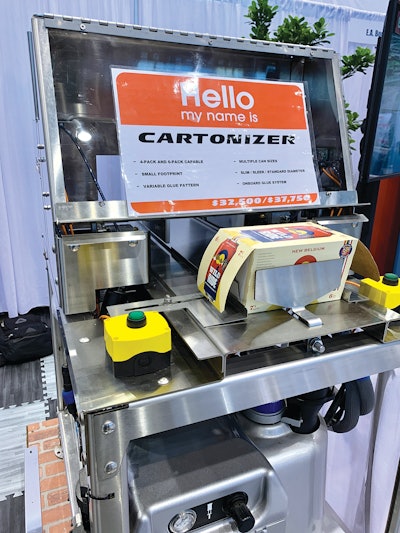 Tight-pack Tech
Highlighted at the Harpak-Ulma booth was "tight-pack" technology (23) for vertical form/fill/seal machines. On a three-side-seal pouch, for example, air is pressed out of the package just ahead of sealing. This results in much tighter finished packages, which in turn means more packs per corrugated shipper.
Cartoner with surge speeds
R.A Jones used PACK EXPO International to introduce a cartoner (24) offering surge speeds to 345 cartons/min. When it comes to cartoning beverage cans and bottles, the typical limit tends to be in the 300 cartons/min range. But when customer feedback made it clear that higher surge speeds would be a big help, the machinery builders at RA Jones, part of the Coesia Group, responded by developing the Meridian XR MPS-300, a cartoner that incorporates a Speed-up Kit designed specifically to meet this need.
"It was largely a matter of stepping back and looking at some of the proven technology we have in other machines to see how we could address this need," says Rich Clifton, beverage and robotics portfolio manager. "Our Orbi-Track technology seemed like the right fit. We knew it was proven and robust. We just had to find a way to adapt it to the Meridian XR."
The machine on display at PACK EXPO has a nominal speed of 300 cartons/min but can accommodate 345 cartons/min when line conditions call for it. "What it means on the plant floor is that our customers are now able to run their upstream fillers more efficiently because they can empty their accumulation tables at a faster rate than what is typically seen in the industry," says Clifton. "It's not like they're going to run at surge speed all day long, but if they can do it for 25 minutes or so as many times as they need to in the course of the day, that helps a lot."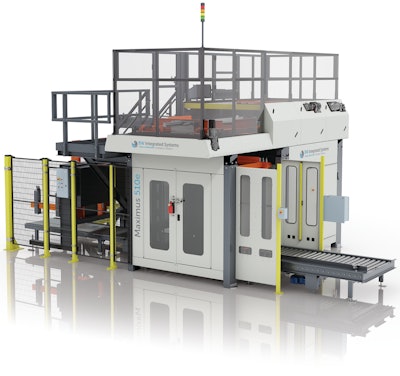 Also making cartoning news at PACK EXPO International was Codi Manufacturing and its semi-automatic Codi Cartonizer (25). The machine is ideal for startup and smaller beverage companies (beer, seltzers, cannabis beverages, soft drinks, and more) where operators load prefilled cartons onto the machine, and the carton is indexed through the onboard glue system to the press plate.
The Cartonizer can run all standard beverage can packs—4, 6, and 12 on the regular machine, and 24 on a larger Cartonizer—and can load variety packs offline without using inline production equipment.
The Cartonizer features a dual-nozzle programmable glue system that places adhesive on leading vertical edge, lower flap, and trailing vertical edge in a continuous stitch pattern. The machine can be expanded with infeed servo-controlled conveying or a fully automated machine, coming in Q1 of 2023.
The conveying option (currently in production) allows two or more operators to work on opposite sides of the conveyor feeding into the machine, and it can be extended to fit customer needs.

A highlight of the ADCO booth was the introduction of the SPI Smart Pitch Indexer. This system is designed to sit ahead of an Adco cartoner. It consists of five belts on a Dorner conveyor each independently controlled in such a way that items to be cartoned are optimally spaced when they reach the bucket infeed of the cartoner. Keyence laser sensors are used to detect product location and send that data to a Rockwell PLC, which in turn tells the Rockwell servo motors driving each conveyor module to accelerate or decelerate to adjust the product position for the smoothest possible transfer into the infeed bucket.
"We worked with Dorner on the conveyor modules to develop this innovative cantilevered sanitary design," says Colin Warnes, director of sales engineering. "It's completely wide open underneath the conveyor so that any excess product can drop through to the floor without collecting on any hard-to-clean frame panels. Also, the drive cabinet is cut away to allow for easy debris and water drainage."
Watch a video of the Smart Pitch Indexer in action.
All-Electric palletizer
The new Maximus mid-speed case palletizer (26) from BW Integrated Systems, a BW Packaging company, shown for the first time at PACK EXPO International, has been engineered to meet changing market needs for a smaller-footprint, more flexible high-level palletizer. Maximus utilizes layer forming technology and features a small footprint with an interactive operator interface that allows for better collection of information in a more user-friendly interface. Maximus primarily serves the food, household, chemical, personal care, and specific beverage industries, but it can serve many other markets in the mid-speed palletizing arena as well.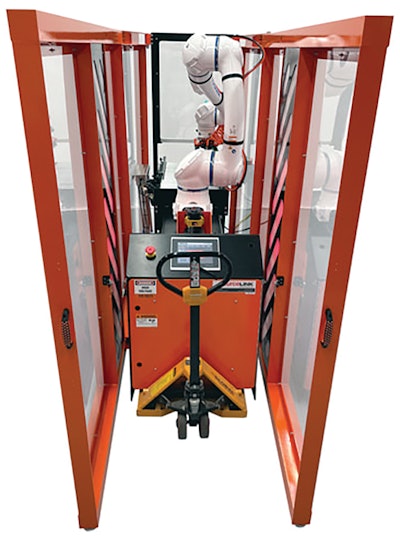 According to Earl Wohlrab, director, product strategy and innovation for BW Integrated Systems, the palletizer is suited to meet changing needs for smaller case sizes—what in the past would have typically been considered a primary carton. "We're seeing footprints that are down in the four- or five-inch range, something we would have typically shied away from in the past for a case palletizer," he says. "For example, the explosion of the pet food market in the last couple of years has given rise to trays of can sizes that can be five ounces. That whole tray, with the can, is only about an inch-and-a-half tall. We've done some things with this palletizer to allow for special handling of these types of cases."
Wohlrab also shares that the palletizer is 100% electric. "It's probably the first 100% electric machine, including the options that we've added," he says. "In the past, some companies have said that their machines were all electric, but they still needed air for case stops or other functions. We don't have that now. We use electric actuation for everything."
Among the advantages of an all-electric system, he adds, is that it eliminates the inefficiency of air, resulting from leaks in the compressed air system. In addition, with compressed air, the system has to be running constantly in order to be ready to actuate. With an all-electric system, energy is used on-demand. "It's idle until you need it," he says.
To address today's shortage of equipment operators, the Maximus has also been designed for user-friendliness, with pattern-forming software incorporated into the machine and a new vision-guided error recovery system that directs operators directly to the source of a fault via images of componentry. "So we don't have to bring operators up to speed as quickly with that sort of inside knowledge," Wohlrab says. "For the longest time, operators would just get an error code, and they had to figure out exactly where the problem was. Now we're visually guiding them."
For the Maximus, BW Integrated Systems has adopted a quick vertical start-up philosophy whereby the machine splits for shipment to get through most doorways quickly. Once on the production floor, BW sets the top frame back onto the base frame with a bolt-together construction and quick-disconnect controls.
Equipment for depalletizing also made a splash at PACK EXPO International, especially at Ska Fabricating. Though the U.S. has standardized on mainly one pallet size, this is not the case in Europe, where manufacturers are dealing with a much broader range of pallets. With this in mind, Ska introduced an international configuration of its Microbus depalletizer (27)—now able to handle six of the world's common pallet sizes.
Like the original Microbus launched earlier in 2022 in the U.S. and Canada, the International Microbus, which made its debut at PACK EXPO International, is a semi-automatic empty-can depalletizer that features a manual hand crank to raise the pallet carriage and an automatic belt sweep that advances cans onto a rotary table prior to rinsing and filling. Capable of speeds to 30 CPM, the portable depalletizer is optimized for lower-speed applications in the smallest of spaces.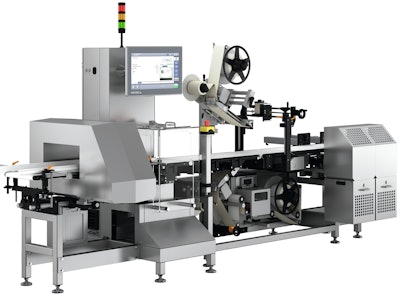 "This is a good fit for really small companies because it folds up and can be tucked away," says Jake Kolakowski, chief customer officer for Ska Fab. Both the rotary infeed table and the automated sweep can be folded and locked down for storage after canning runs. This reduces the footprint of the already small machine to about half its full size, which is much needed in many small craft brew facilities, Kolakowski notes. "These places are so packed in, they don't have a lot of space to work with," he says.
Ska Fab also showcased the fruits of its acquisition early this year of GR-X Manufacturing, which specializes in depalletizing and palletizing equipment systems for consumer products and food and beverage industries. Though both companies play firmly in the palletizing/depalletizing space, there is very little overlap in their market segments.
With the acquisition of GR-X, Ska Fab has expanded its capabilities into nearly all verticals of the packaging market, including a wider range of industries, container types, and line speeds. Ska Fabricating, which has its roots in the craft beer segment, has been present primarily in beverage cans. While GR-X has some machines for cans, the focus there has been on plastic, glass, aerosol, and other types of containers.
Merging the two brands should open new markets for Ska and should also help to provide food plants with a higher level of automation, Kolakowski says, providing solutions for salsa jars, canned goods, and other formats in the food and beverage industry.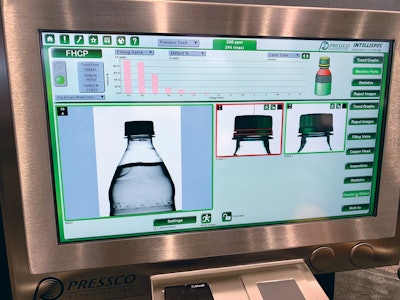 In its booth in Lakeside Center, Ska Fab showed GR-X's Full Height Automatic (FHA) 3000 Depalletizer, which supports flexible configurations with its multiple discharge, decline, and pallet loading conveyor options. The FHA 3000 can unload a wide range of container types, including plastic containers, aluminum cans, and fiberboard tubes, with a lift capacity up to 1,000 lb.
Going mobile
Mobile robotic palletizing continued to be a visible trend at this year's PACK EXPO International. One of the many suppliers displaying mobile palletizing innovations at the show was SourceLink Solutions, whose SL Series (28) combines the payload capability of a standard, fixed robotic palletizing cell with the cost savings of a mobile platform—all in a highly compact, foldable unit. It solves multiple problems at the same time, says Brian Stock, president of SourceLink Solutions.
"With labor constraints now, the days of paying someone $8 an hour to stack boxes are over, so the need for palletizing is there," says Stock. "But many of our customers in food manufacturing, contract packaging, and others have older facilities with little space."
The SL Series solves this problem with its truly mobile frame design that allows the palletizers to be easily transported throughout even the narrowest aisles of a facility. When its mobile frame doors are folded in and locked into place, an SL palletizer can be moved by a single operator with just a pallet jack through an opening as narrow as 4 ft. After reopening the panels and powering it up at another station, the SL Series units can be palletizing loads in another section of the plant in as little as 10 minutes.
The size of the mini palletizer also allows for quick installation, offering further time and cost savings for end users. "We can roll this into a customer's plant and be stacking boxes in 30 minutes, without having to send a team of installers out who spend a week anchoring equipment into concrete, building safety fencing, and running a bunch of wires," says Stock.
The floor-level SL series consists of two, 6-axis models that can build loads at rates to 20 cases/min—depending on the case size and pallet pattern—and as high as 80 in. While the SL25 industrial robot lifts payloads of up to 25 kg, its collaborative robot counterpart in the series, the SL20, handles maximum payloads of 20 kg.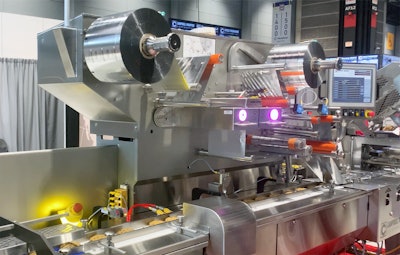 At the show, Stock showed several features on the SL25 that were designed to keep workers safe around its open format palletizing cell. The SL25's safety guard has two area scanners—one serving as a light curtain and another scanner that eliminates jagged stops with a slow, controlled stop akin to what a collaborative robot would do should a worker break the barrier. Inside the cell, three sensors per side use radar-based inspectors that ignore inert objects (i.e., cases) while preventing any humans who enter the zone from inadvertently starting the robot.
The SL Series comes standard with a 24V zone infeed conveyor, and an optional extended case-infeed conveyor and case-turning devices available. SourceLink can also install the unit with an optional dual-infeed conveyor to allow for two SKUs to be palletized at a time. SourceLink offers other options on the SL Series, including special end-of-arm tooling and custom programming for slip sheet application.
Stock says the SL Series is designed as a highly versatile palletizing system that can be used across any market with a palletizing need, ranging from palletizing cases with bags of chips or heavy aluminum cans to palletizing pails of chemicals.
The expanding world of inspection
Wipotec used PACK EXPO International to showcase its new Traceable Quality System with Modular Design (TQS-MD). The system (29) uses a "building block" concept yielding compatibility with a broad array of products.
"This system is designed for trays, for food products, medical device, and more," Daniel Brandao, regional sales manager at Wipotec said at the show. "We have the system set up with infeed metal detection integrated into our weigh cell, then we have our labeling device for top and bottom labeling. The bottom labeler includes a printer for variable data. The system applies those labels and scans for position and accuracy of the print, and finally there's a reject station for all three of the upstream devices: the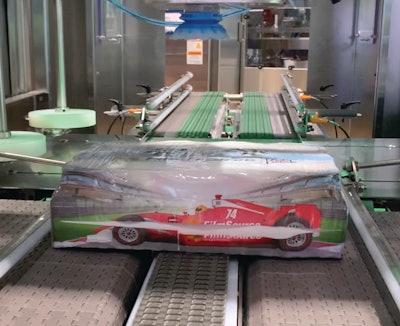 metal detector, weigh cell, and labeler."
All TQS-MD models employing a weighing station feature the company's high-tech Electro-Magnetic Force Restoration (EMFR) weigh cells, a differentiating engineering design that guarantees precise weighing results, the company says.
Another TQS-MD setup, geared toward food applications, can weigh, label, and inspect for metallic foreign bodies in a single process step. And by adapting product handling modules to a larger dimension, TQS-MD models also can be arranged to handle big boxes like shipping cartons. Since such cases generally entail unit-level information for serialization, aggregation, or shipping, a track & trace module is also usually engaged in these instances.
Wipotec's TQS-MD series can comprise a wide array of configurations. Typically applied to print "best before" dates, batch codes, or lot numbers on boxes, the popular basic setup marks, it verifies and weighs products on a footprint of just one meter in length, and it can be upgraded to execute full serialization where required.
A cornerstone of Wipotec's new series is central control. Regardless of the number of functionalities a TQS-MD models entails—a lengthy list that includes weighing, marking and verifying, labeling, metal detection, and serialization/aggregation integration, among others—the unit offers one user interface. This makes product changes, article setup, and layout modifications less error-prone and more user-friendly. The "one system, many capabilities" approach also has availability benefits amid a challenging supply chain landscape: With 85% of components produced in-house, WIPOTEC-OCS is well positioned to deliver not only exemplary quality standards but shortest-possible delivery times.
The modular concept inherent in TQS-MD machines makes them extraordinarily adaptable, according to the company. Depending on a product's size, shape, weight, and desired throughput speed, Wipotec can simply combine the relevant modules for a solution tailored to meet specific needs.
Watch the quality control system in action.
Bar Wrapper
New from Campbell Wrapper was the Excel Flow Wrapper (31). Designed for high-speed wrapping of bar and chocolate products, it's capable of speeds to 1,200 bars/min. According to regional sales manager Keenan Stahl, a big focus behind the new machine's development was ease of operation, sanitation, and maintenance. Special care was taken in the area of film control, too.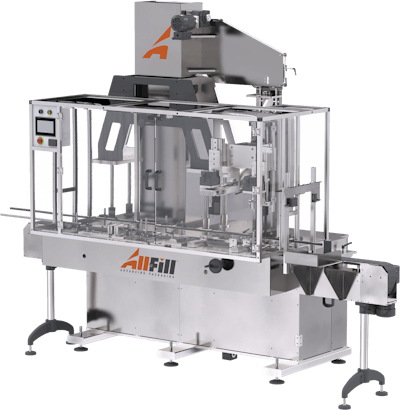 Pressco Technology also highlighted its filling line and high-speed vision inspection solutions (30) at PACK EXPO International. Pressco's INTELLISPEC platform provides a comprehensive set of modular solutions for high-performance filling lines. Pressco systems are designed to be integrated into various blow-molders, fillers, cap feeders, and labelers.
"This is an entire manufacturing process right here," says Michael Coy, director of marketing, Pressco Technology. "Most companies that do vision systems only focus on one part of that process. We're up and down the line, we're everywhere. We have a modular approach, so even with all those operations in your factory, you can have one inspection system, and you only need to learn one software and train your staff once. It's a single control point for all those inspections, so it's a much more efficient way to operate."
Coy adds that Pressco's systems not only collect inspection information on each part inspected, but correlate that data back to the specific machine component causing the defect. This minimizes troubleshooting time, improves machine uptime, and reduces scrap.
"Our machine uses multiple cameras, so we can look all the way around a bottle closure and make sure that the closure is on correctly," Coy says. "That's really important for the bottling companies, because if it's not on correctly or if it's crooked or too high, that's a problem, especially for carbonated beverages."
On to tray handling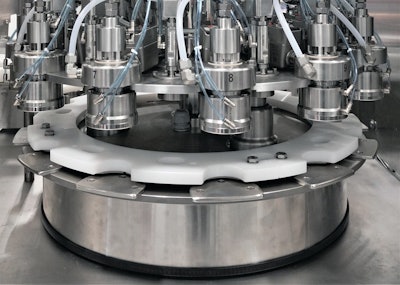 New at the Harpak-Ulma booth was the Cigno tray sealer, whose open design features are aimed at making it extremely user friendly and easy to access. In addition, changeover from one tray size to another can be completed in as little as two minutes. No compressed air or vacuum pumps are required, and it runs at speeds to 30 cycles/min using heat seal or gas flush. One-up tooling is easy to operate, and the machine is ideal for users whose operators are not especially sophisticated or technically minded. At 1.5 m (5 ft) in length, the Cigno fits easily into existing facilities.
Watch a video of the machine in operation.
Plenty of tray wrapping machines were on display at PACK EXPO International, but at the Polypack booth was a new system designed not for wrapping but rather for the automatic unwrapping of trays (32). As Polypack CEO Emmanuel Cerf explained to booth visitors, the target for such a machine is the contract packaging company or fulfillment center where, under current operating conditions, laborers typically cut and remove the overwrap from trays by hand in order to repack the tray's contents in a variety pack, for example. Not only is such an approach labor intensive, slow, and costly, it can also be dangerous when knives are being wielded by hand.
A wrapped tray fed into the new Polypack system pauses while a cutting device cuts the film underneath and along the sides. Then a vacuum gripper picks up the film and removes it.
Watch a video of the machine in action at PACK EXPO International.
All-Fill's Model CI fully automatic two-station in-line chuck capper (33) consists of stainless steel and anodized aluminum construction with an integrated 4.5-ft3 cap hopper and can be seamlessly integrated with ancillary packaging equipment. A standard 15-in.-wide sorting cap elevator chain feeds and orients caps for placement. The capper also features a standard cap trap for one unique cap or for both the first and second station chuck for one unique cap, designed per application. The Model CI is available with an indexing pin package for speeds from 40 to 60 caps/min or a timing screw option to enable rates to 60 to 80 caps/min, depending on the application.
The machine's cap reject system can identify a misapplied cap (high, low, or no cap) and reject the container to a reject collection tray. The reject system consists of a Keyence high-accuracy laser micrometer sensor and an adjustable mounting bracket. A pneumatic pusher is the standard reject mechanism; other options are available based on application. The system also includes a cap-foil detection/no-foil reject feature.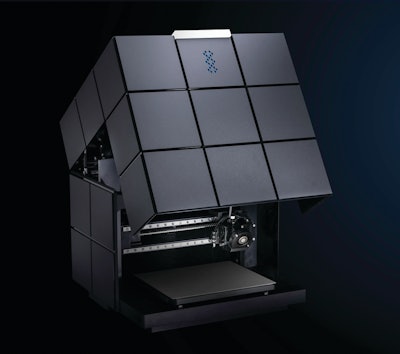 Controls include an integrated 7-in. color HMI touchscreen interface with operator controls and motorized height adjustment. A PLC package allows for up to 50 pre-programmable recipes as well as seven security levels.
Canning line
The CB100C rotary counter-pressure canning system (34), new this year from Pneumatic Scale Angelus, a BW Packaging company, leverages a 12-head rotary-filling turret design, coupled with a dual-station seamer that allows for an increased throughput of more than 100 cans/min.
The new system builds on the capabilities of the PSA's CB50C counter-pressure canning line, a 50-can/min filler developed to help craft beverage producers meet the growing demand for hard seltzers, RTD cocktails, sparkling wines, and higher-carbonation beers. Like the CB50C, the CB100C uses isobarometric filling, with an onboard product supply tank rated to 60 psi. Explains the company, with isobarometric filling, the fill tank is positioned above the fill heads, allowing the product to be gravity fed, as opposed to being pumped or forced upward.
As opposed to the CB50C filler, which features six individual filling heads, the CB100C features a 12-head rotary filling turret that enables the system to move a greater number of cans smoothly through the line, filling faster without creating any increase in product agitation as speeds increase. Says the company, "This gentle fill virtually eliminates the unwanted reductions in carbonation levels seen with other filling methods."
Like PSA's other canning systems, the CB100C also employs magnetic flowmeter technology to achieve an accurate and repeatable fill level with little waste—the system is capable of 1-mL precision with no moving parts. A gassing tunnel and Under Cover Gassing (UCG) system at the lid applicator chute keeps dissolved oxygen levels low.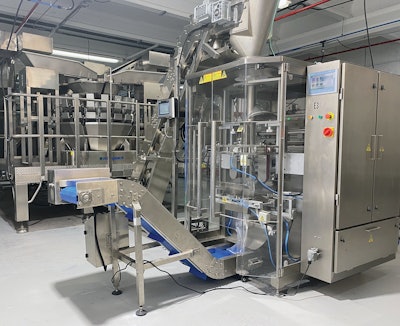 The CB100C has been optimized for sleek and standard can bodies and is designed with quick-change adjustments for easy changeovers, accommodating various can heights and body diameters—including widget cans and can ends from 200 to 206—with no valve change required. Other features of the system include an intuitive HMI for individual fill-head volume adjustments that simplifies operation and a motorized, recipe-driven turret design for automatic turret height adjustment.
Additive manufacturing
Schubert's subsidiary Schubert Additive Solutions presented its newly developed Partbox 3D streaming printer (35) for increased reliability and quality. Partbox's digital platform allows customers to produce 3D parts themselves—from grippers for robots to spare parts—using a standard filament printer. Uniquely, customers only pay for each printing hour they use as they click and print customized products on demand.
Printing 3D parts for the packaging process in-house offers manufacturers many advantages. Robotic tools can be adapted to ideal specifications, for example. It also cuts down on lengthy transport of format parts (and the associated carbon footprint of single shipments) while offering quick replacement in the event of defective tools. And it offers the option to produce new format sets in light of product changes. "We believe that components should be produced when and where they are needed," explains Conrad Zanzinger, CTO at Schubert Additive Solutions.
Watch a video of the machine in action at the Schubert PACK EXPO booth.
The objective is to offer 3D printing of technical components at the user's facility in a sustainable, reliable, safe, and high-quality process. The company guarantees protection of the user's digital warehouse and secure data transfer using a mobile end-to-end solution.
With its own streaming platform and printer, Schubert's Partbox is now a complete system that enables manufacturers to produce components directly in their own operations using the raw material Partbox Black. The digital process is reported to save customers processing, shipping, and warehousing costs. The system won a 3D Pioneers Challenge Award in 2022 in the Digital category, garnering honors for its sleek design with sustainable impact, intelligent implementation of advanced technology, customization at the production line, and secure digital rights management.
Buy now, pay later
A revolutionary "buy now, pay later" model for acquiring and financing packaging machinery called Leap has officially been launched by Maxpack Machinery at PACK EXPO International 2022. This model has sparked great interest among medium-sized and small CPGs across the United States and Latin America. "Leap is a financing scheme in which companies pay through time without having to shell out huge amounts of money in the short term; we are providing an opportunity to start with much lower payments, so CPGs can invest their money in their growth," Sebastián Chavarría, corporate director of Business Development for Maxpack Machinery explained to us in Chicago.
With Leap, a unique model in the world for packaging machinery financing, the company established in the United States by the Ecuadorian entrepreneurs Julio Ulich and Sebastián Chavarría facilitates access to five complete sets of filling machines, configured to integrally operate in different applications and a wide range of production volumes.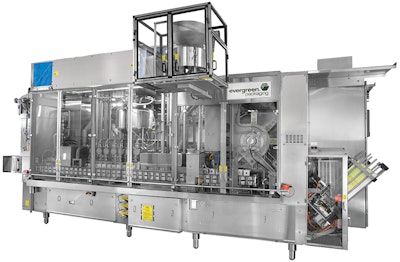 Among these technological packages is the vf/f/s LeapOne MFT 7 Ultimate Range machine (36), recognized as a finalist in PMMI's Technology Excellence Awards in the Food and Beverage category. "Our machine was one of the top three in the food category of these PACK EXPO 2022 awards, and that recognition is due to the fact that we built a setup with super-premium machine characteristics, but accessible for its under one-hundred-thousand-dollar pricing," says Chavarría.
LeapOne MFT 7 Ultimate Range is a premium VF/S/S MFT with an open framework design that offers a width range between 60 and 350 millimeters, the broadest in its category. It includes Siemens S7-1200 PLC controllers and a KTP700 user interface, and it's capable of forming sealable as well as stand-up pouches. Among its most outstanding characteristics are that it has a mechanical operation speed of up to 100 bags/min, a sealing system with ready-to-use easy to install clamps, rubber rollers, devices for flat and triangular pouch bottoms, and an Ewon Flexy remote system.
Based on the identification of the product and type of packaging a client needs, Maxpack Machinery helps to specify the machine, the dosing system, and additional equipment required. Once users have chosen one of the filling-technology packages available, the next step is to define the best dosing technology. The company, through its Leap model, offers SolidOne alternatives, with a multi-head weight checker, a platform, and an elevator; PowderOne, with a 50-L screw filler and a food-grade elevator; and LiquidOne, which includes a STUR rotary pump with a positive displacement camshaft.
Under the slogan "Use your money to grow," the Maxpack Leap financing model makes it easy for small and medium companies to purchase the chosen machinery. Leap allows clients to make long-term payments and gives them the chance to start with moderate installments, so they can invest their funds in other growth fronts. Paying for the selected technology is done with a mere 15% down payment, and the pending balance can be deferred up to 18 months, while the machinery is delivered in just four months.
The reception to this initiative has translated into a 95% of orders and requests being about the Leap model and reflects the growing interest of small and medium companies in advancing their modernization projects. "We are world-wide pioneers by implementing a project like this one, which allows companies to readily access the automation and digital transformation being talked about all across the industry nowadays," says Chavarría.
Gabletop filler
Pactiv Evergreen's servo-driven EH-84 gabletop packaging machine (37) was in operation at PACK EXPO. It's designed to meet the needs of the dairy, juice, plant-based, and liquid food markets. Khalid Ikram, production engineering manager, told PW that the EH-84 handles fill volumes of 40 oz up to 2 L, at speeds up to 8,400 cartons/hr. Allen-Bradley PLC controls and servo-driven technology provide repeatable package performance and automatically control fill volumes and profiles based on product and carton size. Infinite fill capability allows for less downtime with quick and easy changes in carton size or product, he says.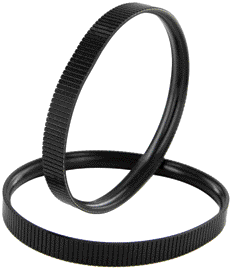 The EH-84's high visibility of components and internal machine operations make for easy accessibility and reduced maintenance time, while the infeed's ergonomic design provides operator comfort and ease of loading. An optional SPOUT-PAK System is available to enhance consumer convenience and preserve product freshness. Shelf-life optimization features include ELL (Extended Long Life) components, including a self-contained CIP/SIP system, environmental control features, carton decontamination, and a hermetic fill system to maintain product quality. As with all gabletop machines designed and manufactured by Pactiv Evergreen, the EH-84 is backed by 24/7 OEM parts and technical service to fulfill customer needs, according to the company.
Reinforced O-rings
Fenner Precision Polymers, a Michelin Group Company and provider of reinforced polymer technology, launched its Eagle XLD Bimodulus O-rings (38) at PACK EXPO International. Most O rings are not reinforced and stretch out at fast rates, says the company. Depending on the weight of the load or the speed they're running at, traditional O-rings may last anywhere from three to six months, perhaps a little longer. This can result in significant downtime for a company, especially if it does not have the proper inventory.
"With Eagle XLD we were trying to take the performance attributes of a poly v conveyor which provides more load capability to help you achieve more long term life for relative weight and speeds, providing better performing product development," says Derek Forney, senior product manager for Fenner's belting division. "We added a reinforcement capability into the Eagle XLD that removed the stretch issue. So now it will last at least six to eight times longer. We estimate around two years at a very high load and at higher speeds, depending on the project."
Forney further explains that traditional O-rings are 90% efficient as they lose 10% of their capability overtime due to the stretch or tension factor. The Eagle XLD, however, is 99% efficient, thanks to its adoption of poly v conveyor performance attributes. This allows the Eagle XLD to provide four times greater roller-to-roller power transfer and tension does not decay over the life of the belt. The combination of higher power transfer and load capacity allows for a conveyor design that can carry more with less motors, which translates to cost savings in belting, maintenance, and energy costs.
In addition, the D-shape optimizes the contact area to take advantage of the strength of the higher-modulus material, which results in a belt that is quick and easy to install with no need for special tools. Another aspect adopted from poly v conveyors is the use of unique center distances, which limits the Eagle XLD to a dozen sizes, which will not have a wide range of tension. With this, companies can more easily determine the size of the Eagle XLD O-ring that they need.
"The hybrid reinforcement is something that we've worked on with Michelin, our parent company, with their high tech materials division to develop so that you can achieve that higher load, that longer life. And then as a result, the extra savings that come with it," says Forney.
Blown Film Changeover
Windmoller & Holscher debuted its Easy2 Change system (39) for blown film line changeovers. Easy2 Change acts as an operator assistant, reducing the number of steps for a line changeover by 70%, and the time needed to perform a line changeover by 50%, compared to an operator performing those tasks manually.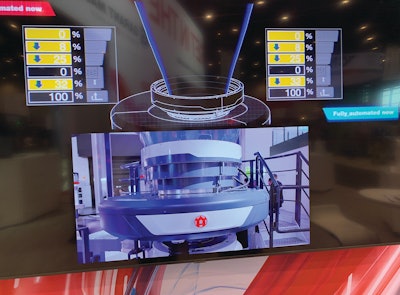 Easy2 Change features a fully automated air ring called ARCTIS, and can integrate Windmoller & Holscher's other automated features from other systems, like EASY Change, EASY Wind, TURBOCLEAN and Profile Booster. Easy2 Change also has an intuitive HMI to help operators maintain full transparency and control throughout the changeover, detecting bubble stability and ensuring reproducible, high-quality film.
Workforce solution
Redzone introduced its Frontline Learning Module (40), an addition to the company's workforce solutions software platform. Richard Tester, Redzone's co-founder and CEO, says the new module aims to take tribal knowledge about operating manufacturing equipment out of the heads of machine operators and onto Redzone's platform as video, where it can be watched as a best practice by other employees.
"If you've run a filling machine, for example, for 25 years, you know the best way to use it, or do the startup or changeover on it," Tester says. "With our new module and an iPad or iPhone, you can record a quick two- or three-minute video, which can become a best practice for that machine at your company. It's like a YouTube application for the plant floor. Like anything in life today, if we want to learn how to change a tire on a car, for example, we can go to YouTube and watch a five-minute video, right? So we're introducing that technology onto the plant floor, and it looks at the whole frontline employee experience, which we think is something that's been massively overlooked in manufacturing for the last couple of decades."
The Frontline Learning Module comes on the heels of Redzone's other recent addition, the Reliability Module, which puts basic machine maintenance knowledge into the hands of operators and tracks machine OEE and maintenance schedules, so maintenance crews can focus on crucial repairs, especially helpful for manufacturers with a labor shortage.
"The technology really drives all of the daily operating behavior for the frontline teams," Tester explains. "Whether it's running the line and tracking performance, whether it's quality, whether it's maintenance—this gives operators the ability to do basic preventive maintenance. So we shift maintenance resources away from performing day-to-day tasks and move basic care for the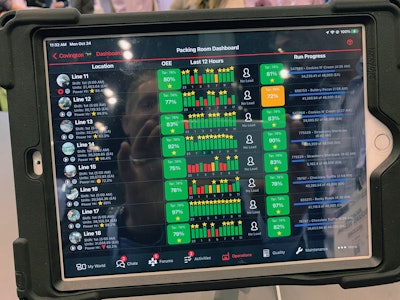 equipment into the role of the operator."
Signal Beacon
Patlite's latest compact signal beacon (41), the NE-USB, is a multicolored LED signal beacon that is powered and controlled via one USB cable, which Patlite says allows for maximum efficiency in the workplace. The NE-USB is available in two distinct models: the NE-SN-USB and the NE-WN-USB.
The NE-SN-USB model features an IP20 protection rating and has the option for stationary, magnet, and 1⁄4-in. screw mounting (for a tripod, for example) for immediate and practical support. Alternatively, the NE-WN-USB features an IP65 protection rating and is able to mount via a pole or wall attachment, perfect for visual indication in high and observable locations around the factory.
Both models of the NE-USB are equipped with a milky lens that harmonizes with virtually every environment to suit a customer's unique application. Additionally, the NE-USB models come standard with seven selectable LED colors (red, green, blue, amber, cyan, purple, and white) for the compact and ultra-bright visual signaling.
Like the rest of Patlite's compact beacons, the NE-USB offers clear and vibrant signaling and features simultaneous use of continuous, flashing, and audible alarm conditions with a rugged housing. Other key features include the ability for apps and sample codes to be downloaded from the company's website. Additionally, control is possible without installing dedicated drivers because the NE-USB is an HID class device.
Filtration and chillers
Atlas Copco Compressors has a strong history in compressed air, and innovation in that area will always be a strong focus, says Paul Humphreys, vice president of communications and branding. But at PACK EXPO International, the supplier was debuting some capabilities beyond compressors, demonstrating innovations in process filtration and chillers (42). "We're getting away from the compressor room and going more downstream," Humphreys says.
The process filtration range—focused on liquid, steam, and air—extends Atlas Copco's filter product portfolio into multiple industries, including food and beverage, microelectronics, pharmaceutical, cosmetics, and chemical. The filter range, which exceeds ISO 8573-1 Class 0 requirements, is designed to prevent microbial contamination and protect the quality of the final product. All components meet the EU and U.S. requirements for food contact use in accordance with FDA CFR Title 21 and with EU Regulation No. 1935/2004 and its subsequent amendments.
The range includes bags, filters, and cartridges. The complete cartridge range comprises unit construction from melt blown fiber and pleated fiber for particle removal, and pleated membrane for bioburden reduction. The cartridge range includes powder sintered filters for steam and gases as well as pleated filters for high-temperature and corrosive liquid applications. Carbon powder sintered filters and carbon rolled felt filters are also available for chlorine, odor, and color removal processes. The product range is completed with polypropylene, polyester, and nylon bag filters.
Atlas Copco's process filtration offering also provides a wide selection of housings, including sanitary housings for food and pharmaceutical applications involving liquid, gas, or venting processes. These are available in single- or multi-cartridge configurations.
Many of Atlas Copco's latest innovations come from recent acquisitions, Humphreys notes, and its TCX 4-90A Process Cooling Chiller range is one such example. Atlas Copco entered the industrial cooling market with its acquisition of Italian supplier Eurochiller in mid-2019.
The TCX range features a compact, all-in-one water chiller with an air-cooled condenser and integrated hydro module, with units available in a variety of sizes. The chillers are specifically designed to cool water (or a mixture of water and glycol) for a wide range of industrial segments. The TCX range's state-of-the-art microchannel condensers require 30% less refrigerant, making the units more environmentally friendly while lowering potential maintenance charges over the life of the chiller.
The process chillers feature a touchscreen controller, the Elektronikon Mk5 Touch controller. Smartlink 24/7 monitoring is also available as part of the chiller's total package. This enables Atlas Copco not only to log in to help maintain and troubleshoot the equipment, but also to trend performance over time, Humphreys comments. The TCX range can also be covered on a service contract, along with all other Atlas Copco mechanical equipment, such as air compressors, dryers, nitrogen generation systems, and low-pressure blowers.
Custom molded parts in 10 days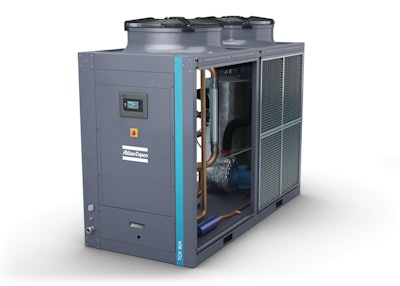 An array of wear components made from high-performance plastics was on display at the igus booth. Of particular note, however, is the FastLine tooling system, which delivers custom molded parts in 10 days or less, notes John Nebbia, packaging industry manager for igus's dry-tech division.
With a slogan of "improve what moves," igus is focused exclusively on motion plastics such as bearings, bushings, and more. In many cases, the company works closely with the customer to develop the piece that will best fit production needs. As an example, Nebbia pointed out bottle grippers made for Krones for use in its bottling equipment.
Working alongside Krones, igus produced a modular design with notches in the grippers, enabling different bottle sizes on the same line. This is a considerable improvement over typical bottling lines, which would require a change in grippers to move to a different bottle size, Nebbia notes.
In fact, this kind of flexibility in equipment to accommodate a variety of package sizes on the same machine is a growing trend within the industry. Nebbia highlighted linear guides that enable a quick format adjustment to switch easily from one package format to another. "This is especially good for contract packagers," he says, noting the ability to switch a line over quickly to run product for a different customer. "It gives them the ability to buy and bid on jobs without installing new lines."
Custom components are available in a large range of self-lubricating, high-performance polymers in the company's iglide line of materials. This includes 3D printed parts. New at PACK EXPO International is the iglide i6-Blue (43), a powdered laser sintering material for 3D printers. Its blue coloring improves safety in the food and beverage industry because fragments are easier to detect if components break.
"The blue, high-performance plastic is easy to detect and is also food-compliant," says Tom Kraus, head of the igus Additive Manufacturing Business Unit. The material complies with U.S. Food and Drug Administration (FDA) and EU 10/2011 regulation.
Warehouse automation
Another major family of topics that was top-of-mind for attendees at PACK EXPO International was logistics, fulfillment, distribution, warehousing, and 3PL. That's why Signode demonstrated its cart-based StorFast ASRS system (44).
"People often think that palletizing is the end of the line. Here at Signode, we understand the need to go further into the warehouse with our automation," Shawn Semer, VP, sales and marketing at Signode, told PW at the show. "We want to start our processes at the beginning and see our automation through to the unit load being sent out to the truck."
The StorFast ASRS is an innovative cart-based solution consisting of powered carts and lifts that automatically move pallets in and out of storage positions in the warehouse. The newly enhanced system operates at twice the speed with improved control for acceleration and deceleration of the robotic carts. In addition, StorFast components can now handle pallets weighing up to 4,400 lb.
The StorFast system is composed of what are called Modules that exist within a distributed guide-rail storage system. Each storage Module has multiple levels and within each level is a network of central main aisles with multiple rows located on the right and left sides for storage and retrieval of pallets. Operating on the main aisle of every module level is an Aisle Cart that carries a companion Row Shuttle that undocks to navigate the many rows. The Aisle Cart and Row Shuttle are all-electric powered vehicles for automatically storing and retrieving pallets. Row access is flexible to provide pallet position optimization and allow for changes in volume and prioritization, such as seasonal or new product updates.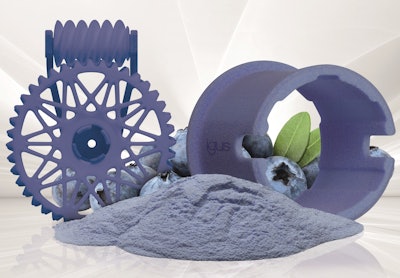 The Aisle Cart transports a pallet to (or from) an assigned row, the Row Shuttle then undocks carrying the pallet to store (or retrieve) from a specific row position. The movement of both the cart and shuttle is automatically controlled by system software using Programmable Logic Controller (PLC) technology communicating to a main controller. The carts and shuttles are equipped with Human Machine Interface (HMI) control panels. The HMI allows the operator to verify the current state of the vehicles, modify parameter, etc.
The wider StorFast product portfolio consists of high-density Automated Storage and Retrieval Systems (ASRS), and a full range of robot-based depalletizing, palletizing, and material handling solutions, to provide superior cost and performance advantages over other traditional warehouse systems. Signode manufactures fully integrated warehouse automation system solutions to maximize operational savings for the supply chain.
Watch the full end-of-line solution at the show.
Bagger for E-commerce Play
PAC Machinery used PACK EXPO International to demonstrate its Rollbag R3200 fulfillment automatic bagger (45) completing e-commerce shipping orders in paper instead of poly.
"We now are running bags that have been certified as curbside recyclable," says Greg Berguig, VP of sales and marketing. "It allows customers to really automate their outbound shipping process, and it gives their end customers a more sustainable option. They don't have to take a polybag and throw it in the garbage or drop it off at the store. They can put it right into a curbside recycling bin."
Beyond the paper-based bag option, according to the company website, the Rollbag R3200 Fulfillment automatic bagger also works with poly tubing, as well as bags on a roll. The benefits of poly tubing include lower material costs as well as the ability to right-size the bag to the product by changing bag length on the fly, lowering shipping costs and reducing material usage.
The Rollbag is equipped with a label printer applicator to create a fully integrated batch-less order fulfillment bagging solution. A thermal transfer printer option is also available, allowing you to print directly on the bag material. Also, this bagger can be equipped with a TwinPrint dual-sided label printer applicator to include the shipping information and packing slip on a single label.
Powder filling
nVenia's Hamer brand VLR-B industrial powder filling equipment made its stateside debut at PACK EXPO International. The machine is designed to address the challenges of bagging free-flowing products in a cost-effective, reliable manner. In the complex world of powder filling, nVenia says it has simplified the operation and maintenance without sacrificing speed and accuracy. The machine delivers accurate and repeatable weighments whil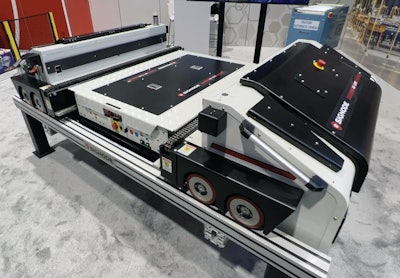 e minimizing the production of airborne particulates and dust.
According to Paul Ferrendino, SVP of sales at nVenia, the new VLR-B powder Bagger delivers fully automated bag filling, de-aeration, inner bag sealing, and outer bag closing in a single piece of equipment. He adds that the system provides highly accurate dosing of free-flowing powdered products, and given its simple controls, a single operator can run multiple lines, freeing up to five labor resources for other value-added activities.
Joep Timmermans with Hamer and David Gramley with Nvenia walked PW editors through the machine at the show.
In this system, bulk powdered product, like ingredients for baby formula, animal nutrition, or plant-based protein, is dosed downward from a hopper with a spout via a vertical screw. Next, a pre-formed bulk bag is selected and presented to the filler spout. Precise servo controls on the auger filler ensure highly accurate weighments. Of note, multiple bag stack stations can be added to allow the machine to run unattended for even longer periods, and next bag stack can be automatically moved into position for selection and filling.
"We have very accurate filling, with less dust and less product ending up in the air, so it's very hygienic," Timmermans says.
After filling but prior to sealing, the bag is stabilized by horizontal clamps, and extra air is extracted from the bag, or de-aerated, by a probe that is also lowered downward from a vertical spout system.
"De-aeration probes come down and enter the [filled] bag, and they will pull all the air out, which is very critical for increasing the stability and reducing the volume of the bag," Gramley says. "For smaller bags, we use a single probe, and for larger bags, we use a double-tipped probe. Once they suck the air out and exit the bag, they'll go through an exhaust cycle to purge the powder from the probes."
Another critical segment of this system occurs immediately downstream, in sealing.
"The sealing unit spreads the top of the bag and presses down to remove the top air out of the bag, thus cleaning [or air-washing] the seal zone, and then [impulse] sealing it with nearly 400 pounds of pressure," Timmermans says. "The inner liner bag is perfectly closed and airtight, the top air has been removed, so you have a perfectly stable, stackable result at the end."
After inner bag sealing creates a sift-proof bag, producers may choose to close the outer bulk bags using various methods, like stitching, crepe taping, or pinch-top sealing, which may be integrated into the machine.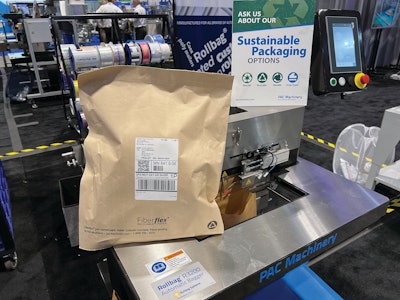 The system also features dust collection/management at each stage in the process, a bottom-up fill method to minimize generation of airborne dust, up to 500 programmable recipes, ethernet and Wi-Fi connections for remote service, an easy-to-clean structure built with hygienic design principles, and a fully welded, powder coated, structural steel frame with product contact points in 304 stainless steel.
Down bottle reject
Morrison Container Handling Solutions demonstrated the latest iteration of its Down Bottle Reject System (46). With it, brands and CPGs in the beverage, pharma, beauty, and personal care spaces (among any other markets using rigid or semi-rigid containers) are finding a cost-effective system that can help increase ROI and line efficiency. And while that's happening, they can shift their workforce to other places in the facility that matter.
"A big feature of this system is that we maintain center lines during container changeover," says Seth Licke, aftermarket sales and service manager/project manager at Morrison Container Handling Solutions. "So if you have, for example, 17 different containers that run on the same line, you wouldn't have to mechanically move anything during the changeover. It would just be a simple, quick-change part for each container size, using tool-less removal and maintaining the centerline on your conveyor. And then, just by using the geometry of the bottle, and getting at least 50% of its mass off of the conveyor, that allows [gravity to take over and] the bottle to reject."
Often, companies experience line inefficiencies due to containers falling over. Instead of having a person standing on the line looking for down containers, it's more cost effective and efficient to implement a Down Bottle Reject System. Plus, the mechanical system operates on a CPG's line with no additional operating costs. Since it relies on bottle geometry, a user will need no air, pneumatics, or electric/motor to utilize the technology.
Ultimately, by reducing down-bottles, operators can increase uptime in their production and throughput of product by reducing jams on the line. While the system is infinitely scalable in theory, the most common applications are in the 50 to 400 containers/min speed range.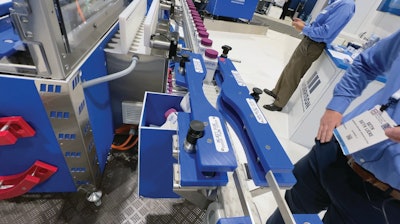 Space saving is of perennial importance to CPGs, and this year's PACK EXPO International highlighted numerous solutions. Among them was the Dynamic Servo Laner displayed at the Container Handling Systems' booth.
Designed for short space coupling to cartoners and case packer, the Dynamic Servo Laner is engineered for high-speed, pressureless product laning from single file to multiple lanes without interruption of product flow.
"This laner is capable of 310 feet per minute for infeed speed, which is the fastest in the marketplace," says Pat Vincent, president of Container Handling Systems and Nalbach Engineering. "It's completely configurable to match any application—round, non-round containers."
The Dynamic Servo Laner features an internal mechanism prevents product accumulation during laning and maintains spatial relationship between containers.
Companies in this article