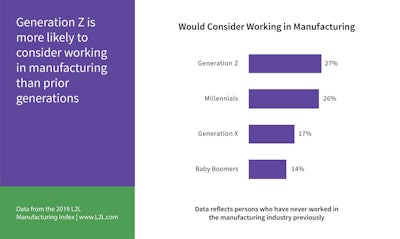 There is a massive movement underway as the manufacturing community works to change its reputation as a dark, dirty, and dangerous place. With a looming skills shortage threatening the future of every segment, companies are doing their best to change the image of the industry via educational outreach efforts.
For example, for years the National Association of Manufacturers' (NAM) Manufacturing Institute has promoted "Manufacturing Day," inviting thousands of manufacturers and technical schools around the country to open their doors to parents, teachers and, most importantly, students to show them the reality of modern manufacturing. The goal is to show the next-generation the sophistication and excitement surrounding manufacturing—from rocket launches to augmented reality—and to reinforce the fact that a career in manufacturing is high paying and often does not require a debt-inducing four-year college degree.
Similarly, earlier this month, NAM announced a member-driven campaign to raise at least $10 million for the newly established "Creators Wanted Fund" to inspire and drive more Americans to pursue careers in manufacturing. NAM will bring a "Creators Wanted" mobile tour of modern manufacturing to parents and students in 20 to 25 states over 18 weeks, unveil a year-long nationwide digital campaign to recruit new talent to the industry, and host a culminating "Making America" Festival in Cincinnati, Ohio in September featuring interactive exhibits, thought leadership forums and entertainment to showcase the future of manufacturing in America. The campaign aims to cut the skills gap by 600,000 workers by 2025.
It's hard to measure whether or not these programs are making a difference, but according to a recent survey by Leading2Lean (L2L), a provider of cloud-based lean manufacturing software, the industry effort seems to be paying off.
The 2019 L2L Manufacturing Index, an annual measurement of the American public's perceptions of U.S. manufacturing, found that adults in Generation Z (those aged 18-22) are 19 percent more likely to have had a counselor, teacher, or mentor suggest they look into manufacturing as a viable career option when compared to the general population. One-third (32 percent) of Gen Z has had manufacturing suggested to them as a career option, as compared to only 18 percent of Millennials and 13 percent of the general population.

Better still, the survey also found that Gen Z is intrigued by careers in manufacturing. They are 7 percent more likely to consider working in the manufacturing industry and 12 percent less likely to view the manufacturing industry as being in decline, both compared against the general population. These findings may be in relation to Gen Z having a larger exposure to the industry compared to previous generations.

"For many years, manufacturing has struggled to introduce and entice new workers to the industry," said Keith Barr, president and CEO of L2L."The industry has failed to compete with technology for their interest. Unfortunately, the industry hasn't fully explained the dynamic, technology-driven environment of the modern plant floor."
According to the latest government data, there are now 522,000 open manufacturing jobs in the United States, and a recent report from Deloitte and The Manufacturing Institute projects that 2.4 million manufacturing jobs will go unfilled over the next decade.

Unfortunately, misconceptions about the industry persist. For example, the 2019 L2L revealed that over half (53 percent) of the general population assumes the average salary of a mid-level manufacturing manager is under $60,000. In reality, the average salary for a manufacturing manager in 2018 was $118,500, according to an IndustryWeek salary survey.

But the industry is making positive moves towards a better-informed public, according to the L2L survey. Last year's Manufacturing Index found 70 percent of respondents believed that American manufacturing is in decline. When the same question was asked in this year's survey, only 54 percent of people believed the industry is in decline, showcasing a better understanding of the present state of the industry.

"With Gen Z we have an opportunity as an industry to build a new workforce, but it will be a challenge that the industry is going to have to take seriously in order to get their attention and participation," said Barr.
In fact, Barr suggests the industry take a step beyond working on its image and actually innovate operations to utilize the skillsets of these digital natives. "We know that the workforce crisis is a top concern with a majority of manufacturers. Instead of hoping new workers will appear, the industry needs to make changes that will attract the workforce. Gen Z is incredibly tech savvy. The industry needs to consider developing and deploying plant-floor technology that utilizes gamification and transparency to take advantage of Gen Z's unique skills. The greatest opportunity for manufacturing is to have an engaged, empowered workforce that is constantly innovating."