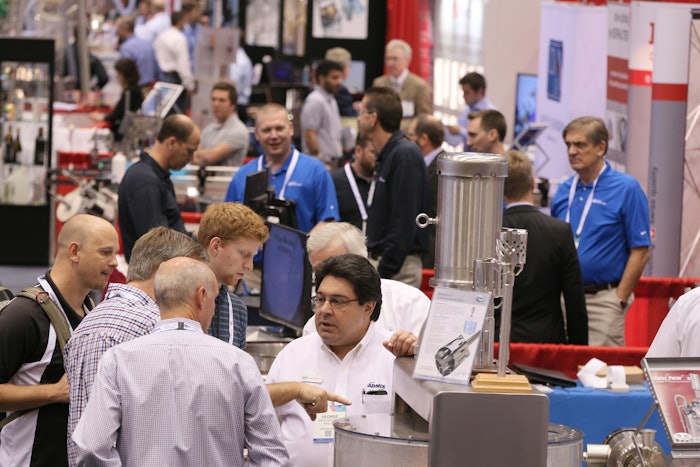 Just when you thought it couldn't get any bigger, PMMI, The Association for Packaging and Processing Technologies and owner and producer of the PACK EXPO Portfolio of Trade Shows, is planning a larger, more comprehensive PACK EXPO International 2016.
Scheduled from November 6 to 9 at Chicago's McCormick Place, the show will be co-located with Pharma EXPO, a joint venture with the International Society for Pharmaceutical Engineering.
"We are expecting the 2016 installment of PACK EXPO and Pharma EXPO to break records. The show's size, number of exhibiting companies and total attendance are all projected to surpass those of past shows," says Jim Pittas, PMMI, senior vice president of trade shows. "We are projecting the number of exhibiting companies to grow at least 19 percent from the 2014 show." 
In addition to business connections and technology solutions, the show will provide learning opportunities through a series of presentations taking place at four Innovation Stages located on the show floor. These learning hubs will offer 30-minute seminars on breakthrough ideas and technologies conducted by exhibitors and industry thought leaders.
Plus, several show floor venues will host education opportunities including:
The Reusables Learning Center, sponsored by the Reusable Packaging Association, where attendees can learn about integrating reusables into the supply chain, thus simultaneously maximizing profits and sustainability;
The Beverage Cooler lounge, hosted by the International Society of Beverage Technologists and sponsored by BEUMER Group, a networking and learning center for the beverage industry;
The Baking & Snack Break lounge, hosted by B&CMA, where attendees from the baking and snack industry can gather and meet with subject matter experts;
The Candy Bar lounge, hosted by NCA, a dedicated area for attendees in the confectionery industry to recharge, network and gather timely industry information;
The Showcase of Packaging Innovations, sponsored by The Dow Chemical Company, where attendees can view award-winning packaging from around the globe; and
The Food Safety Summit Resource Center which offers 30-minute presentations by and one-on-one consultations with leading subject matter experts.
The four-day event will feature over 2,300 exhibiting companies and span more than 1.2 million net square feet of exhibit space. PMMI expects to welcome 50,000 attendees.
Registration for PACK EXPO is now open and allows visitors full access to the Pharma EXPO show floor at no additional cost. Register online at www.packexpointernational.com. The registration fee is $30 through October 14. After October 14, it goes up to $100.