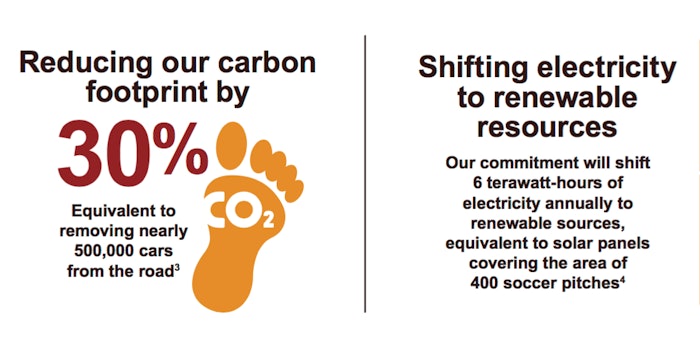 In its recently announced drive to achieve a fully renewable use of electricity, AB InBev expects to secure 75-85% of electricity through direct power purchasing agreements. The final 15-25% will mainly come from on-site technologies such as solar panels.
This commitment will make AB InBev the largest corporate direct purchaser of renewable electricity in the consumer goods sector globally and will reduce the company's operational carbon footprint by 30%. This will have the same positive effect as removing nearly 500,000 cars from the road.3 The renewable energy target also demonstrates AB InBev's continued commitment to following a low carbon pathway, in line with the United Nations Sustainable Development Goals.
The company has also joined RE100, a global initiative of influential businesses that are all committed to using 100% renewable electricity. RE100 is led by The Climate Group in partnership with Carbon Disclosure Project.
AB InBev's renewable electricity transformation will begin in Mexico, which is home to the company's largest brewery, in Zacatecas. AB InBev has signed a Power Purchase Agreement with Iberdrola for 490 gigawatt-hours per year. With this new partnership, the company will be able to meet all of its purchased electricity needs for production sites in the country. The agreement with Iberdrola is also expected to increase Mexico's wind and solar energy capacity by more than 5%.4 Iberdrola will build and install 220 MW of wind energy capacity onshore in the state of Puebla, and energy generation is expected to begin in the first half of 2019.
AB InBev plans to enter into similar agreements in other markets in the near future. By launching this new partnership in Mexico, AB InBev hopes to demonstrate that by switching to renewable electricity, businesses across the world can contribute to a 100% renewable electricity future.