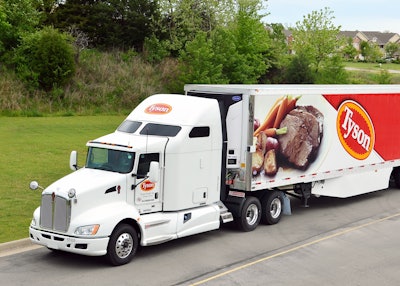 Tyson Foods, Inc. and AdvancePierre Foods Holdings, Inc. ( announced that they have entered into a definitive merger agreement pursuant to which a subsidiary of Tyson will launch a tender offer to acquire all of AdvancePierre's outstanding common shares.
The total enterprise value of the transaction is approximately $4.2 billion, including $3.2 billion in equity value and $1.1 billion in assumption of AdvancePierre debt.
Tyson President and CEO Tom Hayes said, "We are very pleased to announce this combination with AdvancePierre. The AdvancePierre leadership team has created significant value through the implementation of a new business management model, focus on quality and service and attention to the growth opportunities in convenience foods. The addition of AdvancePierre aligns with our strategic intent to sustainably feed the world with the fastest growing portfolio of protein packed brands. This transaction will provide an attractive current premium to AdvancePierre shareholders as well as significant ongoing benefits to Tyson shareholders and the customers and team members of both companies. We are always prudently evaluating opportunities to leverage our strengths to drive future growth, whether by divesting non-core, non-protein focused assets – as announced yesterday – or by acquiring companies like AdvancePierre that enhance our capabilities in growing categories. We believe that AdvancePierre and Tyson are a natural strategic fit and together will accelerate growth for customers by delivering on-trend, high quality products consumers love. We look forward to welcoming AdvancePierre's dedicated team members to the Tyson family."
The merger has several advantages:
Joins market leaders with complementary product portfolios. AdvancePierre is a leading national producer of ready-to-eat lunch and dinner sandwiches, sandwich components and snacks, with product categories that are complementary to Tyson's current offerings. This acquisition will further Tyson's strategic intent to sustainably feed the world with its fast-growing portfolio of protein-packed brands.
Furthers Tyson's leadership in prepared foods segment. AdvancePierre's product portfolio fits well with Tyson's strategy to expand its fresh prepared foods offering for both out-of-home and in-home eating occasions. The collective portfolio of sandwiches, sandwich components, entrees and snacks will extend Tyson's core strength into the fast-growing convenience and retail perimeter with solutions that span all-day parts. The Barber Foods® brand of value-added chicken products has a strong heritage in both retail and foodservice channels and we look forward to building upon its foundation of quality.
Enhances Tyson's financial profile. The acquisition is expected to be immediately accretive to Tyson's earnings per share on both a GAAP and cash basis, excluding one-time costs. Based on the most recent filings by both companies, the combined initial net debt to adjusted EBITDA ratio would be approximately 2.7x, which Tyson expects to be reduced steadily by its strong cash flow, including any divestiture proceeds, supporting Tyson's commitment to its investment-grade credit profile.
Creates significant cost and revenue synergies. Tyson expects the transaction will result in cost synergies of approximately $200 million, to be fully realized within three years. Cost synergies will be created by a consolidated manufacturing footprint, procurement efficiencies, distribution network consolidation, and addressing redundant sales and marketing functions and duplicative corporate overhead. Tyson also sees the opportunity to utilize high-quality raw materials from the fresh meats division to drive growth and efficiency. The transaction is expected to generate revenue synergies over time by utilizing Tyson's product innovation platform and portfolio of brands to drive growth across AdvancePierre's leading sandwich, entrée, and snack categories.