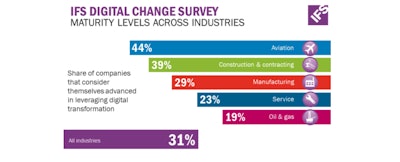 IFS, a global enterprise applications company, released the findings of its Digital Change Survey that polled 750 decision makers in 16 countries, including more than 120 in North America, to assess the maturity of digital transformation in sectors such as manufacturing, oil and gas, aviation, construction and contracting, and service.
Identifying "internal process efficiency" as the number one driving force behind digital transformation, North American companies in all industries are looking to invest in the following areas:
Big data and analytics (46 percent)
Enterprise resource planning (41 percent)
Internet of Things (37 percent).
However, survey respondents in North America noted that the top barriers to digital transformation are "aversion to change" (36 percent) and "security threats/concerns" (36 percent), followed by "lack of standard processes" (35 percent) and "legislation and compliance" (35 percent).
North American manufacturing companies are ahead of the curve with respect to servitization when compared with their global counterparts. Forty percent of North American respondents say that servitization is well-established at their company and is already paying dividends, compared to only 25 percent globally.
Nearly half of North American respondents say the move to servitization has given their company a competitive advantage and enabled them to increase market share and grow existing accounts, compared to only 27 percent of respondents globally.
Companies in this article