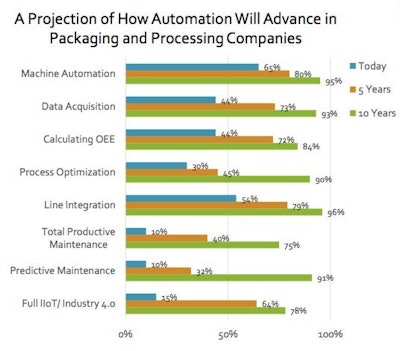 While the packaging and processing industries have always been key adopters of automation technologies, there is a growing trend across these industries to use greater amounts of automation than they previously have.
According to a new report from PMMI, "The Evolution of Automation 2017" for the processing and packaging, food, beverage, pharmaceutical and personal care industries, there are six key trends driving greater plant floor automation use across these industries. (Editor's note: PMMI Media Group, publisher of Automation World, is owned by PMMI, The Association for Packaging and Processing Technologies.) Those trends are:
Lack of skilled labor and labor shortages;
Global increase in product demand;
Demand for flexible manufacturing;
Production of consistent-quality products;
Overall operating cost reductions; and
Smart machine technology and collaborative robots.
Though these factors are driving greater interest in and use of automation across the industries surveyed, the actual implementation of automation technologies in these industries is progressing at a moderate rate due to several factors. The PMMI report highlights the following reasons for the steady, yet slow, adoption of increased levels of automation across the packaging and processing industries:
Utilizing data for operational improvements will take years and will require educating the industry on how to gather it, use it, store it and apply it.
The cost of automation is expected to decrease, making it more available to all companies with an acceptable ROI.
Numerous disparate and legacy systems remain in place and need to be connected. Also, the move from pneumatics to electrical components is expensive.
IT and OT convergence for automation technology deployment strategies is far from being commonplace.
Open platform standards are still evolving.
Advances in cybersecurity, though they are helping alleviate security concerns, are still developing and not yet well understood by many in industry—especially in terms of how to best apply it across IT and OT sectors.
One chart in the report, "A Projection of How Automation Will Advance in Processing and Packaging Companies," (shown above) indicates that all aspects of machine and software automation will increase significantly over the next decade. This prediction is based on the collective average response of survey participants, with larger companies automating and integrating faster; small to medium-sized enterprises (SMEs) are also investing more, but at a slower rate.
The report notes that SMEs are embracing automation not just to optimize production processes, but also to survive in an increasingly faster-paced market driven by supply chain partner and consumer demands. Though one of the drawbacks to greater automation use for SMEs is the cost of the technology, the report highlights three key benefits that can help offset a significant portion of those costs:
Replacing human interaction with machinery via the use of automation reduces the threat of worker injury and, if the automated equipment is maintained properly, it is more reliable than human labor.
Cloud-based services can give smaller companies access to tools to collect, manage and utilize data in the same manner as larger companies.
Smaller manufacturers, especially newer plants, often have an advantage in organizing a robust data collection and analytics program from the ground up.
When it comes to spending on automation technologies, over half of the end users taking part in the research said, "There is not a separate line item specifically for automation, but capital budgets are increasing." Despite this lack of spending clarity from a majority of respondents, one quarter of respondents noted that they do have a budget specifically set aside for automation investments.
Breaking out respondents' comments to assess spending trends across the vertical industries covered in the study, the PMMI report shows:
45 percent of food companies expect to spend more on capital equipment in the next 24 months. The spending drivers for this industry include: automation advancements, clean labeling and growing SKUs that are increasing changeover costs.
50 percent of meat, poultry and seafood companies predict their spending on capital equipment will also increase in the next 24 months. For this industry vertical, the spending drivers are much the same as with general food companies, i.e.,
automation advancements and clean labeling. A separate factor for capex spending for this vertical is sanitary design.
62 percent of pharmaceutical and medical device companies predict that they will also be spending more on technology in the next 24 months to address the need for smaller batch runs, serialization and, like the food companies, drive changeover costs caused by increasing SKUs.
The full report from PMMI will be released following PACK EXPO 2017 at www.pmmi.org/research. Highlights from report will also be showcased during the PACK EXPO event in Las Vegas, September 25-27.
Companies in this article