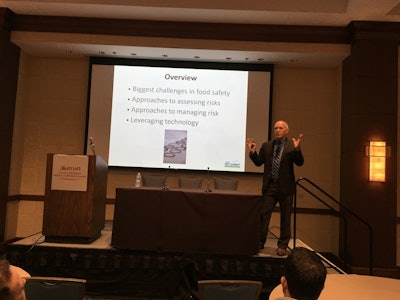 David Acheson, president and CEO of The Acheson Group, opened the 2017 HPP Summit held in Atlanta on October 2 and 3. Hosted by Universal Pure, the Summit brings together members of the food supply chain to talk about where the high pressure processing industry is moving and help each other leverage high pressure processing more effectively.
As consumers demand constant innovation and low-cost foods, food companies must simultaneously maintain internal production costs and protect their brands. In order to be successful, Acheson said food and beverage manufacturers must address "the changing food safety landscape, the complex supply chain, the influence of mainstream and social media, litigation, regulatory changes and criminal prosecution."
Understanding risks is key to avoiding problems, Acheson stated. "Do food companies really look at their documentation and COAs? And who really is in charge of your supply chain?" The complexity of the supply chain includes environmental monitoring challenges from pesticides, chemicals, drug residues, heavy metal, new microbes (such as E .coli 0121 and 0104), antibiotics and allergens.
Acheson thinks that food companies should embrace a strategic vision across the whole enterprise. He advises food and beverage manufacturers to "set the right cultures, think like a bug and react quickly to potential problems." He also thinks the demonization of processed food is due to the consumer view of science. "Nothing is not ready to eat when it is linked to illness," he stated. "The industry needs to move from reaction to prevention" in food safety, he concluded.
Resources: Cold Pressure Council
Companies in this article