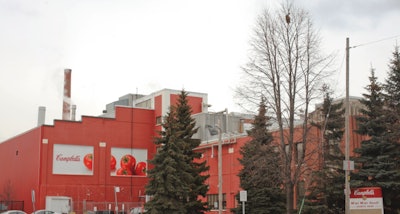 Campbell Soup Company (NYSE: CPB) has announced plans to close its manufacturing facility in Toronto to improve the operational efficiency of its North American thermal supply chain network. Campbell will move its Canadian headquarters and commercial operations to a new location in the Greater Toronto Area.
Several factors have resulted in excess capacity in Campbell's North American thermal supply chain network, including significant productivity improvements and volume declines of canned soup in North America. Following a review of its manufacturing operations, the company has made the decision to wind down manufacturing at its Toronto facility. Canadian soup and broth production will be consolidated into the company's existing U.S. manufacturing network. Opened in 1931, Toronto is the oldest plant in the Campbell thermal network. Due to its size and age, the Toronto plant cannot be retrofit in a way that is competitively viable.
Campbell plans to operate the Toronto facility for up to 18 months and will close it in phases, transitioning its production to three U.S. thermal plants in Maxton, North Carolina; Napoleon, Ohio; and Paris, Texas. Campbell employs nearly 600 people in Toronto including its headquarters, commercial operations and manufacturing functions. Approximately 380 manufacturing and manufacturing-related roles will be impacted.
Mark Alexander, President, Americas Simple Meals and Beverages, said, "The decision to stop producing soup and broth in Canada was a difficult one. After a thorough review, we decided this was the best course of action for our business. We are operating in an increasingly challenging environment as our industry's consumer and retail landscapes continue to change dramatically. This decision in no way reflects on the talent or dedication of our team at our Toronto facility, and we are committed to assisting them through this difficult transition."
Campbell will offer affected employees support to assist with the transition by providing severance packages that recognize their commitment and service. The company will provide career counseling with employment advisors who can assist with job searches, resume writing and preparing for interviews. Campbell will also host job fairs and provide on-site financial planning workshops, among other benefits, to assist employees with the transition.
Ana Dominguez, President of Campbell Canada, informed employees at a meeting held at the plant. She said, "Today is a tough day. We are committed to treating our employees with the respect and fairness they deserve. Despite this decision, Canada is important to Campbell. We are remaining in Canada and will continue to make important contributions to the food industry in this country."
Opening New Canadian Headquarters
Campbell will relocate its Canadian headquarters, along with nearly 200 roles, in the next several months. Site selection is underway for a new location in the Greater Toronto Area, which will feature a new Food Innovation Center. Campbell will continue to make soup and broth recipes tailored to Canadian tastes.
The decision to stop manufacturing in Toronto is part of a previously-announced cost savings initiative. As of Oct. 29, 2017, Campbell has generated $345 million in annual ongoing cost savings from this multi-year initiative, and is investing a portion of the savings back into the business. Additional details on the program will be provided in a Form 8-K, which will be filed with the Securities and Exchange Commission today.
Campbell currently employs approximately 18,500 people worldwide.