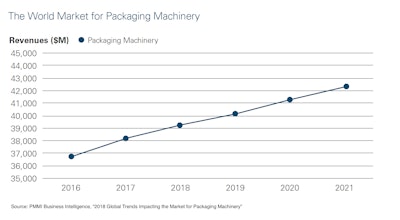 The U.S. holds the largest single-country sub-regional market of packaging machinery, accounting for 17.2% of the total and a value of $6.3 billion.
China is expected to grow the fastest, at a CAGR of 5.6% from 2016 to 2021. The global CAGR for packaging machinery is forecast to be 2.8% in the same period.
Labeling, decorating & coding machinery as well as vertical and horizontal form, fill, seal are forecast to grow the fastest of all machinery categories through 2021, at CAGRs of 3%, 3.1% and 3.2%, respectively.
Filling & dosing machinery, and labeling, decorating & coding machinery accounted for 20.7% ($7.6 billion) and 12.6% ($4.6 billion) of the total market in 2016, respectively.
The largest end-market for packaging machinery in 2016 was the food sector, which accounted for 40% of revenues. The pharmaceutical sector is forecast to see the fastest growth to 2021, at a CAGR of 4.1%.
Source: PMMI Business Intelligence, "Global Trends Impacting the Market for Packaging Machinery 2018." Find the full report here.