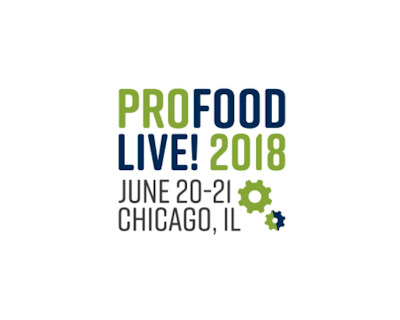 ProFood Live is a one-day conference devoted to delivering real-world solutions in the areas of manufacturing, automation and sustainability. The event gives processors, suppliers and service providers the opportunity to network, learn and collaborate on common issues facing the food and beverage manufacturing industry.
ProFood Live features an educational program for food and beverage professionals that includes ProFood World's annual Manufacturing Innovation and Sustainability Excellence in Manufacturing Awards. The event is for professionals in production, engineering, plant operations, sustainability, quality and procurement.
Confirmed speakers for the event include executives from Hormel, Dairy Farmers of America, Farmer Brothers, Clemens Food Group, Snyder's-Lance, Land O'Lakes, Hiland Dairy, Keystone Foods and many more.
According to Program Director and ProFood World Editor in Chief Joyce Fassl, "ProFood Live! will become the 'must-attend' industry conference for the food and beverage manufacturing sector. So far, feedback on our inaugural event and program has been very enthusiastic. I look forward to welcoming long-time friends and new industry colleagues alike to the first ProFood Live!"
Featured keynote presentations from leading food and beverage manufactures will include:
Addressing Today's Crucial Challenges in Manufacturing
Trends in Food Processing Operations
Managing Capital Spending Through Total Cost of Ownership
ProFood Live! opens on June 20 with an evening reception, with the conference sessions scheduled from 8:00 am to 4:30 pm on June 21. ProFood Live! will be held at the Westin Northwest Chicago in Itasca, IL, just minutes from O'Hare airport.
Attendees should register now at www.profoodlive.com.