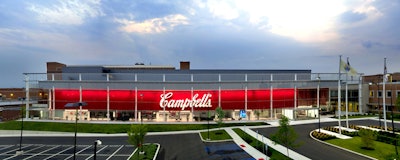 Campbell Soup Company will be refocusing its efforts on two of its core North American businesses, Campbell Snacks and Campbell Meals and Beverages. The announcement was made as part of its board-led strategy and portfolio review to improve performance and drive shareholder value.
Other actions include divesting its International and Fresh businesses and using those proceeds to reduce its debt. Campbell International consists of Arnott's and the Kelsen Group, along with the company's manufacturing operations in Indonesia and Malaysia and its businesses in Hong Kong and Japan. Campbell Fresh includes Bolthouse Farms, Garden Fresh Gourmet and the company's refrigerated soup business.
The company says it is also increasing its cost savings target to $945 million by 2022, including the expected Snyder's-Lance savings after the newly purchased company is fully integrated into Campbell.
Campbell's interim President and CEO Keith McLoughlin says the company's board of directors considered a number of options, including splitting the company and pursuing a sale. However, in the end, the decision was made to focus on the two core businesses that have a proven consumer packaged goods business model.
"Our plan will build upon our existing strengths," says McLoughlin. "Our new leadership team will concentrate on significantly improving operational discipline through a rigorous management model that aligns the enterprise from strategy through execution."
He says these changes are expected to be completed by 2019, which will set the company on a foundation for growth in years to come.
Campbell will be investing in innovation and consumer engagement with the brands of Cape Cod, Goldfish, Kettle Brand, Lance, Late July, Pace, Pacific, Pepperidge Farm Farmhouse and Milano cookies, Prego, and Snyder's of Hanover.
For its Campbell's soup, Pepperidge Farm fresh bakery, SpaghettiOs and V8 brands, these products will be managed to generate consistent profit and cash flow.