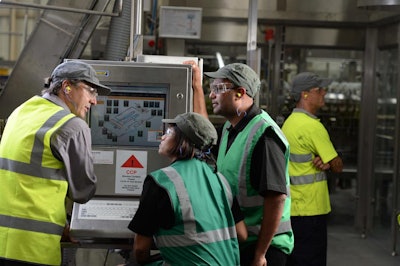 During the show, BW Integrated Systems, a Barry-Wehmiller Packaging Company, shared with attendees information on its newly formed relationship with LineView Solutions, a U.K.-based provider of manufacturing intelligence software. Through the partnership, BWIS will extend LineView's software solutions across its customer base to enhance the features and value of its integrated systems. As both an OEM for packaging equipment and a systems integrator, BWIS will also offer LineView through its services programs.
According to BWIS, the partnership will also enhance the product offering of Barry Wehmiller's packaging platform, BW Packaging Systems. Through BW Packaging Systems, customers can leverage the combined primary packaging, labeling, and end-of-line packaging systems of each of the Barry-Wehmiller packaging companies, including BWIS.
"Our clients are asking for a higher level of connectivity and access to actionable data," said Tom Spangenberg, BWIS Vice President of Integrated Systems. "Our ability to capture intelligence adds value to the manufacturing process and greatly enhances our offering."
BW Integrated Systems provides technology and technical support for manufacturing companies global markets segments that include beer and beverage, wine, spirits, container manufacturing, food, household, personal care, dairy, paper, and pharmaceutical, among others. The company has experience with robotic solutions, packaging line design, integrated solutions, palletizers and depalletizers, automated can-end and product handling equipment, case and tray packing and forming, advanced conveyance technology and controls, unwrappers, destrappers, feeders, coolers, and pasteurizers.