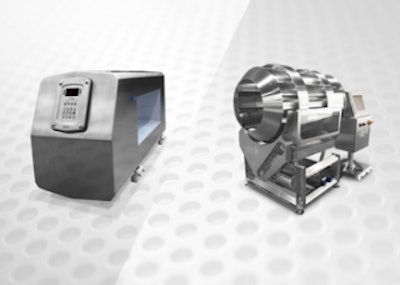 World-leading equipment manufacturer, Heat and Control, will be demonstrating its latest technology and highest quality equipment for processing, coating, seasoning, conveying, weighing, packaging and inspecting product.
Heat and Control will be featuring several of its most popular machines, including:
Spray Dynamics: Their single shell coating drum with an open channel frame was designed and engineered specifically for the food safety and hygiene requirements of poultry processing.
CEIA: The world's only multi-spectrum metal detector THS/MS21 is now available with optional USDA-certified construction, compliant with the USDA's stringent hygiene and sanitation guidelines for the design and fabrication of dairy, meat and poultry equipment.
Ishida X-ray: Sensitive, accurate and reliable X-ray to ensure food safety.
Ishida Checkweigher: The DACS-GN features a variety of customizable system options including weighing sensors, weighing capacity, conveyor size, remote control, and durability specifications where you can select the optimum product configuration for your production line.
Ishida Multihead Weigher: CCW-RV is the renowned series of open frame multi-head weighers that are IP66, IP67 and IP69K rated for washdowns. The Screw Feeder model gently but firmly propels sticky fresh chicken into hoppers fitted with scraper gates. The superior weighing accuracy of the Ishida machines delivers fast, clean, sustainable weighing with a near-zero giveaway.
FastBack: 260E-G3 (G3): The powerful yet gentle horizontal motion conveyor and the most widely used sanitary conveyor in the poultry industry. Tenders, boneless breasts, and other fresh chicken parts are easily conveyed with the G3, built for washdown environments and simple sanitation.
Heat and Control: Experts will be on hand to discuss the latest processing technology for the poultry industry, including batter and breading systems, fryers, ovens and dryer/roasters.
For more information, visit Booth #B3835 B Hall and discuss your specific requirements with the experts or contact Heat and Control.