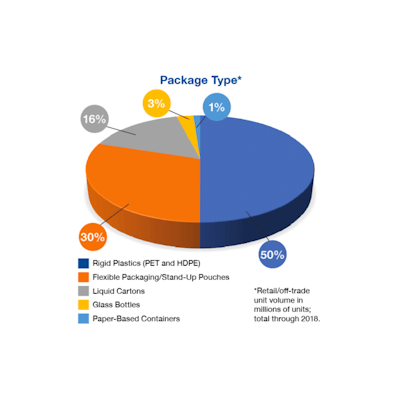 Top Five U.S. Brands in 2018
Brand Company
Minute Maid Coca-Cola
Simply Coca-Cola
Ocean Spray Ocean Spray
Tropicana PepsiCo
Hawaiian Punch Dr Pepper Snapple Group
Market Analysis
Like many other soft drink segments in recent years, juice has struggled to overcome challenges associated with high sugar content. While consumers remain consciously aware of the health benefits juice and its fruit parts can offer, consumers increasingly realize that not all juices are created equal. At its worst, juice in the United States can merely offer a cocktail of water, flavors and sugar (generally, juice drinks).
On the other hand, unpasteurized juices and smoothies with short shelf lives offer excellent nutrition. Consequently, there is currently a shift from the former area to latter, in line with the overall premiumization trend within juice. As a result, juice volume sales are in decline, while value sales are faring better, with consumers opting to consume less, but better juice. Considering the prevalence of not truly natural juice in the United States, this shift is expected to continue.
To learn more about trends in the juice sector, attend ProFood Tech, the only processing trade show in North America that addresses all food and beverage market sectors. The event will feature educational sessions with industry experts and innovative technologies from 400 exhibitors designed to give you a competitive edge. ProFood Tech will take place March 26-28 at McCormick Place in Chicago, Illinois. Register for the event at www.profoodtech.com.
Source: Euromonitor