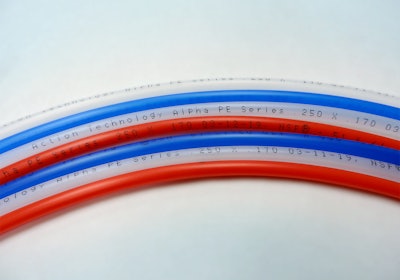 Action Technology, a maker of aerosol and pump dispensing systems, passed the stringent requirements of NSF International, earning a sanitary certification for its tubing product line for food, drinking water and sanitation equipment applications.
Action Technology's tubing products now meet the requirements for NSF Standard 51—Food Equipment Materials and Standard 61—Drinking Water System certifications. NSF International is an accredited, independent third-party certification organization that tests, audits and certifies products and systems to verify that they meet public health and safety standards.
"NSF certification is the key to making sure that products meet strict public health standards. Choosing a product certified by NSF lets you know the manufacturer complies with strict standards and procedures, including extensive product testing, material analyses and unannounced plant inspections," says Kevin Volden, sales manager for Action Technology.
Action Technology sells its tubing direct for a variety of applications, including food, foodservice, water, sanitation and other market segments. This means that users can work directly with Action Technology to find the correct solutions for their applications and improve speed to market.
The company specializes in gaskets, extrusion/dip tubing, molded components and plastic/rubber rolled goods for dispenser use. It sells billions of cut and wound dip tubes and punched and molded rubber and plastic gaskets annually that are used to dispense food and beverage, pharma, personal care, industrial, and household products. For more information, visit www.tekni-plex.com/action-technology.
Companies in this article