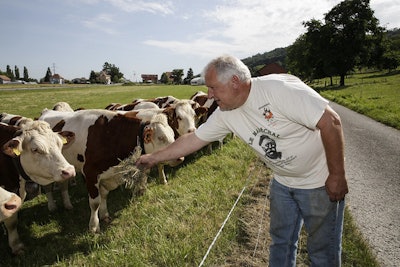 Nestlé is partnering with the Ellen MacArthur Foundation in a pioneering project to develop circular economy solutions for today's food systems.
The foundation's Food Initiative will lead major food system projects to demonstrate how a circular economy vision for food can be achieved at scale. These projects will take place in three flagship cities: London, England; New York City; and São Paulo, Brazil. In addition, the foundation is partnering with companies around the world. They include food manufacturing giants like Nestlé and Danone; waste companies like Veolia; and fertilizer companies like Yara International. The three-year initiative is funded by the Philanthropic Partner Calouste Gulbenkian Foundation, which supports arts, charity, science and education to improve people's lives.
"By joining forces in this way, cities, and the businesses and people in them, can transform the global food system. We can grow food in ways that support ecosystems instead of damaging them. Food would be sourced locally, when it makes sense, and we would make the most of it, avoiding edible waste and using organic byproducts to improve soil health," says Dr. Clementine Schouteden, Ellen MacArthur Foundation Food Inititiative lead. "This is a unique opportunity to create a system which helps to tackle the climate crisis, restore biodiversity, improve human health, and reconnect people with their food, while creating new business opportunities."
The Food Initiative will develop projects that promote a circular economy based on the following principles:
Source food grown regeneratively and locally where appropriate. Producing food regeneratively to rebuild the health of the natural world, rather than degrade it.
Make the most of food. Growing, processing and transporting food as well as managing byproducts in ways that benefit the health of people and natural systems. Food is designed to cycle, so byproducts from one enterprise can help to improve soil health.
Design and market healthier food products. Waste is designed out and food products are created to not only be healthy from a nutritional standpoint, but in the way they are produced.
The launch of the Ellen MacArthur Foundation Food Initiative follows the publication of the foundation's report Cities and Circular Economy for Food at the World Economic Forum in January 2019. The report concluded that to meet the dietary needs of a growing global population, while restoring biodiversity and addressing the climate crisis, the food system requires fundamental redesign.
To learn more about Ellen MacArthur Foundation Food Initiative, please visit https://www.ellenmacarthurfoundation.org/our-work/activities/food.
Learn more about sustainable food and beverage initiatives and technologies at PACK EXPO Las Vegas from Sept. 23-25 at the Las Vegas Convention Center. Register by Aug. 30 to save 70 percent off the registration fee.
Companies in this article