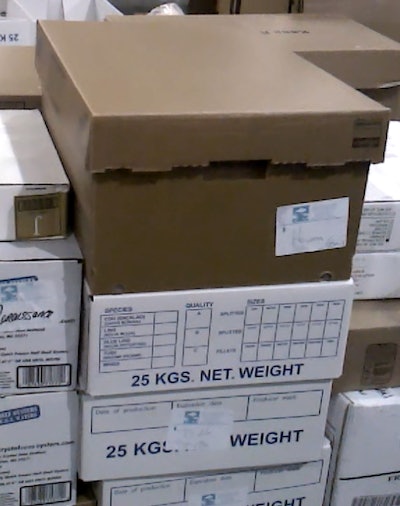 New Orleans seafood is going green. Global Green USA's Coalition for Resource Recovery (CoRR) has joined forces with the New Orleans Fish House to test recyclable coated corrugated boxes as methods of transporting locally caught seafood. These boxes, made by CoRR members Cascades Industrial Packaging and Interstate Container, are designed to be recyclable, unlike the paraffin-coated packaging typically used, and also to withstand the icy seafood packing process.

"It may seem unusual to get this excited about cardboard boxes, but we are thrilled to highlight these recyclable products," says Global Green USA's Lily Kelly, Interim Director of CoRR. "If we were to replace all the unrecyclable packaging used across the country for seafood, produce, poultry, and meats, it would be the equivalent of shutting down an entire coal-fired power plant with no loss of energy, and a tremendous gain in savings and revenue for grocers and restaurants."

"From a business perspective, it makes perfect sense," says Eddie Gonzales, Sales Representative at the New Orleans Fish House. "Our customers don't want to bear the costs of landfilling boxes, so recyclable packaging is an added value that we can offer. It's the next step in our evolution."

The pilot began at the New Orleans Fish House, where seafood and ice were placed in the recyclable boxes, palletized, and loaded onto their delivery truck. Representatives from Global Green USA and the packaging companies followed the truck as it made deliveries in the Baton Rouge area, observing the unloading of the seafood at an event venue, a large hotel, and a restaurant. At each location, the recipients of the boxes confirmed that the boxes were performing well, and expressed excitement that they were recyclable. "It will save us time and keep costs and waste down. I love them," said one recipient.

This pilot marks a step toward more sustainable food systems, says CoRR: greens, vegetables, seafood, and meats are often transported in paraffin-coated cardboard, generating 1.45 million tons of solid waste that must be sent to landfills or burned. If these boxes are designed for recycling, and recovered, retailers and restaurants could realize a net benefit of combined cost savings and revenue of $200 million nationwide.

The boxes, which were donated for testing by Cascades and Interstate Container, are recyclable in accordance with the Fibre Box Association's recyclability and repulpability protocol for wax-alternative coatings.
"The Cascades Polar box, which we tested for this pilot, stood up to the process quite well," says Islem Yezza, Technical and Business Development Director at Cascades. "We are proud to be able to provide a variety of more sustainable alternatives to unrecoverable polystyrene foam and wax-coated boxes."

Jeff Cormier, National Sales and Marketing Manager at Interstate Container, was likewise pleased with the results of the pilot. "We make Greencoat recyclable boxes for a variety of uses, and have seen a lot of success with poultry and produce," he says. "We are very encouraged by the outcome of this pilot, and look forward to bringing recyclable seafood boxes to New Orleans and beyond."
Companies in this article