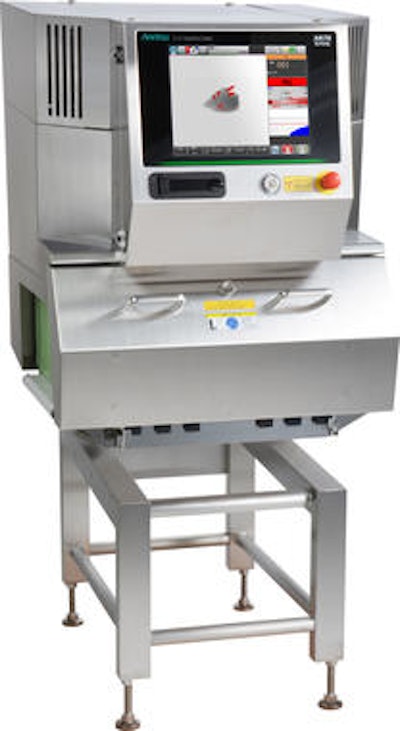 Anritsu Infivis, a Japan-based manufacturer of inspection and detection equipment, debuted its second-generation XR75 DualX X-ray inspection system at PACK EXPO International 2018 that is designed to go beyond just detection of metal. The upgraded X-ray equipment can detect other dangerous foreign materials as well in a high-speed production environment, taking QC and HACCP programs to the next level, according to Anritsu.
The second-generation XR75 DualX X-ray is equipped with a newly developed dual-energy sensor that detects contaminants as small as 0.4 mm and significantly improves detection of low-density or soft contaminants while minimizing false rejects. The system analyzes two X-ray signals — both high and low energy — for a higher detection of low-density items as well as foreign materials not previously detectable by standard X-ray systems. It analyzes material differences between organic and inorganic items to effectively detect soft contaminants, such as stone, glass, rubber and metal.
The upgraded X-ray system also provides a higher-quality image, allowing detection of contaminants such as bones in poultry, pork or beef. In addition, it can find contaminants within products with overlapping pieces, such as fries, frozen vegetables and chicken nuggets.
The XR75 DualX X-ray is optimized for low total cost of ownership. In addition to being energy efficient, the X-ray provides a longer tube and detection life, compared to previous dual-energy models—reducing the replacement cost of key components.
Standard features include HD imaging, tool-free belt and roller removal, and an auto-learn product setup wizard. In addition, the dual-energy system offers all the other detection capabilities of an Anritsu X-ray inspection system, including missing product detection, shape detection, virtual weight, count and package check, as standard features.
"We are excited to introduce our second generation DualX X-ray technology to the Americas' market," said Erik Brainard, president of Anritsu Infivis, Inc. "The advancement of our DualX technology significantly improves detection of dangerous low-density contaminants while providing virtually zero false rejects. This second generation DualX model delivers a superior return on investment because now it's on the proven energy-efficient XR75 platform. It helps our customers advance their contaminant detection and quality program while improving operational efficiency and reducing overall cost of ownership."
Companies in this article
Videos from Anritsu - Product Inspection & Detection