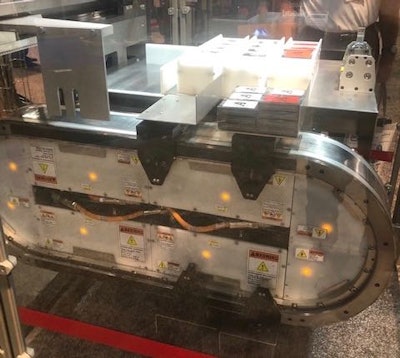 During PACK EXPO Las Vegas, Rockwell Automation provided a sneak peek of its next generation iTrak intelligent track system based on independent moving cart technology.
The iTrak 5730, which will be officially announced at Rockwell's Automation Fair later this year, is designed for the smallest possible dimensions to maximize flexibility and minimize machine footprint. It has higher voltage motors capable of more force and speed compared to similarly sized systems, and can achieve a higher bandwidth with Kinetix servo algorithms and tuningless motor control.
The new communication set up bypasses the gateway so that motion and safety is integrated. There is also increased integration with Studio 5000 software for simplified programming and high-speed diagnostics. Having a single programming environment, fewer components, and better diagnostics results in faster servo loops, tuning, and feedback.The benefit of independent cart technology is the ability to create flexible machines with high throughput, Rockwell officials said.
The iTrak 5730 will be available in February 2020.
Companies in this article