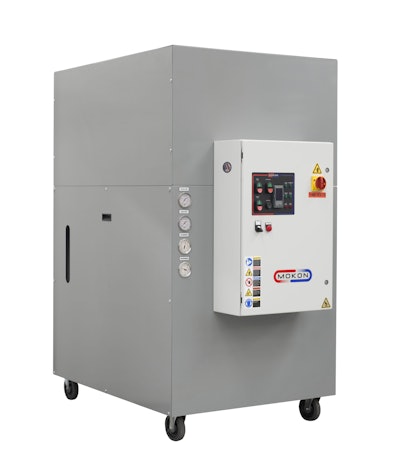 Mokon, a producer of high-quality circulating liquid temperature control systems, has completed the redesign of its Full Range temperature control system.
The newly re-engineered Full Range system was designed with customers in mind in that a reduction in cabinet size frees up valuable floor space.
The Full Range temperature control system combines a circulating water system and an Iceman chiller to provide heating and chilling from a single compact, self-supporting unit.
The system is ideal for use with jacketed vessels, reactors, multiple-zone processes, laboratories, and sanitary environments and industries such as plastics, composites, food processing, pharmaceutical, chemical and other processes that require heating and chilling cycles.
The Full Range system is available in standard heating capacities up to 96 kW, pumping capacities up to 120 GPM, chilling capacity up to 40 tons and temperature range of -20˚F to 300˚F (-29˚C to 149˚C).
The design engineering behind Mokon's Full Range temperature control systems provides long life, durability, and continuous accurate process control.
The Full Range temperature control systems include many standard features, such as:
• Stainless-steel centrifugal pumps
• Efficient brazed plate evaporator
• Insulated nonferrous plumbing and components
• Microprocessor-based controller with LED readout
• NEMA-rated electrical enclosure with safety disconnect switch
• Heater canister with stainless steel diverter
Mokon's Full Range systems meet NFPA 79 electrical safety standards for industrial machinery and are equipped with UL 508A labeled electrical sub-panels.
Mokon engineers custom-design Full Range temperature control systems to client specifications in order to meet unique process requirements, such as NEMA 4, NEMA 4X or special washdown demands.
Additional options and features are available, including stainless-steel construction, higher and lower operating temperatures, larger heating and chilling capacities and stationary skid-based assemblies.
Companies in this article