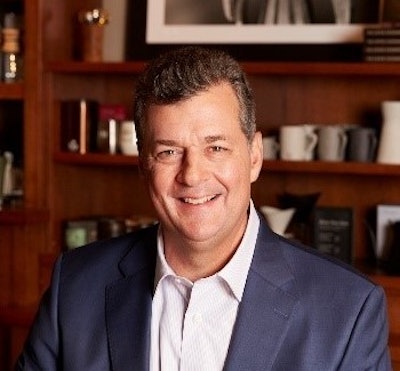 B&G Foods has announced that it has appointed Kenneth C. "Casey" Keller as its next president and CEO, effective June 14, 2021. Keller will also be elected to B&G Foods' board of directors.
Most recently, Keller served as president and CEO of JDE Peet's NV, a $7 billion global coffee and tea company with over 20,000 employees based in Amsterdam, The Netherlands. He led the merger of Jacobs Douwe Egberts (JDE) and Peet's Coffee, and the successful initial public offering of the combined company in May 2020. Prior to the merger, Keller was the president and CEO of Peet's Coffee, a premium specialty coffee company based in California, and led the business through rapid growth in the U.S. and successful expansion into China.
Prior to that, Keller served as global president of the Wm. Wrigley Jr. Company, a subsidiary of Mars, Inc., where he was responsible for delivering sales and profit growth across the global gum, mints, and candy business. He joined Wrigley in 2011 as president of Wrigley North America and later assumed responsibility for Wrigley Americas. In the U.S., Keller led a turnaround of the Wrigley business, delivering growth well above the industry average. During the integration of Wrigley into Mars, Keller helped establish the global business units and strategy for the combined Mars-Wrigley confectionery business.
Keller served as president of Alberto Culver USA from 2008 until the company's acquisition by Unilever in 2011. He also worked at H.J. Heinz in both the U.S. and Europe, leading the ketchup, condiments, and sauces division in the U.S., and was the CEO of Heinz Italy. Keller began his consumer goods career with Procter & Gamble.
Stephen C. Sherrill, chairman of the board of directors of B&G Foods, states, "We feel extremely fortunate to add Casey to our already very strong management team. Casey is a food and beverage industry veteran with excellent leadership skills and a proven track record of generating revenue and earnings growth. Casey also has experience with mergers and acquisitions and public company finance, most recently guiding JDE and Peet's Coffee through a successful merger and post-merger IPO. We believe that Casey is the right person to lead B&G Foods and drive our organic and M&A growth strategy, promote our core values, promote our ESG and diversity, equity. and inclusion (DEI) efforts, and generate value for our stockholders.
Mr. Keller says, "I am incredibly excited to be joining B&G Foods and its very talented and dedicated workforce. We will continue to focus on organic and acquisition growth, innovation, operational improvements, cost reduction efforts, and the creation of stockholder value. At the same time, we will also continue to promote and further enhance B&G Foods' corporate social responsibility efforts, including the company's environmental, sustainability, and DEI efforts."
Companies in this article