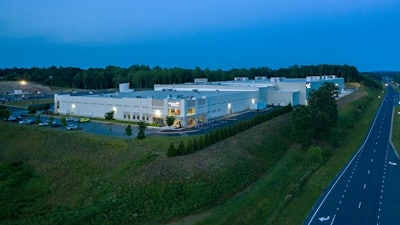 Cheney Brothers, a broad line food distributor that delivers more than 16,000 different products throughout the Southeast region of United States and more than 100 countries, is planning a 72,142-sq-ft dry warehouse expansion in Statesville, N.C. that will provide an additional 7,000 pallet positions, a larger loading dock, and the means for the Southeast-based broad line food distributor to continue its northward growth path.
Included in the expansion will be a 70,037-sq-ft dry warehouse, a 2,253-sq-ft receiving office, and the addition of 15 dry dock positions, as well as 22 existing cooler docks, bringing the total to 37 and enhancing CBI's ability to receive and distribute product quickly and efficiently.
The scope of work also includes relocation of Cheney Express for more convenient customer access; a 600-sq-ft expansion of the existing downstairs employee break room; enlarging the employee locker area located adjacent to the breakroom; and increasing the office space in the second-floor mezzanine. The complexity of the project is heightened by the fact that all work will be performed in an operational distribution facility.
Scheduled to be complete in spring 2022, the project will bring the total square footage at the facility to 342,126. This will be third major project integrated design-build firm A M King has managed for the company.
In April 2019, A M King completed a 169,090-sq-ft cold storage expansion for CBI in Statesville, increasing the square footage at that facility to 265,000. The project featured a state-of-the-art penthouse refrigeration system zoned to support numerous temperature zones in the expansion area; the conversion of a 37,388-sq-ft existing cold storage space to ambient temperature storage; and the renovation of a 34,686-sq-ft existing dry warehouse.
"It's always an honor partnering with Cheney Brothers on their projects," says A M King Vice President Dan Crist. "We are particularly excited to build on the success we have achieved at this first-class distribution center in Statesville. This expansion has presented our team with several logistical site and scheduling challenges, and they been able to offer innovative solutions that will ensure a positive outcome."
Warren Newell, CBI director of development, states, "I have worked with dozens of design-build and construction firms over the years, and I can honestly say that A M King is one of the finest. They provide turnkey services, are professional, prompt, and just a pleasure to work with."
Companies in this article