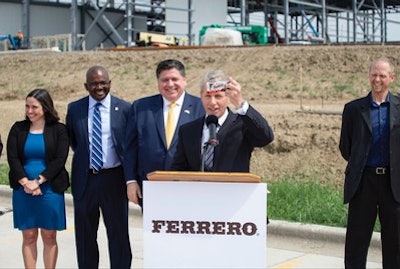 Ferrero North America is planning to invest up to $214.4 million to expand its chocolate processing and product manufacturing plant in Bloomington, Ill. The 169,000-sq-ft addition will be dedicated to producing Kinder Bueno, a popular Ferrero premium chocolate bar in Europe that launched in the U.S. in 2019, and is now a $167 million brand in North America, with sales growing by more than 51% over the past year.
The new line represents the first time Kinder bars and minis will be made in North America. The announcement comes months after Ferrero broke ground on the chocolate processing facility at the same location.
Construction of the expansion is projected to start by this autumn and is projected to open in 2024. The new expansion will be one of the largest production lines built by Ferrero outside of Europe, and is expected to create up to 200 new jobs over a four-year period.
---
---
"The investments we're making in Bloomington are fueling continued growth for Ferrero in North America and are also creating important job opportunities in the community," says Todd Siwak, president and chief business officer of Ferrero North America. "We are thrilled to continue growing here with the invaluable support of the City of Bloomington, McLean County, and the State of Illinois."
Ferrero has made a number of recent investments in North America, including the expansion of its North American headquarters in New Jersey and operations at its plant in Brantford, Ontario, as well as new distribution centers in Pennsylvania, Arizona, and Georgia.
Companies in this article